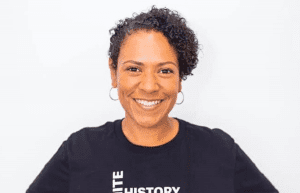 John A. Spiekhout was a pillar of his community who believed passionately in social justice. The John A. Spiekhout Scholarship honors his legacy through generous funding from his family, including alum Rebekah Helzel, Linda Mantel, and the Helzel Family Foundation. This year, we are proud to announce that the recipient of this scholarship is Cathy Sims, a dual MBA/MPA degree candidate for 2021. We spoke with Cathy to learn more about her and what receiving this scholarship means to her.
Cathy, congratulations on receiving the John A. Spiekhout scholarship from PGS, and thanks so much for taking the time to speak with us.
Thank you, I am honored to receive this scholarship—it's a pleasure to share my excitement with you! 
What does receiving this scholarship mean to you? 
Receiving the John A. Spiekhout Scholarship is a welcomed acknowledgement of my choice to obtain my dual MBA/MPA at Presidio Graduate School. This scholarship recognizes my efforts, shows me that I'm on the correct path, and provides me access for making the difference I'm committed to making in the world. It's incredibly affirming. 
You've said that as a CSR-Practitioner, helping organizations develop sustainable business models for the management and coordination of their environmental, social, and financial impact is enlivening and fulfilling. Can you say more about this? 
I've had a varied career path that resembles something more like a steep incline with lots of switchbacks. A portion of my career has been as a flight attendant with the Alaska Air Group. I'm involved with the company's GreenTeam and ABEA: Alaska's Black Employees & Allies Resource Group, as well as participating in the Developing Emerging Leaders Program (DEL) back in 2017. My DEL Team Project was to review Alaska's sustainability efforts, communicate areas for improvement, and guide subject matter experts in telling Alaska's sustainability story. This is where I was exposed to sustainability as a business framework, and this is where my passion for making a difference at the corporate level came into view. Out of that DEL Project, Alaska was ranked #1 on the Dow Jones Sustainability Index amongst North American Airlines. I was given a scholarship for continuing education after completing DEL and used it to obtain my CSR-Practitioner Certification from the Centre for Sustainability & Excellence. I'm currently heading up an ad hoc team at Alaska to create compliance training modules in sustainability to educate and engage all Alaska Air Group employees in how they can contribute and own Alaska's sustainability goals and vision. 
Actually, we understand that you've been a social justice champion since high school. Can you share more of your journey with us? You've been following quite an impressive path!
My path, like for most of us, has been profoundly personal. I was adopted at infancy—which shaped my narrative about life, about people, and about myself. I discovered my love and acceptance of people as I struggled to find my place of belonging within my family, social community, and in the broader world. 
I found ways of expressing myself through visual and performing arts, which led me to activism, multiculturalism, public speaking, and a transformational methodology for creating a new world that works for everyone. 
I'm drawn to the human struggle of belonging. I've looked to make a way for people (and myself) such that we see and experience our own greatness. From activism in high school and undergraduate school, to more formal roles with nonprofit agencies, I have served multiple demographics and have always been gifted with more than I gave. 
And currently, you're a candidate for an MBA/MPA dual degree at PGS. How has your experience been thus far? 
I've really had a rich experience. It's not often that you are challenged academically, professionally, and personally in an intimate classroom setting—all the while being championed by your peers, instructors, and administrators in a loving and supportive environment. Especially in these unprecedented times, this unique, Presidian community has risen to the challenge. Before I started my program, I wouldn't have guessed that we would be discussing slavery and racial justice in Accounting, and that I'd allow my emotions to emerge. And yet this is exactly what made for one of the most poignant moments of my first semester. 
What advice would you give to people in the sustainability or social justice field who are considering PGS?
Come join us! Don't overthink it. Take a bold action and allow the universe to meet you on the court. 
Thanks so much for spending some time with us and sharing your experiences. Is there anything else you'd like to share with our readers?
Thanks for the opportunity! Being acknowledged with this scholarship and having so many areas of my life converge in focus and purpose at this formidable time we are living in is miraculous. I took on the word PURPOSE at the beginning of 2020, and here I am living my best life in the middle of a pandemic, amid powerful demonstrations for justice—full of joy, purposeful direction, being honored for the work I've done, and am doing, making a difference in the world. I feel like I'm just getting started. I've got so many projects starting all at once and I'm all masked up, ready on Zoom standby, and here to make life work around me. Peace to everyone. Black Lives Matter. 
Consider joining an upcoming cohort to meet great people like Cathy, further your career goals, and accelerate your path to impact!