Since the publication of Aldo Leopold's "A Sand County Almanac" and Rachel Carson's "Silent Spring," our skies have become increasingly silent; our oceans, lakes, and rivers are increasingly empty. Research suggests we are fast approaching the disastrous effects of this sixth extinction, geologically referred to as the Anthropocene. By embedding agriculture in nature, however, we successfully can surmount the twin challenges of biodiversity loss and climate change and dramatically alter the trajectory for Spaceship Earth.
A planet in crisis
Every day new studies add to the growing body of evidence demonstrating widespread ecological collapse and biodiversity loss. Where are the birds? Where are the bugs? What does it all mean? While we do not yet fully understand the economic or existential risks, we do know that as average temperatures rise and the frequency of extremely warm years increases, the impacts of habitat loss and fragmentation become increasingly apparent, imperiling displaced species that have nowhere left to go.
Last May, the Intergovernmental Science-Policy Platform on Biodiversity and Ecosystem Services reported that the current rate of extinction is "tens to hundreds of times higher than average over the past 10 million years—and it's accelerating." This year, biodiversity loss topped the World Economic Forum's annual Global Risk Report for "Likely" and "Impactful" long term risks. With food security, supply chain stability, and our vision for sustainable development at risk, it's integral that we restore and reconnect our landscapes and watersheds to reduce emissions, sequester carbon and help biodiversity rebound.
By embedding agriculture in nature, however, we successfully can surmount the twin challenges of biodiversity loss and climate change and dramatically alter the trajectory for Spaceship Earth.
Embedding agriculture in nature
Although biodiversity underpins the global food system, agricultural and industrial expansion has led to the loss of over 85 percent of wetlands, altered 75 percent of land surface, and affected 66 percent of ocean area. In the United States, agricultural land makes up nearly 45 percent of the land area, illustrating the important role working landscapes could play in mitigating the worst effects of biodiversity loss while adapting to the extreme weather patterns and climate trends we presently face. And yet, a 2018 report from the Institute for Agriculture and Trade Policy found that less than half of states in the U.S. have climate adaptation plans that include agriculture; even fewer give attention to how farms and fields can be managed as part of the larger landscape.
Where government climate adaptation plans fail to account for agriculture, private sector actors are blazing new trails. In 2018, Rodale Institute, Dr. Bronner's and Patagonia launched the Regenerative Organic Certification to provide farmers with a framework for increasing soil health and promoting biodiversity while improving animal welfare and ensuring fair labor conditions.
Leading-edge integrated multitrophic aquaculture (IMTA) advanced by AquaVitae, a trans-Atlantic aquaculture working group, is experimenting with co-cultured species throughout the water column to mimic the ecology of natural systems. As of 2018, over 550 active payments for ecosystem service (PES) programs around the world pay farmers, suppliers and land managers an estimated $36 billion to $42 billion per year to ensure ecosystem services, such as pollination or water filtration. This is just the beginning of a global effort to accurately account for undervalued biological functions of agricultural production systems, close loops and leverage these services to regenerate ecosystems.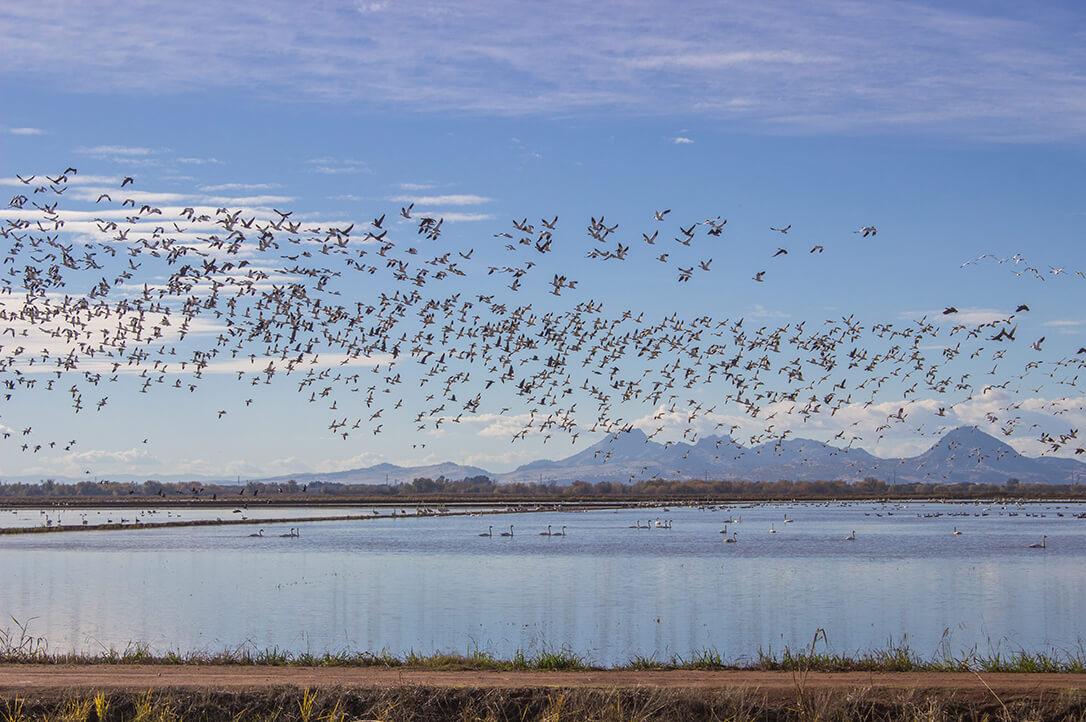 Fish in the Fields: A case in biodiverse agriculture
Like life, many great ideas start with a puddle. I discovered the power of the puddle while studying at Cần Tho University in Vietnam. There, farmers are harnessing functional biodiversity—implementing fish-duck-rice polyculture systems. The rice paddies—the small, level, flooded fields used to cultivate rice—in the Mekong Delta provide habitat for waterfowl, as well as fish and ducks harvested as additional crops. Diversifying outputs—in this case, rice, fish, and poultry—allowed these farmers to achieve food security and create a more resilient, more productive unit of agricultural land.
By chance, my return to the United States led me to the Resource Renewal Institute (RRI), an environmental "think-and-do tank" in California's Bay Area, which has spent a decade exploring new environmentally beneficial uses for the nearly 500,000 acres of rice paddies in California's Sacramento Valley. Helmed by former California Resources Secretary and cofounder of the Trust for Public Land, Huey Johnson, RRI has been successfully harnessing our own regional puddles and building the case for the age-old East Asian practice of rice and fish co-cultivation here in California.
Our team wondered if the application of the same ecologically-based co-cultivation I stumbled upon in Vietnam might help us source new protein-rich fish for human and animal consumption, all while incentivizing farmers to maintain these precious winter wetlands for migratory waterfowl along the Pacific Flyway. At the time I wasn't a businessperson—much less a fish farmer—but by attending Presidio Graduate School (PGS) I learned just how effective projects could become when conservationists, policymakers, scientists, and farmers all sat at the table together. Furthermore, I discovered how effective I could become when I spoke all of these languages. After extensive multi-sector stakeholder engagement and a years-long incubation at RRI and PGS, the Fish in the Fields program provides a blueprint for building diversity and resiliency into conventional agricultural systems in California and beyond.
At scale, this operation could generate millions of pounds of fish to bolster rice farmers' bottom lines all while fighting climate change and supporting the "at-risk" species that rely on this critical wetland habitat. Fish in the Fields, while a tangible example, is not alone in ushering in this new era of ecological stewardship.
At the micro-level, the COVID-19 pandemic highlights the dangers of the mistreatment of wildlife as well as consumer interest in better traceability and more localized production of goods. Fish in the Fields, and the rice farmers that adopt this agricultural system, are well-positioned to benefit from localizing protein supply chains.
By introducing native plankton-eating fish to these reflooded paddies after the rice is harvested, farmers can unlock year-round productivity and get a second crop without any additional land, water, or feed. Last spring, Fish in the Fields yielded hundreds of pounds of fish off a one-acre test plot in Marysville, California, without disrupting conventional rice production. Fast-forward to this year: the project has expanded onto dozens of acres on multiple rice farms throughout the Sacramento Valley. What's more, in 2019, RRI and Shawn Devlin of the University of Montana found a 64 percent reduction in winter methane emissions when fish were present in these rice fields. Introducing fish, it turned out, induced a trophic cascade, altering the ecology of the flooded rice paddies right down to the microbial level.
Last year, The United Nations General Assembly declared 2021-2030 the "U.N. Decade on Ecosystem Restoration," citing recent research that hails natural climate solutions and restoration as proven measures to fight the climate crisis while enhancing global water supplies, food security, and biodiversity. It's clear agriculture has an outsized role to play in restoring biodiversity and enhancing ecosystem services and economic prosperity for all. Perhaps, if we revisit Aldo Leopold's land ethic and take a step back to listen, we will uncover more solutions to preserve the integrity, stability, and beauty of our biotic community.
---
A version of this post was originally published on GreenBiz in our "Thinking in Systems" column on May 26, 2020.