For several years, Presidio Graduate School has worked collaboratively with Universidad UEAN in Bogota, Colombia on a number of projects. This is an exciting opportunity for PGS, as well as for students with roots in Latin America—whether they're located in Colombia or living here in the United States.
As an immigrant from Cusco, Peru, my dream has always been to make a difference with youth in Peru and build resiliency in my community. Going through the Presidio Graduate School MBA program in San Francisco allowed me to understand what my family knew from a different perspective: a lived experience.
Since I started to engage in the environmental movement here in the U.S., I've struggled with academics and the media's use of passive language on what we face. Often, you'll read "climate change will have an impact of…" But for decades now, glaciers have been retreating near my hometown, bringing risks ranging from landslides to water shortages as a result. And while the stories of the peoples who are most impacted by these "externalities" are not top of mind for everyone, I bet that most people are familiar with Winikunka (see image above).
In his Economy & Society – Governance & Business class, Khalid Kadir taught us about the history of economic growth in the 20th and 21st centuries. The course covered how growth was made possible with social and environmental externalities. Khalid's curriculum and lectures were complementary to Naomi Klein's work, specifically regarding the shocks that were imposed on developing countries, such as in most of Latin America.
A lived experience in global economic history
While it was helpful to understand what had taken place in Latin America from an academic standpoint, in my gut I didn't necessarily feel like I had uncovered anything new, as I was fully aware of the evil hiding underneath the cloth.
I'd known the story of the Chilean students who went to learn economics from a professor by the name of Milton Friedman. They were the "Chicago Boys," who were eventually sent back to Chile during the Reagan administration.
I was deeply familiar with the U.S. strategy of repression and terror to back right-wing policies that favored privatization or neoliberal reform, otherwise known as Operation Condor—which spread across Latin America and in later stages spread into Western countries.
In the 1990s, Peru's President, Alberto Fujimori, implemented these privatization policies. Companies from overseas had gates open into Peru, from mining in Cajamarca to Duke Energy in Cañon del Pato. The policies had direct consequences not only for my family members—captured in stories they had previously shared with me of their lived experience—but for most of my community in Peru.
Above: My visit to Salar de Uyuni, the world's largest concentration of lithium brine, a critical element for batteries.
More commonly, one would call the impacts of growth projects in the environment "externalities." However, when thinking of this problem as a system, exploitation of the environment is part of the overall Western economic growth system. The effects or symptoms are most visible to people throughout Latin America, and I have been able to see their effects first-hand after traveling through most of these countries in the past year.
From the miners in the Andes altiplano during my travels to Salar de Uyuni to the banners I saw in Oaxaca, Mexico that stated, "Stop the killing, capitalism," activists have fought and continue to fight for their lands, the health of their people, and ultimately their way of life. The capitalistic and neoliberal models are not what people—more specifically el pueblo—want in Latin America.
While my focus is to make an impact on youth in Latin America, something that has always been at the forefront of my mind is that I must not become a "Chicago boy." I struggle with calling myself a "sustainability professional" because the most important lessons I learned about how we relate to each other and the environment have been gifts of indigenous people. They are the ones who were in a relationship with the environment and have been at the front line of climate change.
In the sustainability profession, one can't go far without utilizing terms like carbon emissions, or acronyms like the IPCC. People on the front lines of climate change speak about this catastrophe in a different narrative, one without carbon or acronyms.
Whether we're talking about the Aztec, Mayan, Quechua, or Aymara people, they all share in common an intimate relationship with their environment. They all share a common relationship with each other.
I don't intend to go back to Latin America and teach everyone about "sustainability" as it's understood in the Western world. Rather, I seek to build the capacity to bring awareness of the new systems at play to those communities.
I believe that their wisdom and knowledge when shared through stories can bring clarity to the complex problems we face as a society today.
The Presidio Graduate School difference
What sets PGS apart from the rest of the MBA programs is its willingness to do business differently. If you go to PGS, you sign up to make a difference and be a change agent in your community, not to join the Wall Street elite. PGS goes beyond its New York Times accolade ("If you want to change the world, go to Presidio Graduate School."). The PGS experience is about creating and nurturing relationships that transform you.
Being part of Presidio Graduate School means you get an opportunity to uncover history. For me, that meant going beyond learning the language of business. I had the opportunity to learn about the history of the school (when it was previously Bainbridge Graduate Institute or Pinchot), and elders who have advised me and guided me every step along the way. It means you learn to appreciate, become vulnerable, expand your understanding, explore problems to solve collectively, and puzzle on complex problems that the Presidio community is often not best positioned to solve.
Being a Presidian to me is far more than "becoming the solution." It is about being humble enough to ask other Presidians about their challenges, aspirations, and goals. To identify where there is collaboration, rather than to pull others in multiple different directions. It is about building a community that will be there to assist you in your transformational journey of learning, as well as hold you accountable for unlearning bad habits that you have internalized. At PGS, I have been able to build relationships that I know will play a pivotal role in achieving my dreams.
The Universidad EAN Program
Colombia is a beautiful country, with warm and welcoming people, and unbelievable landscapes. While I have visited Bogota, and have friends there, it is not quite Cusco. Yet I know that the struggles of people throughout Latin America are tied to each other.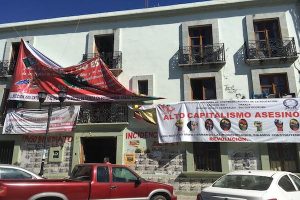 Above: Oaxaca banners in the streets stating, "Stop the killing capitalism."
I am very excited to see PGS open opportunities for students to make connections overseas, exchange knowledge, and ultimately shift towards alternative economies. It is an opportunity to imagine a new way of doing business.
If you are a student considering a graduate degree, if you aim to work in Latin America, then this just may be the right time for you to be part of the next cohort of change-makers. While at first, it seemed like PGS was not for me, I am happy to say that I have found a community.
Alfredo Gonzalez Valenzuela (C29) is passionate about engaging youth in educational programs focused on environmental justice. Alfredo was one of the speakers in the 2020 PGS Commencement ceremony. He is the host of the Climate Front Line podcast, a learning community that breaks down language and changes the narrative by focusing on the stories of climate front-line communities.