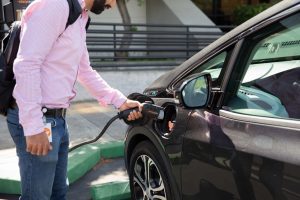 You and I can make decisions that significantly reduce our individual carbon footprints. For example, we can choose not to drive cars that run on fossil fuels, and instead opt only for electric vehicles (EVs)—especially when using renewable energy to charge them. Seeking greater impact, we can influence our families and friends to likewise choose EVs. I tell them, "The only cool car is electric," yet over the years I've convinced only a few to give up on internal-combustion engines.
But when workplaces provide EV charging, employees are 6X more likely to drive an EV than the average worker, according to the US Department of Energy. This strong conversion rate indicates that employers are in the driver's seat when convincing people to switch to EVs.
In the new white paper published by PGS Consults at the request of ChargePoint, "Workplace Charging: Lessons from Sustainability Trailblazers and Best Practices for Reducing Emissions with Electric Vehicle Charging in the Workplace," most of the 24 corporate managers participating in our research cited their desire to expand EV adoption as among the primary motivators for their EV charging programs.
Written by my colleague, Professor Dr. Marsha Willard, with research assistants Eric Fleishman (Presidio Graduate School student) and Kylie Flanagan (who graduated this month with her Presidio Graduate School MBA), the white paper contains EV-charging stories, advice on how to implement EV charging at your workplace, and statistics from major corporations and other workplaces throughout the USA.
The white paper is freely available to the public and I encourage you to download a copy at https://info.chargepoint.com/presidio-graduate-school-report.html. 
Now, please convince your workplace to install EV chargers; share the white paper with your organization today.