Please welcome Katie Excoffier as our new Expert in Residence for the Fall 2020 semester. Katie will be our first Expert in Residence who is also a Presidio Graduate School graduate herself: she was in the class of 2011 (Cohort 6)! In her own words, "That makes me super proud." 
Katie is the Board Chair at the Business Council on Climate Change and was the Sustainability Manager at Genentech for 12+ years. There, she led the cross-functional sustainability council and Genentech's 4,000-member employee green team, Green Genes.
Prior to her journey at PGS, Katie earned her bachelors in Biology at UCSD and a masters in Genetics at UC Berkeley. She developed a software system to record chimpanzee sign language, then rose in the ranks from software engineer to R&D director at Varian. Like many Americans, she was inspired to pursue sustainability after watching Al Gore's 2006 movie, An Inconvenient Truth, and enrolled at PGS to obtain an MBA.
Katie got her start at Genentech as a sustainability intern while enrolled at PGS, and went on to lead their sustainability program for the next 12 years before retiring this spring.
"I have always believed in the power of corporations to do good things, especially when the government isn't stepping up to do them," Katie says.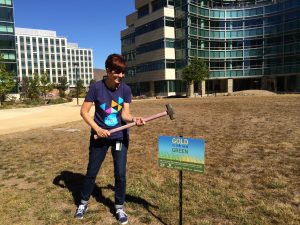 A few of her accomplishments at Genentech include launching a monthly sustainability newsletter to 4,000 members and collecting the many inspiring stories she received back;  signing Genentech onto EV100, which commits to move all company vehicles to electric vehicles; signing onto the Cool Food Pledge, which tracks the carbon footprint of the food served in Genentech's cafeterias with a goal of a 25% reduction; and her role connecting green buildings and health, driving LEED and WELL certified buildings at Genetech's South San Francisco campus (she is LEED GA Certified). At home, she's dedicated to electrifying her home and using renewable energy, and recently went vegan.
We're at a uniquely troubling point in our history, with a global pandemic, climate change, and racial injustice. Katie believes "you put those three things together, and they can seem even more daunting, or you could look for opportunities among them, and think of them in a more system-wide way." We need to pull everything together as we recover from the pandemic, and do it in a way that considers social justice, but continues pushing on climate change.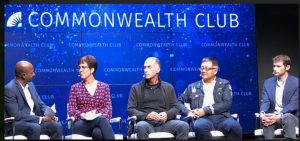 One of Katie's superpowers is that she's a connector, a skill that will be very beneficial for students growing or shifting their careers. She is involved in a number of climate change focused organizations around the Bay Area and beyond. Katie is a new Acterra board member and is an active volunteer with Citizens' Climate Lobby, Climate Reality Project, and Environmental Voter Project. She has a knack for knowing "what the best practices are, who is doing what, and being able to connect people up."
Katie is looking forward to talking to students of all ages because "they're our hope for the future." We couldn't agree more!
Consider joining an upcoming cohort to further your career goals and accelerate your path to impact!