On Saturday, July 25th, 2020, more than 100 guests joined the virtual panel "The Plant-Based Ecosystem: Entrepreneurship and Impact," a collaboration between the PGS Sustainable Food Club and Sweet Farm. Luminaries from the plant-based world engaged in a live discussion of the environmental and social impact of their work. Kelsey Steele, a newly graduated PGS alumna, India Rose Matharu-Daley, a current PGS MBA student, and Nate Salpeter, a co-founder of Sweet Farm, co-hosted this interactive event. The pioneering speakers were:
I had the chance to ask India and Kelsey about their experiences hosting the event.
Congratulations on hosting the Sustainable Food Club's first virtual event! Where did you get the idea? 
Kelsey: This past semester, I was a plant-based food fellow with Net Impact. My project was a Default Veg program at PGS. The idea was for PGS to serve only plant-based food offerings at events and gatherings. Attendees would have an option to make an individual request for a meal or snack with animal products. It's a flipped menu from what most restaurants and events currently serve. 
The community at PGS is excited to continue this initiative once shelter-in-place has lifted. Since this project was put on hold, I thought it would be cool if we continued the discussion on why a Default Veg initiative is important by hosting a virtual event. I posted about the idea on Slack. India reached out and graciously offered to help organize the event. 
India: Kelsey and I had already started to discuss and share articles about how industrialized animal agriculture, environmental destruction, and the maltreatment of wildlife have generated the majority of new infectious diseases since the beginning of the twentieth century. Such zoonotic diseases include Spanish flu, AIDS, SARS, Ebola, Zika, and COVID-19. In addition, industrialized animal agriculture undermines our ability to protect ourselves from illness. A staggering 73% of the world's antibiotics are used annually to raise hundreds of billions of land animals and farmed fish each year, while antibiotic resistance in food animals has nearly tripled in the last two decades.
Much ink has been spilled on our need to reimagine how the world works, to build a new, equitable economy, to prevent climate change, and to protect biodiversity. Kelsey, Nate, and I wanted to show that the plant-based ecosystem is already a solution to some of the world's most formidable challenges. Therefore, we organized a panel of speakers that represent several different fields in the plant-based ecosystem from across the globe.

What were your own personal journeys to a plant-based lifestyle? 
India: A deep-rooted desire to lessen the burden I place on the Earth and a conviction that we should not harm other living things led me to go vegan. A plant-based lifestyle reduces water consumption and carbon emissions and helps to end your personal perpetuation of an economic system that treats animals with unspeakable cruelty. I loved Gene Baur's vision of a "kinder, more compassionate world." The elimination of demand for products that entail unnecessary suffering is a means by which we can achieve that world.
Kelsey: Originally, my mom started to encourage my family to cut back on animal meat for health reasons; mad cow disease was a big thing at the time. After that, I learned about how baby cows are taken away from their mothers in order for humans to have cow's milk and have since phased out all dairy products. Like Toni Okamoto and Chef Chew's personal stories, mine was a process and I didn't become plant-based overnight. 
What are some of the most interesting things you learned listening to the speakers' presentations? 
Kelsey: All of the speakers talked about the importance of collaborating with organizations that are outside of the plant-based realm. For example, Fengru Lin of Turtle Tree Lab is working with Nestlé, Danone, and Fonterra in order to scale lab-grown, cell-based milk to make the biggest impact. 
Gene Baur of Farm Sanctuary talked about how it was important for leaders within the plant-based space to work with broader communities that were outside of vegan organizations. Gene was hopeful that coalescing efforts would lead to job opportunities within a community-centered plant-based food system and was particularly optimistic about the potential of urban agriculture. He also talked about collaboration being the key to ending the worst forms of animal confinement and human working conditions within slaughterhouses.
At PGS, we've talked about how simply "going plant-based" isn't enough in terms of environmental and social justice. Similarly, the speakers talked about how moving towards a more plant-based diet is just the beginning in terms of changing the food system. Nate Salpeter talked about how his sanctuary, Sweet Farm, was now growing organic plant-based food for the local community. He explained that "focusing on only one aspect of the food system and expecting broad change is akin to adjusting a timing belt and expecting a new car." Moreover, the byproducts of Kai Nortey's kubé Nice Cream, like coconut shells and shreds, go into help to regenerate the soil in organic community gardens in low-income areas. Kai currently supplies an urban farm in East Oakland that hires formerly incarcerated people for a living wage and provides health insurance.
India: Another striking theme was the speakers' emphasis on family, community, race, and culture. Chef Chew, who is black, told attendees that "excessive meat consumption" in his family meant that many of his relatives died before the age of 50 due to "lifestyle diseases," such as diabetes and heart failure. Therefore, he started the Veg Hub and Something Better Foods "to help people eat better, and to prevent the premature death that [he] saw so vividly in [his] community. [Now] African Americans are one of leading groups going plant-based." Similarly, Toni Okamoto watched her Mexican family suffer from diet-related health issues. "They felt as if they had been sentenced to poor health because of their finances," she said. "People don't eat fast food because they don't care. It's a lack of education about nutrition." Therefore, Toni spoke to people in her community, including many in severe financial stress and on government benefits, such as the Supplemental Nutrition Assistance Program (SNAP). Based on her findings, she showed how people could eat whole, healthy, plant-based food on just $25 per week on her blog, Plant-Based on a Budget. Now, in the Mexican community, there is a movement to "decolonize your diet," which embraces food centered on native plants and the traditional medicine of indigenous peoples.  
The event also gave us a fascinating insight into how the plant-based ecosystem is growing and evolving around the world. For instance, we were lucky to hear from Fengru Lin and Christian Cadeo from Singapore. Christian is the managing partner in Asia of Big Idea Ventures, a global VC fund and the world's largest new protein accelerator. Big Idea Ventures invests in three sectors: plant-based products (broadly new proteins), cell-based products, and "ecosystem drivers," which help to scale up previous two categories. At present, Christian and his colleagues are looking for innovative new protein startups in which to invest. These companies benefit from Big Idea Ventures' crack team of business experts, chemical engineers, and food technologists as they develop their products. In the past year and a half, and with the backing of limited partners such as Tyson and Temasek Holdings and strategy partners including the Good Food Institute, Big Idea Ventures has made 26 investments in companies across the world, from the USA and Singapore to Australia, Belgium, Turkey, China, and the Philippines. All this goes to show that the plant-based ecosystem comprises a lucrative and burgeoning international industry. The success of the four vegan unicorns, Beyond Meat, Impossible Foods, Memphis Meats, and Oatly are testament to how appreciably the sector has mushroomed in recent years.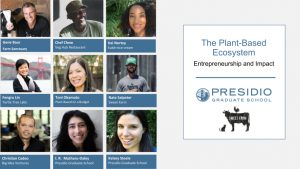 How did what you've learned at PGS align with the material that the speakers covered and prepare you for this event? 
Kelsey: At PGS, we talk a lot about systems thinking, where we consider the interconnected nature of elements within a system. Kai Nortey, founder and CEO of kubé Nice Cream, described her coconut ice cream as "liberation ice cream" because the company is "liberating people, animals, and systems from chemicals and systems abuse". Gene Baur talked about how it is "critically important to start changing the food system. Animal abuse and the abuses of factory farming more generally are systemic issues." Chef Chew also talked about the systems of oppression and how we "can't change the food system without focusing on communities of color who don't have access to healthy food options." It was inspiring to hear from thought leaders within the plant-based movement talk about systems thinking. 
Professors at PGS consistently remind us to avoid coming up with a solution until we fully understand the problem and the speakers on this panel supported this bit of advice. For instance, Fengru Lin wants Turtle Tree Labs to be the research and development hub for the dairy industry. Turtle Tree is currently conducting a multiyear marketing research project to understand views around lab-based milk. Fengru also talked about tailoring milk products to local nuances, such making baby formulas sweeter in India than in other countries. In order to make lasting systemic change within the food system, it's important to understand the local communities where these changes are taking place. 
India: The PGS faculty encourage us to reach out to anyone in the sustainability field, as well as in academia more broadly. The sustainability community is relatively small, but very supportive, since we share similar values and visions for a better world. I met Nate Salpeter after a webinar with Bertrand Piccard, whose pioneering Solar Impulse was the first solar-powered airplane to circumnavigate the globe. Piccard's Solar Impulse Foundation is now selecting and championing 1,000 economically viable solutions that protect the environment. A question from Nate prompted a brilliant discussion on how the plant-based ecosystem is key to both conserving and regenerating the natural world, after which I reached out to him to learn more about his amazing and varied experiences in the field.
What were your main takeaways from the event? 
India: For me, the fantastic variety of speakers represented the multifaceted nature of the plant-based ecosystem. The panel covered human rights, social justice, accessibility, and affordability, as well as animal rights, agriculture, technology, entrepreneurship, and investment. What's more, the reach of the plant-based ecosystem into new spheres is expanding. The groundbreaking cell-based technology at Turtle Tree Labs, for instance, can synthesize milk from many mammal species, including humans, the application of which could revolutionize infant nutrition. Fengru Lin's team is working with nonprofits to produce milk for endangered species. The team is attempting to replicate the nutritional profile of Sumatran elephant milk for calves whose mothers have been killed for their tusks and the Smithsonian Institution has asked Turtle Tree Labs to produce snow leopard milk for abandoned cubs. Hence, technology with its genesis in the shift away from industrial animal agriculture has great potential for wildlife conservation.
Kelsey: It was exciting to create an event with speakers and viewers from all around the world. It was also interesting to initiate and execute an entirely virtual event. India, Nate, and I organized this event together, but we've never been in the same room. I enjoyed connecting with India and Nate over our shared vision of creating a better food system. While I am excited for future in-person events, it is empowering to know that it is possible to build relationships and create an effective team in a completely virtual space. 
India: Yes, that reminds me of Sweet Farm's quarantine outreach program, Goat-2-Meeting, which has enabled about 250,000 individuals to meet the sanctuary's animals in more than 6,100 virtual educational field trips. Donations from the "meetings" helped 10 different sanctuaries to weather the storm the pandemic has engendered. Nate Salpeter described Sweet Farm as a "Sanctuary 2.0," at the nexus between education, innovation, and inspiration. He and his co-founder Anna Sweet focus on complementing and supporting the incredible work in the plant-based ecosystem by individuals, nonprofit and for-profit organizations, scientists, research institutions, and others to effect real change. "Our broken system," Nate said, "necessitates big visions based in system-level thinking that doesn't isolate any of the problems or solutions." Sweet Farm is a space around which to centralize efforts across the plant-based ecosystem.
Kelsey: Since I have officially graduated from PGS, I am excited to see what India and many of the other students at PGS do with the Default Veg initiative and within their own communities. As Nate mentioned in his closing remarks, everyone has the ability to educate, inspire, and innovate in their own way. 
India and Kelsey, thanks so much for taking time to chat with us and for sharing your learnings from this event.
Our pleasure! If people are interested in learning more or want to get involved with the plant-based ecosystem, here are links to some of the great organizations and resources that the speakers mentioned at this event: 
View the full event below!