By Peter Schulte (SEA C13), Founder and Editor at Kindling
Published 9.25.17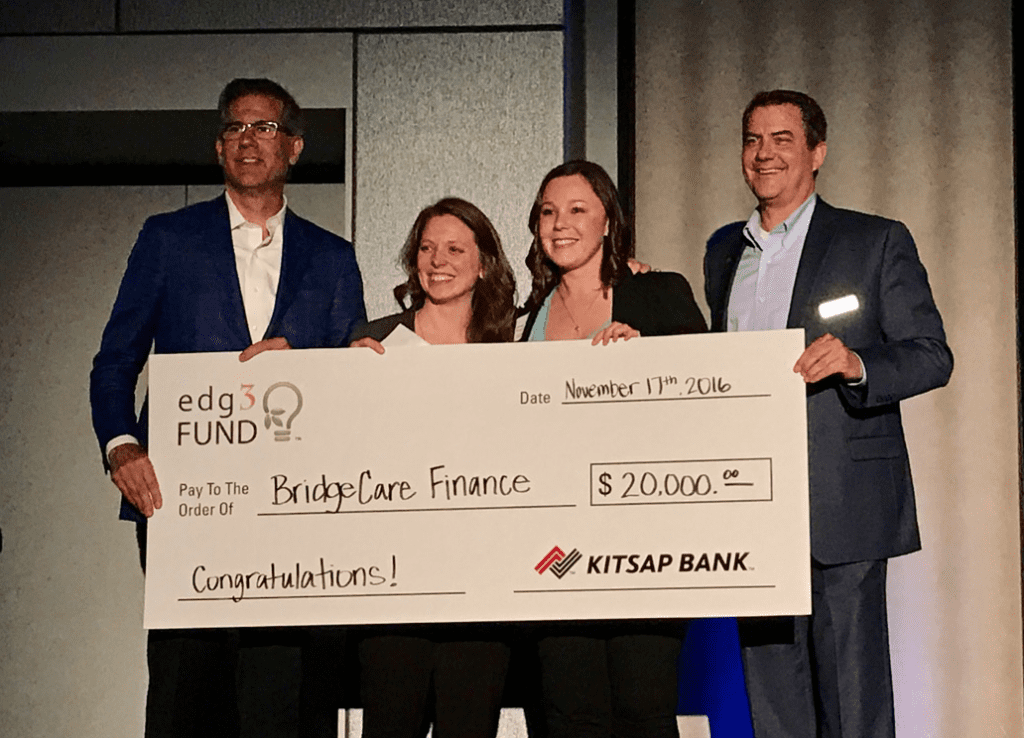 As PGS Seattle alumnae, Jamee Herbert and Audra Jung, see it, starting a business is a lot like having a baby. You're constantly up in the middle of the night. You've always got at least a little excrement on your hands. Just as you resolve one challenge, another three pop up. And it's only after you're fully committed that you realize just how much it'll completely derail your life - toward chaos, stress, and exhaustion, but also ultimately a deep sense of accomplishment.
So perhaps it's fitting that Jung and Herbert are partnering to revolutionize the childcare industry. They are raising their "baby" to help families do the same.
With their new startup BridgeCare Finance, Herbert and Jung are making childcare much more affordable for middle-class families. They are also enabling more parents to continue and thrive in their chosen career path, even after they've decided to start a family.
They envision a world where, according to Jung, "child raising and domestic labor are valued for the critical role they play in our economy and communities, where the gender pay gap is eliminated, all parents have meaningful work, and where children are free to thrive from birth."
The current childcare system often leaves parents high and dry.
In today's times, both parents often work full-time jobs. For many, this is not only an economic necessity but an important part of them both leading complete, well-rounded, fulfilling lives.
But when their families grow, parents - especially mothers - are left with an impossible choice: Do they leave their job and derail their career or do they pay for childcare which often eats up their entire paycheck?
If they decide to take time off from work, they come back at a lower position with lower salary. If they decide to stay at their jobs, they are left with brutal childcare expenses, at a time when most new families have very limited financial resources.
And to be sure, childcare expenses are brutal.
According to ChildCare Aware of America, in 2015, in 24 states, the cost of center-based child care exceeded housing costs for families with a mortgage. In 30 states, a year of center-based infant care was more expensive than a year of public university. Typically, families spend more on center-based childcare than they do on transportation, housing, and food.
Yet, despite this oversized role in family budgets, there are no services or financing available to help young families cover this increasingly difficult situation.
That's where BridgeCare comes in.
Bringing financing to the childcare industry
BridgeCare Finance is an upcoming online consumer lending platform for families to manage childcare expenses and save for college at the same time.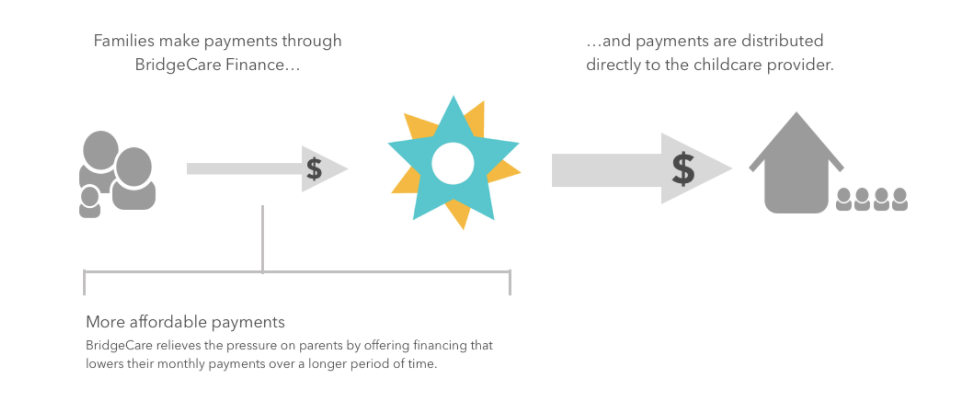 Rather than paying full tuition, customers pay BridgeCare 50% of their tuition and BridgeCare pays their full tuition for them. Parents continue on with this plan until their children move on to public school, and then an additional three to five years - however long it takes to pay off the rest of the loan.
In essence, rather than forcing families to pay all of their childcare expenses at once - at a time when many young families have limited financial resources - BridgeCare allows families to cut their monthly child care expenses in half and spread the full cost over a much longer stretch of time.
Because BridgeCare customers use a single-use loan (i.e., it can only be spent on the childcare center), they are able to borrow at a rate well below credit cards, ultimately leaving more money in family's pockets.
Jamee's and Audra's entrepreneurship journey
Jamee and Audra devised BridgeCare in their Entrepreneurship class at PGS Seattle. With Audra's background in early childhood administration and Jamee's background in banking and finance, they were the perfect duo for it.
At PGS, the two learned about the rise of financial technology or "fintech" companies - like Betterment, Stripe, Square, Wealthfront, etc. - using web-based platforms to assist customers with their finances. Herbert and Jung asked themselves, "How can we use this emerging paradigm for the common good?"
And BridgeCare's model is definitely different than the prevailing one.
As Jung put it, "Most lenders start with the question of how they will make money and then design from there. BridgeCare will make money and be profitable but we have designed our product to be sure our families end in a more positive financial situation than when they began. We are building a regenerative rather than extractive model."
They both credit PGS for helping them find this balance between purpose and profit.
Herbert explained, "I wanted to learn the nuts and bolts of finance, as well as the new innovative ways that people were making finance better serve people. I also knew I wanted to be an entrepreneur and build something to make the world better off than it was before my business existed. These desires were absolutely satisfied by the finance and entrepreneurship tracks in my second year."
They also found that the school's emphasis on systems thinking allowed them to see potential solutions and levers that they may have not otherwise. Jung noted, "Without a foundation in systems thinking and economic systems, BridgeCare Finance would not be the business we are building."
Systems thinking, personal development, and practical knowledge and fundamentals are all core ingredients in PGS's curriculum - and all show up in spades in BridgeCare's work.
More success, more problems.
What Jung and Herbert are attempting to do is big, even audacious. But they haven't let that get in their way.
In fact, they have had a constant stream of success in the first phases of their startup.
In June 2016, the two won first prize at Pinchot University's Business Plan Competition (somehow beating out the author of this article) - winning a $3000 prize. In September 2016, they were finalists at Jones Foster Accelerator Program. In November 2016, they won Kitsap Bank's Edg3 Fund competition, winning a $20,000 prize. They were recently selected to join the Fledge conscious company accelerator in Seattle - one of seven out of over 2000 applicants from around the world - winning a $15,000 investment. They are now semifinalists in the SVP Fast-Pitch competition.
Perhaps most importantly, this summer, they officially brought on their first BridgeCare customer. The business is real! Looking forward, they are launching their first fund to generate capital for BridgeCare loans.
Their success is not just good fortune. It's the result of hours upon hours, months upon months of hard work, and good teaching along the way.
"Good thing we are bang-a-rang pitchers thanks to coaching at Pinchot," Jung reflected.
A parting piece of advice
Over the last couple of years, through their time at PGS and now their first year out in the wild building their business, Herbert and Jung have learned a thing or two. When asked what their best advice for PGS students and aspiring entrepreneurs, they offered:
"Follow-up with everyone you meet, ask for help and for things you don't think you deserve, take breaks, apply to everything (contests, accelerators) you just might win. Expect a roller coaster. Don't look back."
And they haven't.