By Bridging our San Francisco & Seattle Campuses
Published 5.2.17
To help us build connections between Business and Public Policy, we are building bridges 
between our San Francisco and Seattle 
Campuses.
Authors: Anna Cockrell (SEA C14), Danny Fisher-Bruns 
(SEA C14)
, Sylvia Raskin 
(SEA C14)
Setting the Stage        
Walking down the waterfront boardwalk, suitcase in hand, a salty breeze in the air, and the warm sun beating down on a Thursday morning, two questions percolate in my head:
Why did I only pack wool socks?

And

Do I even own sunglasses?
I knew immediately that this residency was going to be very different than residencies at IslandWood.
I made it to the door and found my way to the second floor where I was met by three of my favorite things: friendly faces, snacks, and a large pot of coffee.
Between classes at SF Residencies, the "Green Room" is where people often convene. Classroom assignments are written on the whiteboard, and Dawn, Eric, and Sally, the residency coordinator, happily answer questions and engage in rich conversations. Merchandise from Goodwill Hunting was elegantly displayed by the door.
A Day in PGS SF Classes
Our San Francisco PGS classmates were a warm and welcoming crowd. From the moment I arrived, I was invited to classes in which my full participation was not only invited but expected. Stop number one was Effective Management, Communication & Action (EMCA), where the theme of the class was "difficult conversations." (I suppose there's no better way to get to know a bunch of strangers.) I was immediately struck by the curiosity and openness of all of the students. After just a few minutes of conversation, it was as if we had been classmates for the whole semester.
Later in the afternoon, I sat in on Finance class, where everyone broke out into their Experiential Learning (EL) project groups to brainstorm how risk might play a role in the projects they were working on. The projects were as diverse as the students. One group was helping a community grocery store in West Oakland to truly support community needs. Another group focused on how a rural community in California might adapt to the changes brought on by increased seasonal flooding. Another was helping to coach a family-owned mattress company into seeing their role in a changing competitive ecosystem – even if that role might be closing its doors. How cool is that? The students in SF are grappling with the same complex and wicked problems that we are in Seattle.
At the end of Day 1, it had been a whirlwind of classes (Eight (8) hours of a single class each day!). When 5:00 struck, many students expressed interest in hanging out after class but felt the pressure to study for in-class midterms and quizzes the next day or needed to attend meetings with class teams. I heard many SF students ponder thoughtfully about how to build community at a campus with a 9-5 schedule. The rest of the weekend would reveal some answers to this question.
Student Recruitment Event
Thursday evening brought the admissions event, "Conversations, and Libations." The event was well attended with at least 15 prospective students. There were tasty snacks, beer, and wine. We all attended (Anna, Danny, and Sylvia), along with Selena, a current Dual-Degree student and Student Representative, Cynthia Scott, a faculty member, alumni David Groves (the former Senior Policy Advisor at The White House), Connor, and Sally. After donning our name tags, we mingled for about half an hour before convening in a circle for Connor's recruitment presentation, which was accompanied by a PowerPoint, and some Q&A.
Prospective students were drawn to PGS by a desire to build a more meaningful career and heartened that they had discovered a community of impassioned peers at the PGS event. They also liked that there were two campuses and the potential to study and build relationships in Seattle and San Francisco.
Presidio Converses: SF's Bi-annual Stakeholder Engagement Forum
"Presidio Converses" is a forum for students, faculty, administrators, and alumni to come together once per semester to discuss current school challenges and opportunities for improvement. A team of eight Student Representatives organized the event, which was well-attended by students and faculty, along with a few alumni, two board members, Mark Schulman, and Steven Crane.
Community Event: "Seattle Circle"
On Saturday nights, Sally and/or student groups organize community events with food and libations! In March, we were guest hosts and invited everyone to join us for a Circle. While Circle is a familiar community-building practice that starts off each day of Seattle Residencies, we were not entirely sure how this first pass at a San Francisco version would pan out. In our minds, we were prepared for this to be the shortest circle in the history of shapes. If that happened, we figured we would just drink wine and mingle with folks afterward.
What happened instead was just the opposite. The students and faculty that showed up were so engaged! At one point I noticed the clock in the room – over a half hour had gone by and we were still on appreciations. To everyone who joined us that evening: we truly appreciate your engagement and your contributions.
As we got into "problems with solutions" and then into "puzzles," people became even more engaged (if that's possible), talking so candidly about the rich opportunities in this community. Many problems easily found solutions including introducing our gender pronouns along with our names and saying hello to new faces more often. Many community members shared with us that they saw the value and importance of forums like Circle to build community and increase communication at school. Students and faculty expressed that they could see how SF versions of Circle could work during residencies. A few ideas that emerged were that Circle could be offered to the greater community at least once per residency, either as an optional activity in the morning, during lunch, or immediately after one day of class. Steve Hill, faculty at both SF and Seattle campuses, noted that a 20-minute version of circle in classes greatly increases student engagement and connection in class. Steve said Circle is a classic example of "going slow to go fast" and that he easily gets 40 minutes back in increased participation and performance for the 20 minutes they spend in circle.
Time to Let Loose!  
After the school-sponsored Saturday community event, the Social Capital student group invited students to a carefully selected and righteous dance party in the city. The tradition for several years has been to first gather at Pablo's (a dual-degree student) house nearby for lively conversation, drinks, and couch hangouts (this turned out to be so fun, most people stayed at the house for the entirety of the evening.)
Looking at the adorable faces of 30+ students having conversations that overflowed into hallways and balconies, reminded me of sitting around the fire circle at IslandWood. I remember thinking of both IslandWood's fire circle and Pablo's house, how lucky I was to be passionately talking about business solutions to the world's wicked problems in a social atmosphere with so many people I admire and respect. I excitedly wondered how many potentially world-changing conversations might be happening in that one apartment or around a fire circle in the woods, on any given night of a residency.
The Sunday Night Happy Hour at the combination Irish Pub / Indian Restaurant was another social highlight! I had wonderfully meaningful conversations with students as they debriefed their weekend, caught up with friends, and played pool. Nando, a Student Representative, made sure everyone was invited to the event through email and even negotiated some sweet food and drink specials for Presidians! There were probably 50+ people at the bar and many stayed well into the evening before heading to the airport or their respective cities.                                                  
Building Bridges Between Stakeholder Groups
Presidio values experiential learning as crucial to the educational experience. Seattle excels in allowing administration, students, and faculty to interact frequently and chew on complex problems together. Forums such as Kaizen at each residency and daily Circles give community members the opportunity to express appreciation for what is going well, voice concerns, and be accountable for implementing solutions in cross-stakeholder teams.
In Seattle, our circles have always been full of students, administrators, faculty and alumni. By having all stakeholders and decision makers present, dialogue can truly drive toward solutions and create a culture of accountability. Communication is direct, and appreciations as well as challenges can be shared and heard. Through these interactions, faculty and administrators model the kind of leadership they teach about in class. When decision-makers and other stakeholders are separate from each other, convene around different tables, and engage in parallel conversations, a culture of accountability can erode. At best, conversations become an echo chamber. At worst, a culture of complaint emerges.
In SF, Student Representatives facilitate conversation between students and administration, which is a different form of student leadership compared to the Seattle hybrid program. Student Representatives and Presidio Converses evolved out of a desire for more community dialogue and more transparent decision making. Student representatives in SF do their best to take on a heavy burden of collecting student concerns and voicing those to the administration. Presidio Converses, held once a semester, is a valiant effort to facilitate conversations about concerns and opportunities for improvement.
Many puzzles persist: How can students truly be represented through their representatives? How can institutional leaders deepen stakeholder engagement through inclusive and transparent processes? 
Connection with Nature & Location, Location, Location
One obvious difference between a SF residency and an IslandWood residency is the setting. The SF campus building is a fairly common school or business building with florescent lights, white walls, and few windows. I don't think this building would stand out if I didn't attend residencies at IslandWood. Attending class, student meetings, and community events for 10 hours a day for four-days straight is a grueling exercise. At IslandWood, attending classes in beautiful LEED certified buildings made with natural materials and artistic details has a calming effect on me during long days. In addition, having the opportunity to walk on a trail or the tree-lined paths during a break fills me with the energy and reverence for nature that reminds me why I am subjecting myself to this intensive learning experience! In contrast, I heard many SF students express the difficulty of sitting in a plain room for eight-hour days without access to natural light or fresh air. In the case of a more traditional school experience, with two-hour classes this building might not have such a dramatic effect, but with the structure of residencies, the impact is acutely felt.
The SF community has found a few ways to address the need to move around in nature during residencies. Leadership professor Cynthia Scott pulls nature into her classroom with nature photos and a mock campfire, and students are able to enjoy the California sunshine during lunch breaks. I wonder what can we learn from each other about the benefits of our unique settings.
"Campfire" in Cynthia & Simon's Leadership Class
Identity of the School - Embracing Presidio Graduate School's Competitive Advantage
It appears to us that the San Francisco campus takes pride in technical sustainability knowledge and proficiency. Seattle takes pride in our personal transformation, collaborative culture, and change management skills. Together we are not the average sustainable management school. Both campuses have the shared value of mastering business skills for the benefit of social, financial, and environmental impact. This is the mindset and values that attracts students to recruitment events, encourages them to enroll, and ultimately compels them to finish their degree and potentially pursue further education with PGS. We have an incredible opportunity to draw on the strengths of our formerly separate programs to dramatically increase student enrollment and become the solution we want to see in business and public policy education.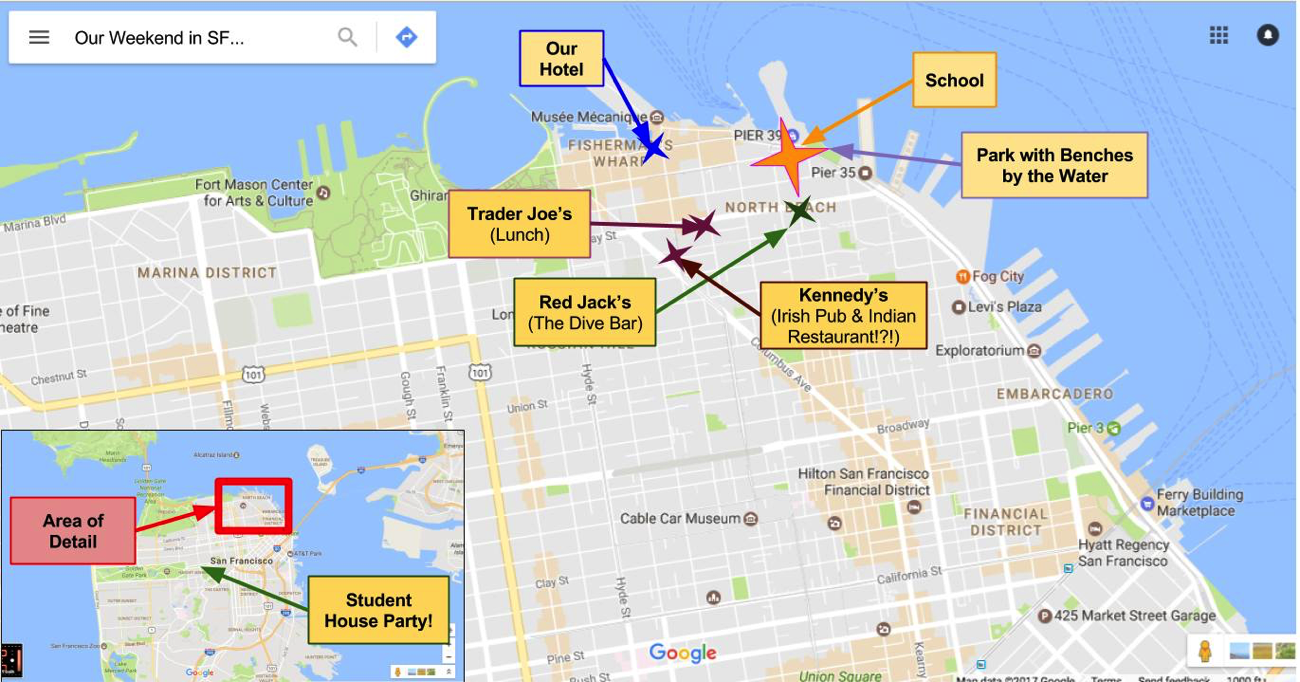 Local landmarks provided for the visiting Seattle students.
Recap of the Residency Schedule:
Thursday, March 16 - Sunday, March 19
Alliant International University, 1 Beach St, San Francisco, CA, 94133
Thursday:
Class from 9:00 am - 5:00 pm
Lunch from 12:30 pm - 1:30 pm
Admissions Event: Conversations and Libations from 6:00 pm - 7:30 pm
Friday:
Class from 9:00 am - 5:00 pm
Lunch from 12:30 pm - 1:30 pm
Happy Hour at Red Jack's
Pier 39 St. Patrick's Day Celebration
Saturday:
Class from 9:00 am - 5:30 pm
Presidio Converses lunch from 12:30 pm - 2:00 pm
Community Event: Circle at 6:00 pm
Student House Party followed by Dance Party
Sunday:
Class from 9:00 am - 5:30 pm
Lunch from 12:30 pm - 2:00 pm
Happy Hour at Kennedy's Irish Pub & Indian Restaurant