By Amber Bieg, MBA Alumna (C7)
Published 7.29.13
If you asked me in 2007 what I would be doing after graduating from PGS's MBA program, I never would have said: "I'm going to build a wool mill." Yet, today I can't imagine doing anything else. It all started in my Products and Services Class, taught by Dr. Dariush Rafinejad. Using the IDEO Human Centered Design Toolkit, my project team and I struggled to identify the unmet need. We wound through various product iterations, and after nearly running out of time, we finally arrived at our product: Magnetic Felt Rocks (a natural-materials kid toy). While the Magnetic Felt Rocks served their purpose for the class and we had a lot of fun making them, I still had the itching feeling that we hadn't identified the real unmet need.
In the last few weeks of the semester, during my research to find source materials for felt (raw wool), I stumbled upon an enormous problem: California, the largest wool producing state in the U.S., sends more than 100,000 pounds of raw wool to the landfill and at least 1.4 million pounds is sold overseas for prices less than the cost of production (Fibershed Survey, 2013). Later I learned that as aging sheep ranchers (70 percent are over 55 years old) look toward retirement, young would-be farmers can't afford to raise sheep. The problem is that rising land values, diesel prices, and the cost of feed have risen disproportionately to wool income. California farmers are losing money on wool and production has dropped 90 percent over the past 50 years (USDA, 2007). I quickly discovered the reason why: While California produces over 3 million pounds of wool annually; the milling capacity is around 10,000 pounds per year (three tenths of once percent of total production). California's lack of wool processing has forced ranchers to sell their wool overseas or liquidate their flocks. At the same time, clothing manufacturers such as The North Face, Patagonia, Ibex, SmartWool, Eileen Fisher, Indigenous Designs and a handful of small-scale designers are seeking to work with domestically grown wool textiles.
The need became very clear to me: California needs a wool textile mill. In the last week of the semester, I couldn't start the class project from scratch with this new knowledge nor could the mill idea become my capstone project. I had already taken capstone out of order, so Products and Services was my final semester. I graduated with this unmet need and set out to solve it.
In the fall of 2012 I met Rebecca Burgess, the founder of the Fibershed project. Rebecca started the Fibershed project out of a commitment to wear a 100 percent locally (150-mile radius) sourced wardrobe for an entire year. This wardrobe was made from fiber, dyes, and labor derived solely from her "fibershed,"producing zero toxic wastewater effluent and having one-sixth the carbon footprint of a conventional wardrobe. The biggest challenge for her in producing the wardrobe was the lack of processing infrastructure to make clothes. She arrived at the same conclusion: California needs a wool textile mill.
Rebecca and I immediately began working together, along with one of the founding board members, Dustin Kahn. We received generous grants from the Rudolf Steiner Foundation, Blackie Foundation, the Sarah and Evan Williams Foundation and the Clara Fund. Since January 2013, we have been developing an economic feasibility study for a California wool mill, with the help of textile engineers from North Carolina and South Carolina and researchers from UC Davis and UC Berkeley. The purpose of the study is to develop an economic and business framework for building a sustainably sourced local textile economy in Northern California, as well as establishing a local cooperatively owned mill that could process at least three million pounds of raw fiber annually.
The feasibility study is broken into three phases: Phase I) Wool Inventory and Supply Analysis; Phase II) Mill Construction and Operational Feasibility; and Phase III) Demand Analysis, Prototyping and Life Cycle Assessment. In Phase I, we completed the first ever supply analysis of California wool and directly inventoried 1.408 million pounds of raw fiber (44.8 percent of the California wool supply) for its quality (micron count) and quantity (see Fibershed Wool map). We discovered that over one million pounds (71 percent) of the wool we inventoried is under 25 microns; fine enough to wear next to the skin, allowing for the production of functional and commonly worn garments. All wool over 25 microns (350,000 pounds) can be utilized for outerwear, felt and bedding products. The data collection strategy employed stakeholder engagement skills, I learned in Presidio's Managerial Marketing Class, taught by Rodrigo Espinosa and the supply analysis employed skills learned in Capital Markets, taught by John Katovich and now taught by Scott Fullwiler and Vanessa Fry. While not offered when I was in the MBA program, the Quantitative Methods class taught by Nizar Abdallah would provide the skills necessary for this type of quantitative analysis.
Phase II is underway, in which we are building a techno-economic model to determine the potential scale and scope of fiber processing, based upon the wool supply. Rebecca Burgess, our design consultant Lydia Wendt and I spent a week in North and South Carolina, engaging engineers and representatives from the wool industry with our California wool supply data. We also toured five milling and processing facilities in the region, and interviewed the mill owners extensively about their business structures, and impacts and changes in the market that have effected them since the implementation of NAFTA. As I build this model, I appreciate how much I learned in Operations and Production, taught by Dwight Collins and Managerial Finance, taught by Steve Crane. Our consultants have praised our production and finance model as being a "very sexy model."
Our work in the third phase of the feasibility study is to calculate the demand for local fiber, prototype California grown cloth, and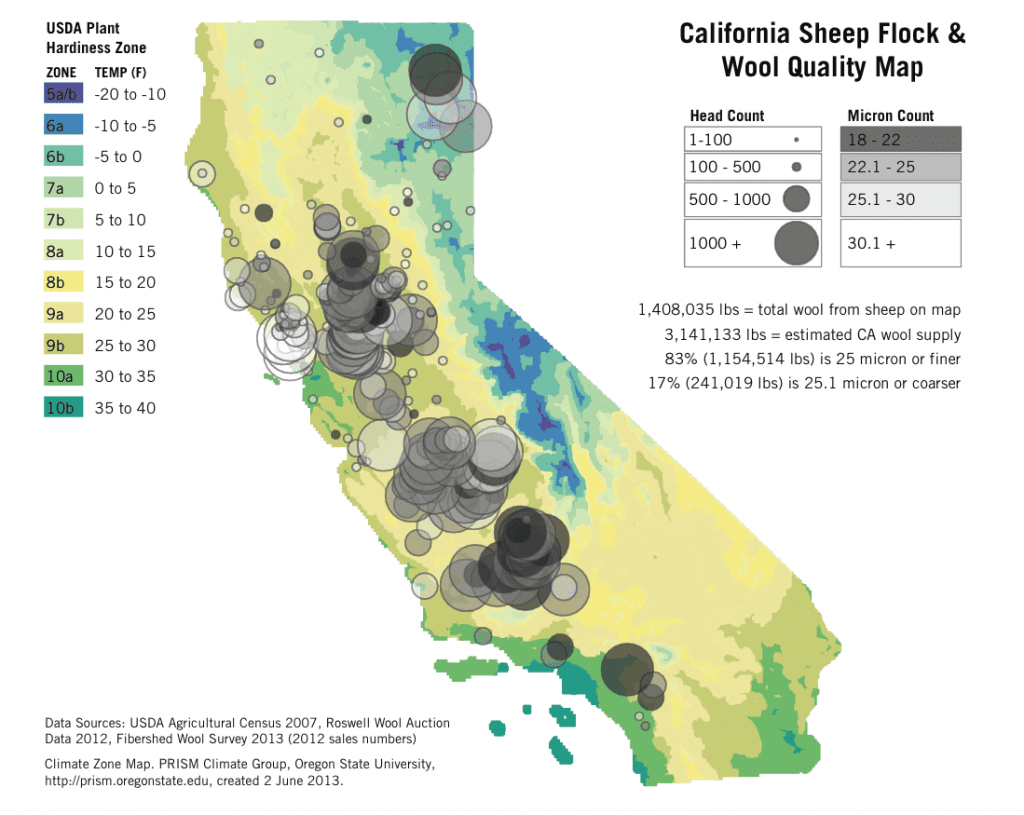 assess the environmental impact of that cloth with a 'soil to soil' full life cycle analysis (LCA). I am employing the skills and techniques I learned in Sustainable Products and Services, taught by Dariush Rafinejad, to build this demand analysis and product specifications. For the LCA, the skills I learned in Implementation of Sustainable Practices, taught by Marsha Willard (now taught by Kristin York) have been critical. Using 100 percent California wool, we plan to produce three different prototype fabrics defined by our demand calculations. With the help of the Marin Carbon Project and Silver Labs at UC Berkeley, our LCA will be the first soil-based life cycle assessment quantifying the greenhouse gas emissions from producing and processing sheep's wool into garments. This 'soil-to-soil' LCA will set a new standard for how greenhouse gas emissions are measured in garment production, by including land and animal management.
In contrast to a Fibershed supply chain, an estimated 17 to 20 percent of industrial water pollution comes from conventional textile dyeing and treatment and an estimated 8,000 synthetic chemicals are used throughout the world to turn raw materials into textiles, many of which will be released into freshwater sources (The Guardian, 2012). According to the U.S. Energy Information Administration, the textile industry is the fifth largest contributor to CO2 emissions in the United States. Synthetic garment fibers, released through laundry-based sewage run-off, accounted for the greatest share of plastic pollutants on the world's beaches in a 2011 study published in Environment, Science and Technology.
The design for the California mill is a systems-based design (learned in Principles of Sustainable Management, taught by Hunter Lovins, now taught by Paul Hawken and Amanda Ravenhill); where one part supports the next in a closed loop system. Our aim is to create a 'soil to soil' fabric system, where the end of life for Fibershed fabric becomes the compost, fertilizing the rangelands, producing better grass and thus better wool. Like an ecosystem, every part is mutually supportive. Growth of this system is through repetition, not accretion. Every fibershed needs its own processing capacity to optimize the fiber resources that naturally perform for that specific bioregion. We live in an amazing time where we have the opportunity to flip manufacturing on its head. When I started at Presidio, I only dreamed of launching a venture as exciting as this.
In August 2007 at the Presidio MBA orientation, Ron Nahser, Provost, gave each student a Corporantes Pathfinder Notebook. He began by saying: "What you came here for is not why you are here. What you think you will be doing after you graduate is completely different from what you will actually do. We are here to help you do more than just get an MBA, we are here to help you discover that which you are truly passionate about."  Then Ron asked us to write down in the notebook the answer to a series of questions that we could look back upon at the end of our degree. The first few questions were about our values and our definition of sustainability. The fifth question was: "What business ideas do you have?" At the time, I was developing the Urban Forest Map and thought that my career would forever be in ecosystem software. After I wrote a paragraph about the Urban Forest Map, I wrote a little note in the bottom corner: "I really want to develop sustainable fabric, I can't find a damn business suit that matches my values."  I put the Corporantes Pathfinder Notebook on a shelf in my office and forgot about it for six years. Now opening it up again for the first time, it's amazing to see how my education came full circle. Ron Nahser was right: I did find my passion and equally important, the skills to make my dream a reality. I am so grateful for this community, a very special group of individuals who bring their passion into the world. It was an honor to spend five years with professors and students who believe in making a positive difference. After getting to know all of you, I truly believe we have the collective passion and skills to make the world a better place. Thank you Presidio.
If you want any information about the mill or the upcoming Fibershed fashion show on October 13th, please send me an email. To learn more about Amber Bieg, visit LinkedIn  or Green-Ideas website.