By Sonya Kendall, Associate Director of Engagement
Published 3.8.13
If a dollar was donated every time I heard someone say, "Presidians are Everywhere," we'd probably have met our fundraising goals six months early. Presidio Graduate School is a small but mighty community with smart folks who are showing up and shaping the conversation. Last week, the PGS presence was especially felt at the GreenBiz Forum at the UCSF Mission Bay Conference Center.
Of this year's GreenBiz 2013 Speakers, six were graduates of Presidio Graduate School programs. There is not a single educational institution that can boast of such representation
Simran Sethi (MBA C1) kicked off Wednesday with a One Great Idea session, "It's All in Our Heads - The Psychology of Sustainability. She was later featured in the article, "Getting behind the psychology of sustainability" by Hannah Miller. With only a day to prepare, Karie Crisp (MBA C11), stepped in for a colleague to speak on Supplier Engagement and Scorecards (photo below). Katie Excoffier (MBA C6), Sustainability Manager for Genentech, led a GreenBiz Guru Session on "How to Engage Employees During Earth Week". Nicola Peill-Moelter (EC 6), Director of Environmental Sustainability for Akamai Technologies, presented in "The Virtuous Cycle of Energy Efficiency: Harnessing People Power to Save Energy". Rebecca Sternberg (MBA C5), Senior Manager, Ernst & Young, spoke on an Advance Preview session that shared "Findings from Ernst & Young and GreenBiz Group New Survey on Sustainability Risk Management and Reporting". Finally, Kristen York, an Executive Certificate alum and PGS adjunct faculty member, led a GreenBiz Guru Session on "What every business needs to know about CA's Cap & Trade."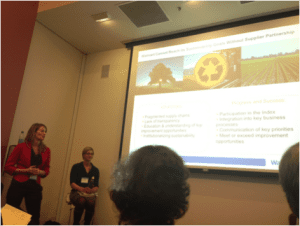 And Presidians aren't just up front, they are also participants in the sessions asking the tough questions. It was great to see students, alums and other PGS community members in attendance and sporting PGS flair.
Nicole Sherwin (MBA C8) is in the states for a short burst before heading back to Paris, France where she supports fortune global 500 companies integrate supplier sustainability performance monitoring into their procurement processes. She joined the French start-up, EcoVadis, in 2010 after graduating from PGS. Brie Johnson Fulton (MBA C4) looked more radiant than ever as she and, now husband, Orion Fulton (MBA C5) expect their first child this summer. Jill Stoneberg (MBA C11) helped lead the GreenBiz volunteer team this year. Frankie Ridolfi (MBA C10) came with Free Range Studios, where he now serves as VP of Marketing.  New Adjunct Faculty member for Integrative Capstone and CEO of New Leaf Paper, Jeff Mendelsohn, was also in attendance. Special thanks to the current students who helped run the PGS table: Emma Allison, Bettina Baylis, Devon Bertram and Carley Klekas.
Yvon Chouinard, founder of Patagonia, spoke on Thursday the words that we probably can relate with so well but dare not say, "I'm real pessimistic about the future of the planet" (watch the full conversation here). He later asked the question, "What would an economy look like that does not destroy the planet?"
Answer: Such an economy would be run by Presidians.
PGS's mission is to educate and inspire the next generation of business and civic leaders to create a more just, prosperous and sustainable world. It is thrilling to witness the mission embodied and brought to life through the thoughts, papers, presentations and day-to-day work of the innovative students and alumni of the Presidio Graduate School.
And there is still good news. You'll probably be running into a Presidian soon too.