About the founding of Presidio Graduate School
Founded by Richard Gray in 1973, Word College West (WCW) is the seed that eventually grew to become Presidio Graduate School. World College West closed in 1992, but the spirit of WCW lives on in Dick Gray's successor institution Presidio World College founded in 1993, which was renamed Presidio Graduate School (PGS) in 2003.
While PGS's setting and educational level are new, its vision, values, and philosophy are based largely on the experience of its predecessor, World College West, an accredited work-study, world-study liberal arts college founded in 1973 and operated on its 194-acre environmentally designed campus in Marin County until 1992. Its experiential learning philosophy was based on the premise that only disciplined reflection on experience leads to learning that lasts. At World College West that included seminar-size classes, work experience, and a year's study in a non-Western culture such as China, Mexico, Russia, or Nepal.
At Presidio Graduate School, students are educated and inspired to be a new generation of skilled, visionary, and enterprising leaders transforming business and public policy and creating a more just, prosperous, and sustainable world. Presidio activates students and professionals across a range of disciplines, industries, and sectors to bridge the gap between commerce and the common good.
In 1996, soon after the Presidio of San Francisco, a 200-year-old military post adjoining the Golden Gate Bridge, was converted to an urban National Park, the School established its presence in this 1,490-acre natural setting in one of the nation's most attractive cities.
For several years, PGS offered non-degree courses and seminars in a program known as Sustainable Later-Life Design, focusing on areas contributing to an integrated, sustainable second half of life: Purposeful Work, Physical Well-Being, Economic Security, Spiritual Grounding, Meaningful Relationships, and Commitment to the Community. PGS also worked collaboratively with AARP and developed programs co-sponsored by Elderhostel, which was seeking ways to serve younger, midlife adults. But the Presidio board and administration were especially interested in developing sustainability-oriented degree programs.
So, in 1999, the School signed a contract with Vermont's Goddard College for Presidio to develop and pilot-test, during the 2000-01 academic year, a B.A.-completion program known as S E E D (Sustainable, Ethical, Enterprise Design).
Market research and focus groups revealed, however, that the major interest in sustainability-related higher education was from a different demographic group, men and women in their thirties and beyond seeking an MBA degree which integrates concerns for the sustainability of "People, Planet, and Profit."
In 2002, therefore, the School signed an affiliation agreement with accredited Alliant International University to conduct an MBA program with a concentration in Sustainable Management.
---
The Evolution of PGS – By Co-Founder Dick Gray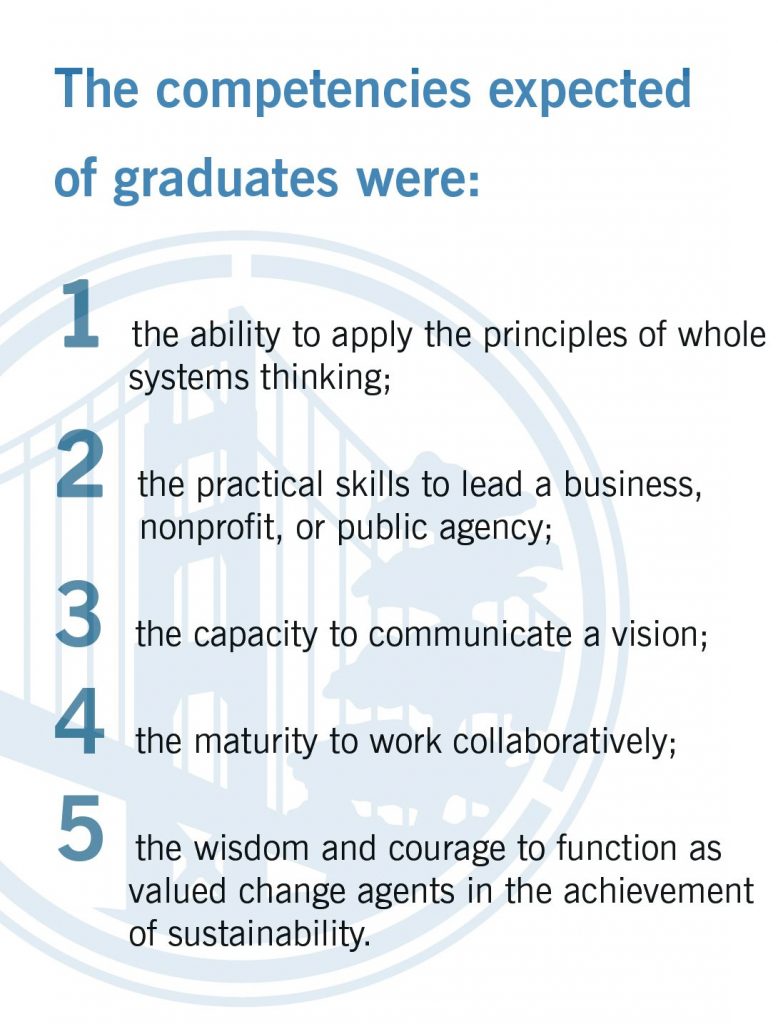 The school has earned its own independent accreditation and acquired Pinchot University, formerly Bainbridge Graduate Institute (BGI). The School has conducted the two-year MBA Program in Sustainable Management for thirteen years (the first cohort enrolled in BGA in 2002 and Presidio World College in 2003 respectively). The school now offers two MBAs in Seattle, an MPA program in Sustainable Public Administration in governmental agencies and nonprofit organizations, as well as a Dual MBA/MPA Degree and several Certificate programs in Sustainable Management for executives.
Unlike schools which offer individual courses or programs in the social, financial and environmental dimensions of business and public policy, PGS integrates all three of these dimensions to decision-making in every single course.
To date, more than 1,600 graduates have earned the M.B.A. and M.P.A. degrees. These uniquely prepared graduates are leading the sustainability movement around the globe.