Presidio Graduate School Tuition and Fees
Choosing the right time to begin your journey through graduate school requires an evaluation of your financial commitments and a strategy for affording your education. Presidio Graduate School recognizes the value of a positive and impactful education and as a non-profit accredited institution, PGS offers tuition costs that are manageable and affordable to ensure each student receives the opportunity to earn their degree and start making a difference as soon as possible. Financial aid options are available for both full and part-time students.
2019-2020 academic year tuition rate is $1195 per unit and based on semester enrollment for all degree and certificate programs.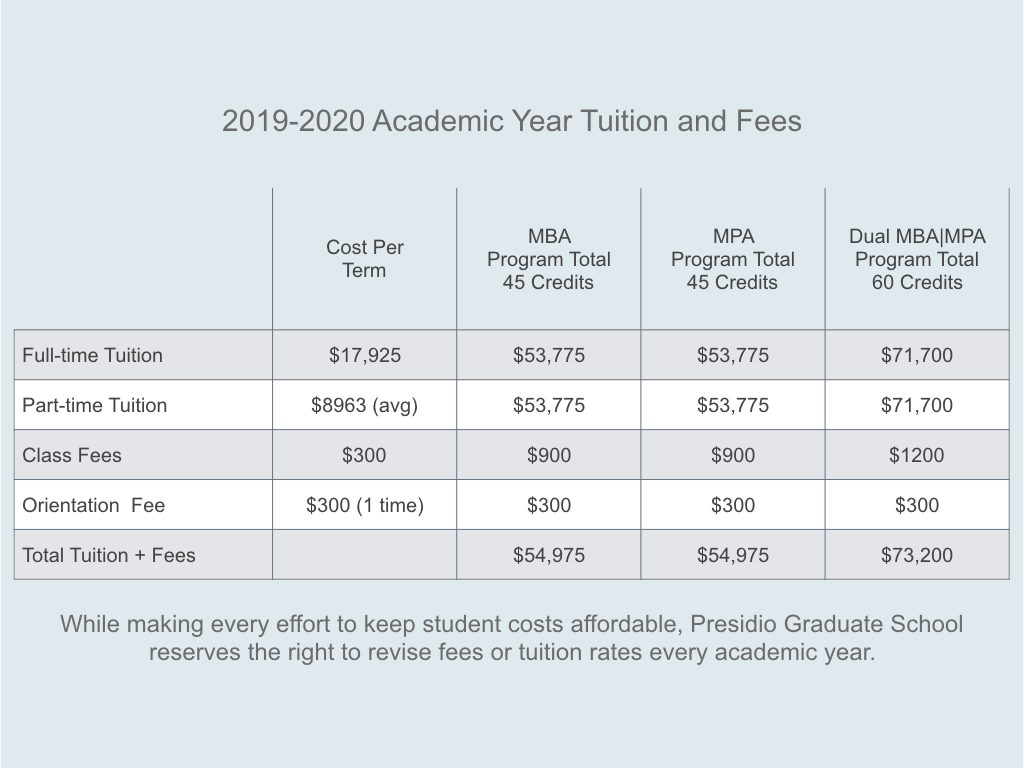 Fee Schedule
Fees support student activities and the learning site environment and apply each term unless otherwise indicated. All fees appearing on the student account are payable whether or not the student plans to use these services or facilities related to those fees.
Orientation Fee – $300 (all degree programs – first semester only)
Administrative Fee – $150 per term (all programs) Record-keeping costs and providing student access to copyrighted material used in all academic programs.
Technology Fee – $65 per term (all programs) Acquisition, upgrading, and/or maintenance of technology costs used for academic and student support activities.
Classroom Materials Fee – $85 per term (all programs) Onsite learning material costs and student support activities.
Other Costs of Attendance
Transportation – (All programs) Students are responsible for their own transportation costs to and from campus.
Books – (All programs) Students should prepare to spend an average of $50 to $200 on textbooks and required program downloads for each course.
Meals and Lodging – All Students are responsible for providing their own meals and lodging.