Less than a year ago, Presidio Graduate School (PGS founded in 2003) and Pinchot University (Pinchot founded in 2002) – the world's two pioneers in graduate degrees in sustainable management – joined forces. In talking with alums of both schools, I've sensed palpable excitement at what these schools can learn from one another and accomplish together. Fortunately for us all, Meghan French Dunbar (SF C14) and Maren Keeley (SEA C11) can help show the way.  Watch the Conscious Company Media TEDx talk beow to hear their story.
Introducing Conscious Company Media

In 2014, French Dunbar, a PGS alum, and Keeley, a Pinchot/PGS Seattle alum, joined forces. They came together around a simple question, "Why isn't there a print magazine about sustainable business?" This question ignited a fire in both of them. And out of it, they founded Conscious Company Magazine.

Since then, their endeavor has blossomed into Conscious Company Media, a full-fledged media company with a nationally-distributed magazine, in-person events, informational webinars, an annual Conscious Company Leaders Forum, and a robust online platform offering daily content. The magazine reaches an enviable wealth of mainstream retailers nationwide including Whole Foods, Kroger, Target, Barnes & Noble, Publix, and others.
CCM tackles big questions about where business is headed, where it should be headed, and offers practical information and advice on how to get there. Looking to the future, it aspires to be the media platform for purpose-driven professionals inspiring a new generation of business leaders.
What does it mean to be a "conscious company?"
Today, many companies stop their sustainability efforts at simply doing less harm than the average business; they reduce their energy use, pay their employees a little bit better, and even donate to charities. Conscious Company Media challenges businesses to address these issues even more deeply. They believe that,
"…being a conscious company is about taking ALL stakeholders into account to achieve a higher purpose beyond profits.

It's about leaving the world – not just investors and executives – better off with you than without you. It's about being actively and intentionally good."
This new possibility for what business can be doesn't just give them fodder for their articles, it's an inspiration for how they walk the walk as a company.
Shared values, and complementary skill sets, are critical to success.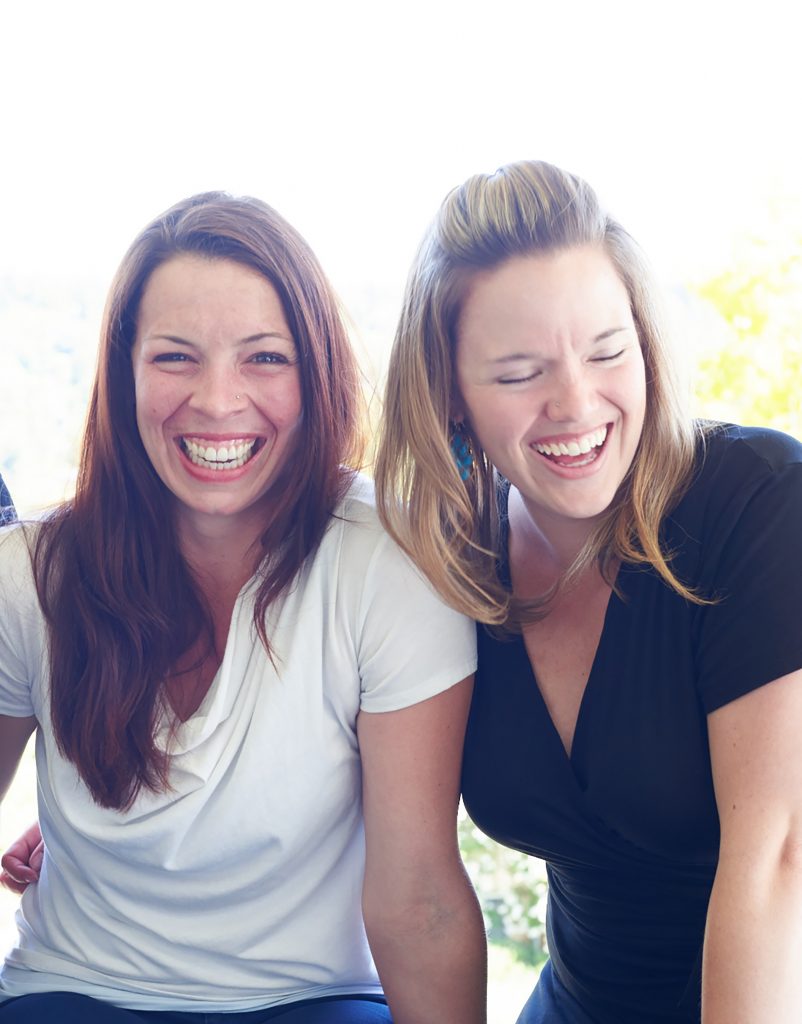 "If you need a co-founder, you want to look for someone who has completely opposite skill sets from you, but who you still get along with." This is what French Dunbar always heard and it's what she found in Keeley.
Keeley deals with the operations and financial side of the company, often finding herself wading through an endless sea of spreadsheets, making the numbers work. According to her partner, Keeley is "analytical" and "process- and systems-oriented."
Meanwhile, French Dunbar handles the editorial side of the endeavor, spending her days building relationships and guiding the company's thematic direction. According to Keeley, "First of all, she is just so smart! That combined with her passion and enthusiasm makes her unstoppable."
While many managers believe work relationships and friendships must remain mutually exclusive, CCM sees its differently. "If you create mutual respect and reciprocity, management comes fairly easily," French Dunbar offered. "I've learned you don't have to draw an incredibly hard line; You can be friends with your workmates."
Further, unlike the vast majority of business leaders, to CCM, profits are simply a means to end, the tool that enables them to serve their core mission. When asked about what fueled her decision to start CCM, Keeley offered, "What mattered more than anything was me contributing to the solutions to some of the problems we were facing."
Perhaps the tell-tale sign of conscious companies is that they create harmony within themselves and with the world. They are inspired by contributing to something beyond themselves. This sense of purpose jumps out in Keeley and French Dunbar and fuels their work. Their complementary skill sets, commitment to their stakeholders, and ability to balance opposites are all key ingredients in CCM's success.
But perhaps French Dunbar's and Keeley's most valuable asset is simply their common foundation: a belief that business can be a tool for the common good, a commitment to sustainability for our world and individuals alike, a commitment to self-awareness and personal development, and a commitment to building relationships built on trust and respect.
To thrive, sustain balance individually, and with your partners.
After speaking with the two, what shone through most for me is not how they complement one another. The other thing that struck me was how each woman actively fosters complementary energies and interests within themselves.
Keeley – the supposed "analytical" one – has in fact spent much of her career as a chef. She holds degrees in sculpture and the philosophy of aesthetics. She has used creating art to help her untangle some of life's big questions. "Whatever my work was, there would always be some creative aspects to it, there would always be the analytical and discipline aspect of myself as well.  I needed to foster both," Keeley reflected.
Meanwhile, French Dunbar – the supposed "relationship builder" – has spent nearly a decade in project management and strategic development in nonprofits and the publishing industry. When asked about her hopes and intentions for the future, she looked inward. "For me personally, it would be a role within the organization where I'm feeling fulfillment, where the company is at a pretty self-sustaining pace, but where I can move into a self-sustaining pace as well."
From where I sat, each woman excels in her role not through having very specific expertise, but by being dynamic and well-rounded, and acknowledging the power in them each being whole, balanced individuals.
In what ways will CCM, and the business world, grow?
In stark contrast to the stereotypical, over-assured, never-look-back CEO, Keeley and French Dunbar exude a commitment to growing and learning to better serve themselves and those around them.
When speaking of her own personal growth trajectory, French Dunbar spoke to her desire for greater balance in her work and personal life. Keeley spoke of the ever-present challenge of balancing working "in the business" and working "on the business."
As for their intended influence on business as a whole, they aren't the first to note an over-abundance of archetypal masculine energy – efficiency, hierarchy, competition, aggression – as one of the key culprits in today's toxic business environment. "If we look at history, we've seen efficiency driving everything and how that has led to harm and inequity and imbalance all around," Keeley observed. As two women trying to not only get by but thrive, in a culture dominated by men and masculine assumptions and sensibilities, it didn't surprise me that they'd be aware of this imbalance in today's business world.
What did surprise me, however, was how willing they were to look inward to their own business and identify their own imbalances. For example, while the easiest and most obvious solution to toxic masculinity might be to swing the other way and fully embody the archetypal feminine energies – nurturing, compassion, collaboration, processing – French Dunbar and Keeley see it differently. They believe these energies, while critical to their business, can also become imbalanced and destructive if left unchecked. "If there's too much of just the feminine energy" Keeley reflects, "I think that it's hard to really run a business."
In their minds, conscious companies are those that find balance in everything, that reach harmony by holding opposites in equal regard. For Keeley, "You have to have that balance of nurturing energy, taking everyone into account, and also being disciplined and efficient."
What can two schools learn from two women?
The two CCM co-founders both hinted that the marriage of PGS and Pinchot might bring with it a similar dynamic as their own, each school lending unique abilities and energy to the other.
French Dunbar – the PGS alum – felt the Pinchot campus's offered a special container "immersed in nature" at IslandWood in which deep personal connections and community could really flourish. She sensed that Pinchot alums came out with particularly close-knit, long-lasting personal and professional relationships.
Meanwhile, Keeley – the Pinchot alum – appreciated how PGS was connected to the practical benefits of being in an urban setting including access to a variety of events and very tangible potential job opportunities and were immediately positioned to make a "real-world impact."
They both expressed hope that the two campuses could learn from, and grow with, one another, as the two of them have.  "Across the board, I noticed more similarities," explained French Dunbar. "It was interesting to be able to come together with someone from a different grad school and be able to speak the same language. The baseline foundation of the educations was really parallel and similar."
Different paths can lead to a common purpose.
In some ways, these achievements are no small miracle. Somehow, two women living in different cities, from different industries, with different skill sets and perspectives – find themselves in lockstep on the things that really matter to how they run their successful business. They credit this shared vision, at least in part, to their experiences at graduate schools that have sustainable management principles at the core of the curriculum.
Perhaps that gives these two merging communities a roadmap for how we can move forward together. Yes, our campuses have differing perspectives and flavors. Yes, we have different histories and customs. But our core values, language, and vision for society are one and the same. When she first heard Keeley would be attending Pinchot University, French Dunbar knew enough about that shared experience to confidently tell her friend, and future business partner, "It's gonna change your life."