As their time as Presidio students came to a close, our community had the privilege and pleasure of celebrating the resilience and extraordinary accomplishments of the Class of 2021 during their final Showcase presentations and Commencement ceremony. These two events are huge milestones in the Presidio academic journey, and provide our community meaningful opportunities for faculty and peers alike to engage with student research and applaud individual accomplishments.
At Showcase, students present the results of their major projects, giving attendees a window into their research, reasoning, and what they see as the critical next steps in the work to come. At Presidio's Commencement, each of our students have moments to shine, with heartfelt, individual tributes delivered by our faculty in one of our most wonderful graduation traditions. While this pair of events capped off a year like no other, the two ceremonies were much as they always have been: full of celebration for the intellectual and personal accomplishments of our students.
What follows are recaps of these two ceremonies, both to commemorate them and also to help those who were not with us gain a sense of the Presidio experience and our community traditions. As a relative newcomer to Presidio, this was my first time attending either event. After a year that has been characterized by isolation and loss, it was remarkable to partake in a set of virtual ceremonies so ripe with energy, care, and joy.
Showcase
Showcase presentations are an opportunity for students to coalesce research strategies and learning from across their classwork to build out a clear articulation of a problem and imagine a more sustainable path forward. By challenging students to engage with the material from a wide set of perspectives, Showcase projects are a clear execution of Presidio's commitment to a systems thinking approach.
"One of my major takeaways from my time at Presidio is that to understand a problem or issue, it's critical to understand how elements in a system interact and engage with each other." – Nicola White, MBA, 2021
The presentations spanned a broad range of sustainability and social justice topics, including:
A recovery plan for abandoned farmland that proposed an impact-oriented financing model for scalable, low-risk returns.
Methods for how we might adjust the narrative and build toward the economic and social inclusion of newcomers (often labeled refugees).
Two key interventions we can employ to combat the depletion of California's critical water supply: aquifer replenishment and storage, and the implementation of agricultural and urban water recycling programs.
Reflections about learning on Ohlone Land, with calls for a shift in mindset that moves from seeking "solutions for 'them' to pathways for 'us.'"
As Presidio founding member Ron Nahser reminded us in his closing remarks, our community began with a simple idea: education designed to help build a resilient, sustainable, and just world. As Ron pointed out, the examples of student work on display at this year's Showcase were clear demonstrations that Presidio students continue to learn and live by this founding philosophy. Grounded in thoughtful, community-based research and emphasizing solutions on the systemic-level, Ron affirmed, "every one of these projects showed evidence that this school is living the founding philosophy…[this is] the evidence of building a community."
Commencement
While we normally ask our students to grapple with the complex issues of sustainability and equity, the fifty-three graduating students of the Presidio Class of 2021 were also asked to contend with truly unique circumstances: studying climate change while the Western United States faced one of the most disastrous wildfire seasons ever recorded; shifting to an entirely virtual format amidst a shocking, devastating global pandemic; absorbing studies of social justice during national and global protests against anti-Black police brutality and anti-Asian violence. In short, the achievements of this talented, dedicated graduating class are extraordinary, and their efforts and resilience  are a testament to the strength of our supportive student community.
President Liz Maw spoke to this in her opening remarks, as she noted, "This group of graduates deserves some special recognition." Amidst the upheaval of the past year and a half, Liz shared her deep appreciation for the student response: "Instead of complaints, I saw concern for each other; instead of disengagement, I saw passion and commitment for their learning and schoolwork. This is what making change is all about—overcoming barriers, being nimble, and showing patience and love when the world throws challenges your way."
Following this wonderful testament, we had the opportunity to celebrate the presentation of the Suzanne Farver Spirit Award and the Eva Auchincloss Award for Academic Excellence in Scholarship, Leadership, and Creative Thinking.
Suzanne Farver Spirit Award
Each year, the Suzanne Farver Spirit Award is presented to honor students chosen by their peers who exemplify Presidio Graduate School's core values, actively engage in the Presidio community, and contribute to the learning environment through active engagement both within and outside of the classroom.
This year, the recipients of the award were graduates Andrew Aggabao and Tobi Shannon, who were applauded by their professors for their unique gifts to Presidio. In presenting the award, Suzanne Farver commended their work in the community:
"Andrew has shown leadership as a student rep since his first semester at Presidio, and has impressed his peers with his community-building talents… he has stretched the community with his leadership."
"Tobi was a founding member of the diversity, equity, and inclusion committee, as well as serving as a student rep. She advocated for reviving the wonderful Pinchot tradition of Circle…[and designed] Community Joy Hours, a space to joyfully explore and celebrate culture and anti-racism."
The Eva Auchincloss Award for Academic Excellence in Scholarship, Leadership, and Creative Thinking
Each year, our faculty selects recipients of the Eva Auchincloss Award, which is presented to students who display outstanding scholarship, exceptional leadership, and creative, impact-oriented reasoning. This year, Professor Dwight Collins presented the award to three outstanding recipients: Audrey Kriva, Chelsea Schiller, and India Rose Matharu-Daley.
Prof. Collins shared, "I have taught Audrey, Chelsea, and India Rose… and I can say unequivocally that each of them embodies the attributes for which this award is made one-thousand percent."
Speeches by Andrew Aggabao and Chelsea Schiller
During our celebration, we had the privilege of hearing from two of our graduates—Andrew Aggabao and Chelsea Schiller—who were nominated by their peers to share their reflections with our community during Commencement.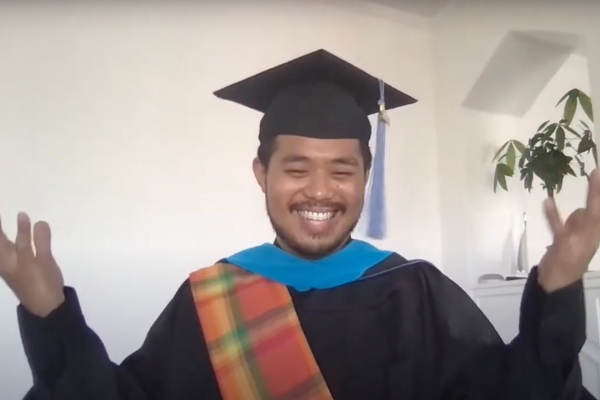 In his address, Andrew challenged us to consider what the accomplishment of a Master's Degree truly enables, and how he and his peers can use their education to join communities and participate, rather than dictate. He asked, "What, then, of these Master's degrees? How do we set down these Master's credentials… How do we cherish our deep learning, our mistakes, our relationships, and our ancestries, but let go of our elitism, our judgements, our saviourism, and our domination?" Andrew called his peers to depart Presidio with their new degrees and re-plant their value in their communities, reminding us that no matter our titles, "we all fall as one, we all rise as one."
Our second speaker was Chelsea Schiller, who spoke on her graduation day of the sentiment that brought her to Presidio in the first place: a fundamental desire to "step off of the conveyor belt" and join in a community devoted to imagining a different kind of future.
Chelsea reflected that, "as a non-traditional business school committed to sustainability in social and environmental justice, Presidians take the bet that changing our way—our status quo, our default—is, in fact, possible." The commitment and joy of being at Presidio comes from collaborating on the work of building communities and systems that are grounded in abundance and belonging, she reflected.
In closing, Chelsea spoke directly to her classmates: "I am overcome with possibility… you all have taught me that there are as many pathways forward as there are people in the room."
We proudly congratulate the Presidio Class of 2021, and we look forward to seeing all that they will accomplish in the next steps of their journey. For those who could not join our live celebration, we invite you to explore our 2021 Yearbook Page to learn more about our graduates and connect with these new members of our alumni community.
Inspired by the Class of 2021, and interested to learn more about what it is to be a Presidio student? Get in touch and find out how a Presidio education can help you achieve your career aspirations and make your mark.