Phenomenally underrepresented behind the camera, women make up only about 20% of key roles in the motion picture and television industry.  This translates to roughly 4.8 males working behind-the-scenes to every one female.
Sadly, in media aimed at children the gender gap is even worse. From 2006 to 2009, not one female character was depicted in G-rated family films in the field of medical science, law, politics, or as a business leader. In these films, 8.5% of all working characters are male and 19.5% are female, which is a contrast to real world statistics, where women comprise 50% of the workforce. Even more staggering is the fact that this ratio, as seen in family films, is the same as it was in 1946!  These statistics are enormously detrimental to young women's impressions of themselves and their perceived value in the world. While this is disheartening, this also means there is a vast untapped market for both talent and products that represent the diversity of our society.
My partner, Zoe Boxer and I aim to engage and educate that future talent pool with the launch of our new venture Camp Reel Stories – A Media Camp For Girls. I spent 15 years as a Production Manager in the Entertainment Industry.  I love my career and have worked on phenomenal projects with amazing people, but it still is an industry that has a long way to go towards equitable representation.  That is having a direct effect on how homogenized the media output is.  My son and my daughter inspired me to take my experience and apply it to solution-oriented organization that will get more young women to take an active role in creating media. Seeing the stereotypes and the lack of diversity on television and film through their eyes was enough to motivate me to create a change.  The mission of our new organization is that when girls are better represented behind the scenes in the media then they are better reflected on the screen.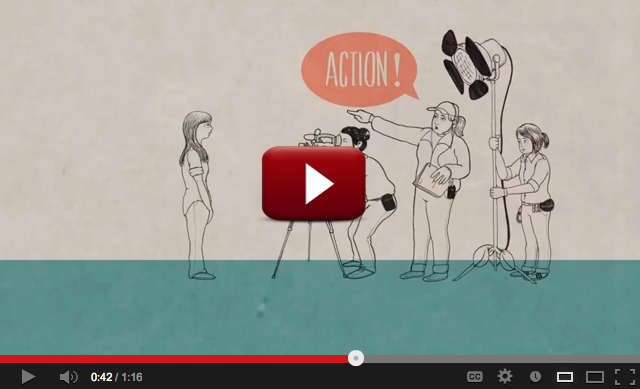 Zoe and I met while working at Pixar Animation Studios and have been looking for the right project to collaborate on for a long time and my Presidio education gave me the entrepreneurial skills to move Camp Reel Stories forward.
The statistics are daunting, but the great news is that with the advent of new technologies the old status quo of the boys club of the media industry is almost irrelevant.  Anyone can pick up an iPhone and shoot their own stories.  The barriers for entry are almost non-existent.  All that is needed is inspiration, storytelling ability and production skills.  That's where Camp Reel Stories comes in.
Our summer program, Camp Reel Stories, gives 13-18 year old women the storytelling and production skills to tell stories that reflect their unique point of view, while incorporating media literacy and leadership workshops. This camp will empower these young women to broadcast their stories. This one-week camp will be lead and taught by current female leaders in the media industry and will feature contributors like Oscar-winning director Brenda Chapman ("Brave"), Oakland School for the Arts School Digital Media Director Heidi Cregge, DreamWorks Director Jill Culton and many others. The camp will utilize accessible technology, social media and traditional broadcast outlets so they can take the skills that they learn home and into their lives.  This will allow them to put their camp education to work and to expand their experience beyond the scope of the week.  The camp will culminate with a Film Festival on July 27, 2013, featuring the girls' final projects interspersed with shorts by local filmmakers.
Camp Reel Stories aims to not only change the statistics in the film and digital media industries, but also show girls that the media is now democratized and with a good story and access to a little technology your voice can be heard, your stories and ideas have value and the audience is waiting.
Camp Reel Stories is in the midst of a crowd funding campaign to pay for financial aid for campers. 75% of the campers are in need of financial aid. Please consider supporting our campaign and sending a girl to camp.
Click here more information about Camp Reel Stories or to apply to camp.