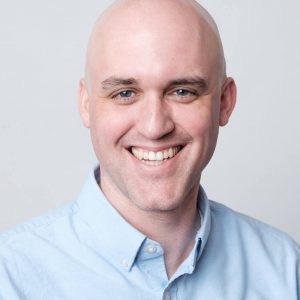 We recently caught up with Peter Glenn (MBA, 2011), who co-founded EV Life, a new startup dedicated to building a safer, more sustainable world. The company's first audacious goal: helping to make it easier and cheaper to find and finance an electric car than a gas vehicle. (Full disclosure: Peter and I worked together for several years, and he's a friend.)
Peter, thanks so much for taking time to talk with us! Excited to hear more about your new company. What is EV Life's mission and how are you approaching it?
Great to chat with you, and thanks for the opportunity to update the PGS community about what I'm working on! Founded in 2019, EV Life's mission is to connect people with opportunities to build a safer, more sustainable world.
Our first product is a web platform that makes it easier to find and finance an electric vehicle (EV).  Long term, we see a huge opportunity to expand into helping customers electrify their homes with solar, batteries, and heat pumps too.
That's so exciting, and so needed in the world. What are the key problems you are solving? And how has COVID-19 impacted your work?
If you drive a gas car and care about climate change and air pollution, your next car needs to be electric. It's one of the most significant and essential sustainable lifestyle changes you can make.
Problem #1: Buying an electric car shouldn't be so darn hard.

We founded EV Life because my team and I found our own electric search incredibly time consuming and confusing. Switching from gas to electric is a lifestyle change and the average driver has tons of questions: What are the best electric cars out there? How do I charge? How much range do I need? What rebates do I qualify for? How do I negotiate with dealers?
Most people we've talked to have given up after 10-20 hours of research. Our solution takes away that frustration and makes this important consumer shift possible. The EV Life platform gives users tools to answer those critical electric car shopping questions, all in one place.
Problem #2: The upfront cost of electric cars is still more expensive than gas ones.
When COVID hit, we paused product development and sought deeper conversations with our customers. They told us they needed a way to reduce the upfront cost of paying for electric cars.
EV Life was already helping qualify customers for $7500-$13,000 in EV rebates and tax credits, but these incentives can take 3-12 months to recoup. We asked ourselves how we could use a customer's EV incentives to reduce their upfront cost, like residential solar applies tax credit to financing today.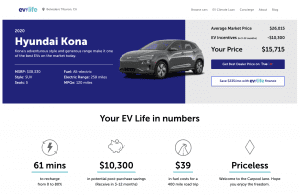 We recently launched our EV Climate Loan to enable customers to save up to $200 per month on a car loan by using EV incentives as a downpayment on financing.  We've secured some funding to build this product out, and are beginning to pilot with a few banks and early customers.
This is so impressive, Peter. You really identified a key enabler for widespread consumer adoption of this important, planet-saving tech and built a durable platform to ensure sustained impact. How did your time at PGS prepare you for this leadership role?
This is such a hard question to answer because of the countless ways Presidio has helped form me for this role.
I decided to study at Presidio to help me transition from a career as a documentary film director into building sustainability-focused startups. In the 9 years since I graduated, I've helped lead Marketing & Business Development at venture-backed startups Fenix International, Glassdoor, and Singularity University, and also co-founded an EdTech startup CrowdSchool. I cannot imagine being as successful in any of these roles without my education and the Presidio community.
One of the biggest frameworks I carry with me from Presidio is making the business case for sustainability, which was emphasized in all our coursework. It's great to be able to inspire stakeholders to want to make a big sustainable impact in the world. However, if you want to make sustainability a reality, your work also needs to make sense in terms of profitability.
While I occasionally refer back to my course notes, it's ultimately the relationships I built with Presidio alumni and faculty that continue to nourish me as a leader. When I moved to San Francisco to begin my MBA at Presidio, many of the classmates I met in those first semesters remain some of my closest friends and mentors to this day.
Founding EV Life, the power of the Presidio community has become even more important to me. Presidians have been our first customers. We also continue to grow our partnerships with tech companies, utilities, and policymakers. More than half of the connections I make are through the PGS community.
That's amazing to see the power of this community at work. Can you tell us about any big milestones you've achieved to date?
We launched the first public version of our EV Life platform in late January.
In April, we launched a nationwide distribution partnership with TrueCar to help our customers save money using smart market data.
In June, we announced our new EV Climate Loan to save customers $200/month by financing through EV Life.
We are developing some exciting partnerships to pilot our EV Climate Loan with innovative banks and financial institutions that we are excited to announce in the coming months.
We are obsessively customer-focused and would welcome feedback from the PGS community on what we can do to make electric cars even easier to purchase and drive.
Peter, it's so wonderful to see this important new business thrive! Congratulations on all of your success. Is there anything else you'd like to share with our readers?
Thanks for giving me the opportunity to share what I'm working on! If you need help finding an electric car or interested in becoming a pilot partner for our EV Climate Loans, please reach out to connect.
Also, if you're interested in exploring if Presidio is the right fit for your next chapter in sustainable leadership, I'm happy to have that conversation, too.
Update: See the new Electric Vehicle Buyer's Guide that EV Life has published to help support greater adoption of this important climate-saving technology.
If you'd like to learn more about workplace EV charging, check out Prof. Marsha Willard's research! Are you a PGS alum with a story to share? Reach out to editor@presidio.edu!