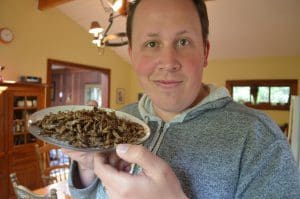 John Heylin is the first to smile at his own idea of a bug-based protein powder, but he says the idea is gaining momentum in the food industry.
The genetic alteration of meat and soy protein, along with sustainability issues for both, makes insect protein a far better choice.
Crickets, freeze-dried and ground to a powder are a far more sustainable source of protein, he says. "This is a way for me to try to save the world."
Now, a year after his graduation from the Presidio Graduate School MBA program, Heylin's insect-protein business is growing roots in Memphis.
Not surprisingly, the biggest business challenge Heylin is facing is a cultural one. Not everyone is fussy on eating insects.
"I'm trying to change cultural perception," he says. "It isn't easy. It could take decades."
His product prototypes might have helped the cause. One was an energy bar that his classmates readily ate; another was a mock of Rice Krispies, Cricket Krispies. For fun, he added real freeze-dried crickets to the cereal.
"A lot of people were disappointed the energy bars didn't have legs sticking out of them," he laughs.
"From my point of view, we might as well get people thinking about it now, since in 10 or 20 years, they may have to eat insects."
For now, Heylin continues his research, form-filling, and equipment-ordering. He has met with cricket farmers to secure supply and price, and he is working on securing a warehouse.
The plan is to push the dehydrated crickets through a flour mill and sifter, then pack the powder by hand to sell to businesses already in the food industry.
Coming from a family Heylin describes as "hippies with an interest in business" — his father attended the Chicago School of Business and spent 30 years encouraging Americans to reuse glass — Heylin says it was a natural fit to consider a mix of business and sustainability. The insect idea just kind of floated in, he says.
He keeps frozen crickets in his freezer so he can make his own protein powder as needed.
If you have a story idea, please contact Peter Pula.