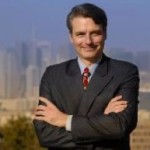 HIP Investor's CEO R. Paul Herman has an inspiring message for young people: you don't have to choose; you can do good and make money.
It's this message Mr. Herman recently underscored when teaching a PresidioPRO Master Class on Impact Investing April 16.
Paul is an internationally recognized expert in impact investing. In 2004, he invented "HIP = Human Impact + Profit" to show that the strongest portfolios and leading companies in profit and shareholder value can source much of  their competitive advantage and bottom-line benefits from improvements in quantifiable human, social and environmental impacts.
Hr. Herman  peppered his lecture with examples demonstrating the "HIP-ness" of investments.  For example, he shared with students that 80 per cent of the S&P500 stock market value lies in intangibles, primarily human capital. If you were to track companies named best places to work, they have outperformed the general market historically.
A recent Credit Suisse report underscores this, highlighting that companies with women on their boards of directors outperform companies that don't have female directors by an average of four percentage points in return on equity.
"By boards of directors being diverse and more representative of the customers they serve and the talent that is inside the company, the higher the financial potential and the lower risk there is," says Mr. Herman.
At the end of the class, students declared they were more aware of the choices available to them, and their ability to adapt their portfolio to be more consistent with the values and teachings at Presidio, which integrates systems, leadership, and management thinking with sustainability.
"It makes me feel ecstatic," says Mr. Herman, on being able to educate students on their ability to vote for a better world with their dollars.
Mr. Herman, who has been delivering guest lectures at Presidio for five years, adds he's a big fan of the school and its focus on holistic thinking.
"(Presidio) teaches an integrated view of the world. Like all good renaissance thinking, the world is interconnected and in a MBA program specifically, financial capital is only possible when you invest human capital, social capital, and environmental capital," said Mr. Herman.
This is the first article in a two-part series. Read the conclusion.