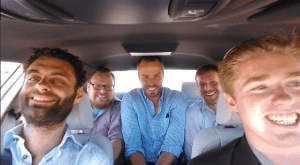 My Experiential Learning team — Scott Bright (C17), Julian Fishman (C17), Trey Graham (C15), Sam Ruben (C17/PA4), and myself — recently partnered with the Bay Area Climate Collaborative (BACC) a non-profit project of the Silicon Valley Leadership Group and the Mayors of San Jose, San Francisco, and Oakland.  The BACC acts as a public-private catalyst toward a low carbon economy.
BACC was interested in better understanding the electric vehicle (EV) landscape, and specifically increasing EV use among public and private sector fleets. Building on the successful implementation of EVs among many municipal fleets in the Bay Area, BACC is looking to develop new marketing initiatives to better support and facilitate engagement with the fleet manager community.
While the BACC is eager to find innovative ways to communicate with its many stakeholders, it has limited public funding from its founding cities. Therefore, my team sought to develop a feasible marketing plan to help BACC better target their efforts.
In researching our client, my team noted that a dedication to selflessness was central to BACC's outward facing image. As a public-private partnership, BACC could have chosen to market in a number of ways. We thought it very telling of the organization's values and greater mission that BACC has chosen to market EV adoption, as opposed to the BACC brand itself.
For me, this focus on campaigns is very much in line with the larger sustainability movement's goal of educating the general public about the issues we face and the actions we can take — as opposed to the more common but siloed approach of promoting one's own organization. Since there are a variety of issues that fall under sustainability, and an even greater number of organizations working to promote these issues, it would be a waste of both financial and social resources to spend a coalition's funds only on brand marketing. Instead, it can be far more impactful to market a cause and attach the organization's name to that cause.
In addition to using a values-aligned approach to marketing, our team's analysis determined that BACC's "selfless marketing" approach has also been very successful in reaching intended outcomes. Therefore, we have chosen to make it an integral part of our recommendations to BACC. While many people haven't heard of BACC, they have heard of the Bay Area's push to get electric cars on the road, thus fulfilling the organization's goal. BACC is just one player in a much larger community of non-profits and public agencies promoting the adoption of EVs. By partnering with, as opposed to differentiating itself from, other organizations working in this space, greater success can be realized in getting more EVs on the road.