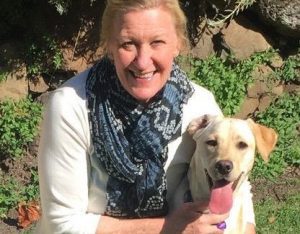 It would be impossible to talk about the Women of PGS without talking about the current governing leadership at Presidio Graduate School. PGS has embraced women's leadership since its inception, having seen four female board chairs and school presidents in its 13-year history. With Board Chair Suzanne Farver currently at the helm, PGS is poised to carry its vision further than it has ever gone before.
Suzanne is the embodiment of sustainable management and leadership in practice. Her qualifications include leadership positions at the Rocky Mountain Institute, the Aspen Center for Environmental Studies, the Aspen Art Museum, and a position teaching Corporate Sustainability at Harvard Extension. I had the opportunity to speak with her about the life path which brought her to Presidio Graduate School, leadership, and the future of PGS. Her diverse experiences and decades of experience teaching, practicing, and living sustainability made for an illuminating conversation.
Suzanne credits her upbringing as the origin of her sustainability passions. She grew up in a small town in Iowa, among lots of small family farms. Every farm had pigs, cows, chickens, a garden, a hay field, cornfield, and soybean field. Manure from the animals fertilized the fields and crops were rotated. Today, the farms are huge and practice monocropping of corn or soybeans, fertilized with anhydrous ammonia. The wells in the Corn Belt have become contaminated, necessitating pipelines of treated city water for the inhabitants. These observations from childhood and over the course of her lifetime inspired her to write a paper about it for her Masters of Environmental Management at Harvard.
True to her rural roots, Suzanne has been a gardener for most of her life and has recently taken up biodynamic grape growing and wine production as her next project. It's one of the many ways she connects with the earth, in addition to cooking and eating good food, and raising puppies for Canine Companions for Independence in Santa Rosa. She manages to pursue these passions while leading in the classroom and the boardroom.
It took Suzanne only a few months after becoming involved with PGS to begin taking on responsibilities by chairing the finance committee. This wasn't the first time she's strengthened an organization via finances. In 1992, she led efforts at the Aspen Art Museum in transforming the bleak financial realities into a budgetary success within a year of her hiring. Her competence, integrity, and focus help to bridge the communication between staff and board. She likes to surround herself with people of various strengths and opinions to better inform her judgment. Suzanne facilitates meetings by balancing the energies of different people and strategizes in ways that are nimble, adaptable, and progressive while respecting the history of the organization and its governing principles. She hopes to strengthen the board governance policies and cites Saskia Feast (C4) on the board as a terrific resource for implementing better policies and procedures.
This issue of the Presidian features Women of PGS, leaders within our community and pioneers of sustainability in the world. Other superstar female environmental activists that come to my mind include people like Vandana Shiva, Wangari Maathai, Rachel Carson, Majora Carter, and Julia Butterfly Hill. But of all the high-profile women in the field, when I asked Suzanne to name the female activist who inspired her most, it was Anna Deveare Smith. She is an actor and playwright, among many other talents, but is not explicitly known for environmental work. So why would Suzanne identify her as such an inspiration?
"She is a true listener. She has made a life's work of interviewing people from all walks of life, hearing their problems and performing them in their own words. Her technique helps you to climb inside their lives in ways that can't be accomplished by a video or a movie."
Anna Deveare Smith runs a program involving youth of color and challenging the prison-to-school pipeline. Suzanne's high regard for this program and others like it is emblematic of her views on the importance of social justice and human well-being to sustainability.
"This is part of why I am interested in Presidio and supporting company efforts to enrich their social programs, pay a living wage, support communities, as well as being careful about the use of natural resources," Suzanne says. "Government policies are important, but we are in such a quagmire now in Washington, so it comes down to businesses making a difference in society and for local communities."
This concern and attention to the many dimensions of sustainability is also at the heart of the interdisciplinary nature of a Presidio Graduate School education. And it's partly why Suzanne sees so much in the future of PGS. The school has also earned so many accomplishments in such a short period of time (WASC accreditation, recognition from organizations like Net Impact, etc.), attracts talented faculty/administration and highly motivated students, and is prepared to continue its leadership role in higher education. Suzanne foresees possible alliances to leverage the school's strengths to new horizons. The small group interaction and sense of companionship and connection sets apart the PGS tribe from other institutions, and maintaining this is high priority. She believes this intimacy can be preserved if there is an opportunity to replicate this feeling and environment on other campuses. With Suzanne's leadership and the school's dedicated board, a bright future lies ahead.
This article originally appeared in the Fall 2014 edition of Presidian: