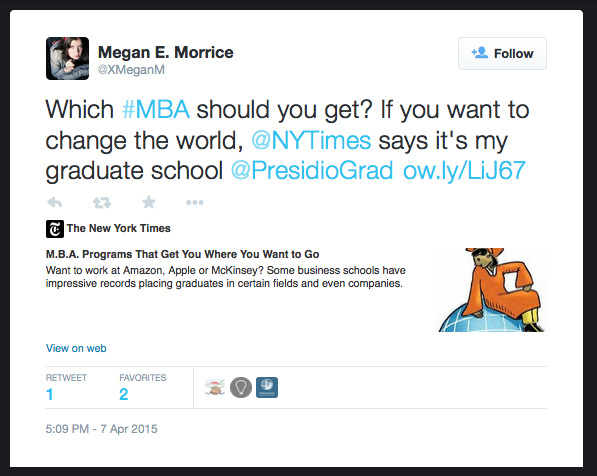 If you want to work in luxury goods, go to France's HEC Paris. If you want to work for Procter and Gamble, go to Indiana's Kelley School of Business. But if you want to change the world, go to Presidio Graduate School (PGS).
That's the idea in an article The New York Times released last week. "MBA Programs That Get You Where You Want to Go" lists PGS among a select group of nine of the best business schools worldwide—including the business schools at Harvard, Stanford, Duke, and Northwestern.
"It is both deeply rewarding and energizing to have Duff MacDonald's NY Times piece acknowledge that the world needs to take notice of the vision and achievements of PGS," said Dr. Dwight Collins, associate dean of the PGS MBA program. "Our faculty and staff are dedicated to the belief that our MBA and MPA graduates can demonstrate what a sustainable world looks like by living their sustainability values and applying the tools they learn here."
Such values are deeply rooted in the school's mission to "create a more just, prosperous, and sustainable world." PGS is designed to provide values-driven leaders with a toolbox of concrete skills to make their vision real and executable.
"Presidio students walk in the door wanting to change the world. They walk out knowing they can," says Student Representatives President Angela Mitcham.
In addition to teaching all the core competencies taught at "conventional business schools," principles of systems-thinking and sustainability ground the entire curriculum. There are also specialized electives in energy management and a new sports course taught by Green Sports Alliant President Allen Hershkowitz.
"There are lots of schools teaching sustainability for MBAs, but PGS is one of the few that actually infuses sustainability into each and every course," said Board of Directors Chair Suzanne Farver. "This is the real game changer for our future and for the world."
As the article notes, PGS "…has placed sustainability directors at companies from Salesforce.com to Facebook, and its graduates have founded sustainability-focused companies like Muir Data Systems…"
"Our graduates deliver the kind of leadership we need to truly change how businesses and communities perform," said Ms. Farver. "By embedding our alumni around the world, we can enable thousands of turning points and affect millions of lives."
The youngest of the institutions listed at just 12 years old, PGS has around 120 students and a network of more than 700 alumni. PGS has trained intrapreneurs and entrepreneurs in all fields, from sustainable agriculture to impact investing, from government to new ventures, from India to Oakland.
"Opportunities for working professionals to address sustainability-related challenges continue to grow," said Associate Dean of Career Development, Alumni, and Student Affairs Dr. Mitchell Friedman. "Here at PGS, our program catapults participants into such opportunities."
But PGS isn't only distinctive for what it teaches, but how.
"We put a strong emphasis on applied learning at PGS," said Associate Dean Ryan Cabinte. "While they're in school, we get our students out there into fortune 500 companies, small start ups, and government agencies working on real challenges in real organizations. Our students have provided more than 96,000 hours of sustainable management consulting to over 350 companies since 2007."
"No one else comes close," he said, "That we can find anyway."
What's next for the "Little Green Business School that could"? Visit this blog often for our latest news!