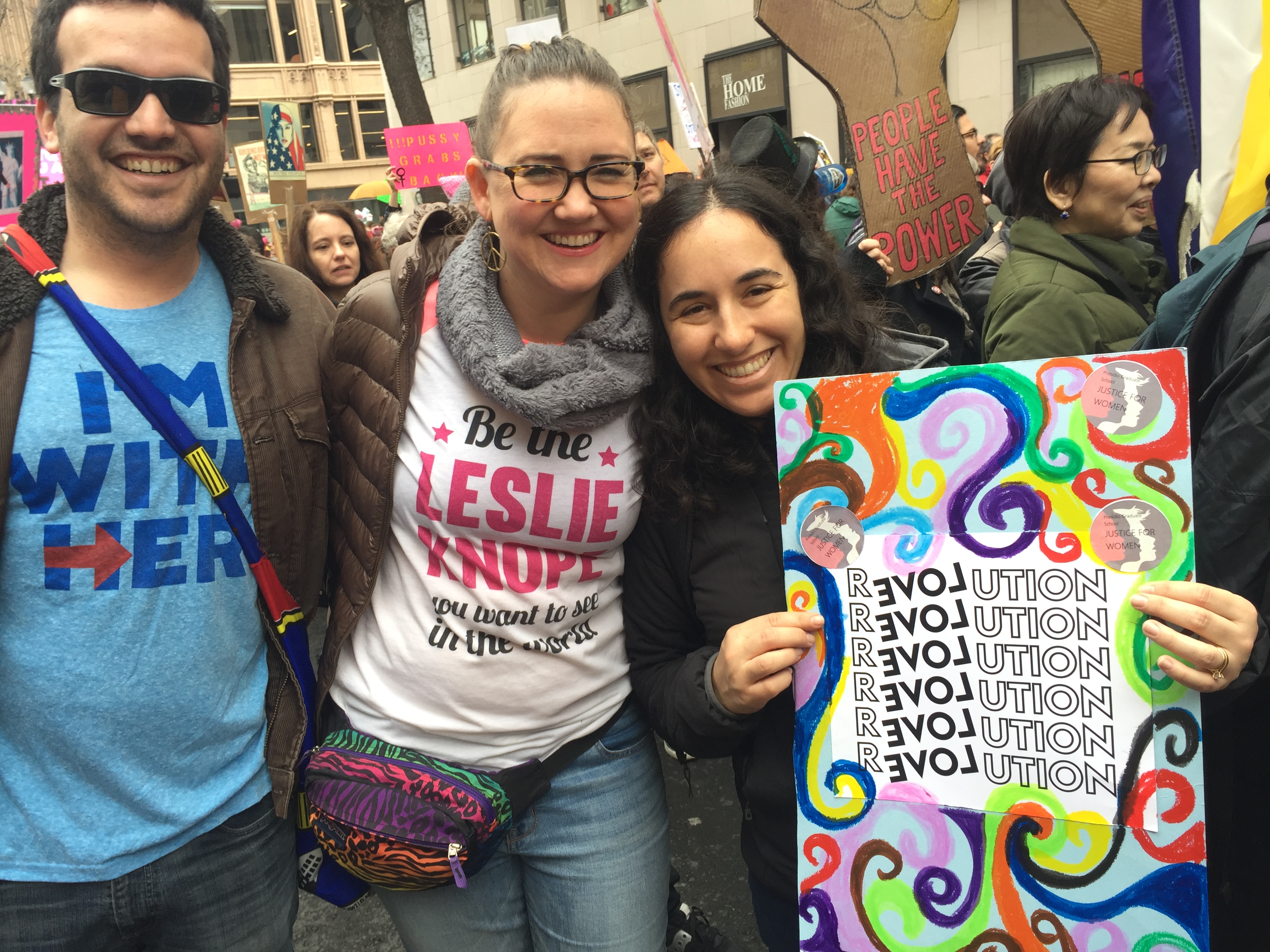 I am lucky to be a Presidian, part of a community that is willing to come together and stand for each other. This community holds businesses and our government accountable to our shared values. The Women's March and upcoming protests are our chance to show our leadership and educate others to create a more just, prosperous, and sustainable world.  
As news of the Women's March began to spread, many PGS students were empowered by the opportunity to stand against the denigration of the underrepresented. Over 60 percent of the student body signed a statement of support in December. The Presidio administration, faculty, and Board of Directors gave their full endorsement. Presidian Selena Martinez was excited when she first learned there was going to be a Women's March in the Bay Area, "I knew I had to participate and missing one day of class would be worth it."
It was important to the student-run Women's Delegation Leadership Team to focus on inclusion and social justice. Presidian Andrea Prebys-Williams stated, "The guiding vision that was put forth by the national march was quite radical. It recognizes that women have intersecting identities, which are impacted by various social justice and human rights concerns. We tried to make sure that this focus was a central theme when we were organizing at PGS."
The leadership team organized a sign-making event the day before the march. Messages read "Not This Pussy!," "Keep Your Policies Off My Body," "Love is Love," and "We're getting browner, queerer, witchier, louder, and stronger," among others.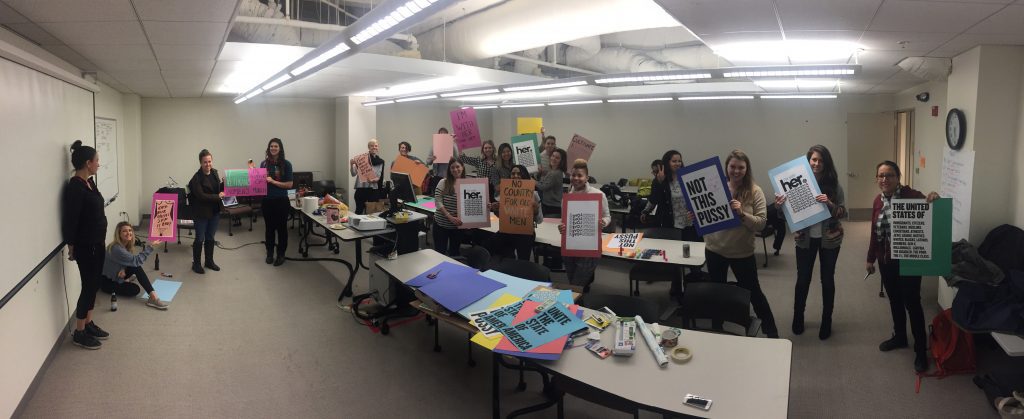 A March for Human Rights
Over 80 Presidio Graduate School students, faculty, staff, and alumni marched in Washington D.C., Oakland, and San Francisco on January 21st, along with five million people worldwide, resulting in the nation's largest single-day, non-violent protest in history.
The Oakland March had a festive atmosphere with dancing and many families in attendance. Two young boys called out to the crowd, "When they go low, we go high!" receiving repeated chants and applause from the crowd. Signs were inspirational, offbeat, funny, and beautiful.
In San Francisco, a slow and steady downpour began shortly after the rally started. Selena recalled,"It started raining in San Francisco, but that did not matter, people were out there pumped and energized. At about 5:00 p.m. we started marching. It was AMAZING!!! We marched hard, strong, and unified. It was pouring and we didn't care. This was not going to stop us from showing our RESISTANCE."
The largest and first planned Women's March on Washington, in D.C., was a sea of pink hats. Mona Das, Pinchot Alumna, and PGS Board Member had the chance to get above the crowd and said the sheer number of women there was incredibly powerful. She heard there were supposed to be 200,000 attendees, but outside the Smithsonian, she could see that the crowd was swelling above and beyond. The final attendance was recorded to be at least 500,000 people.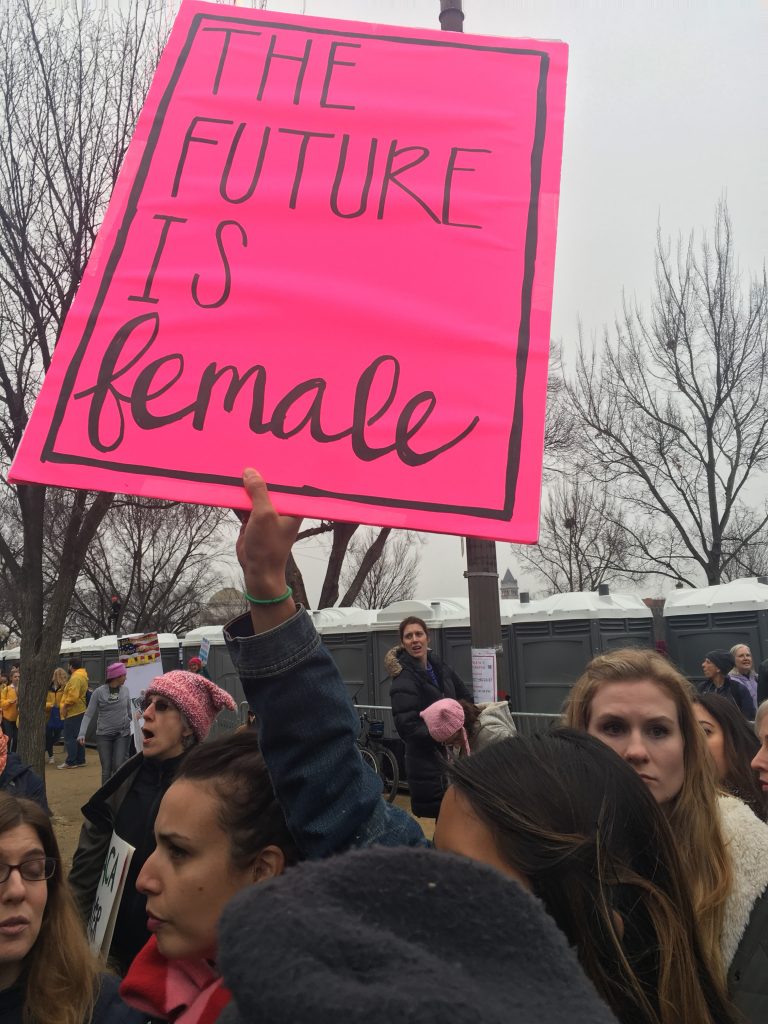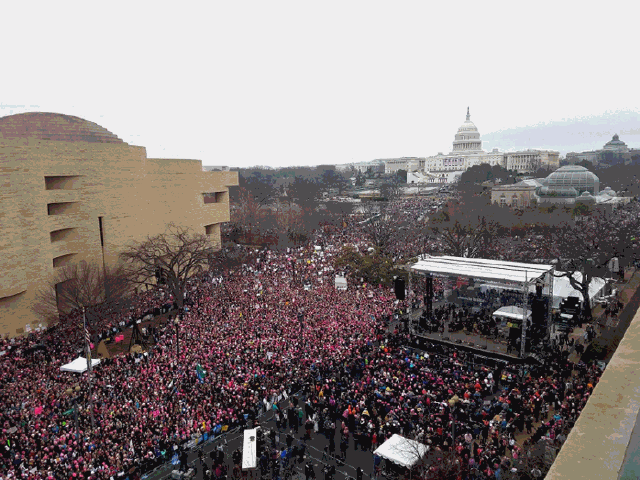 Looking Forward
"Now more than ever, I am very grateful for the time I spent in Washington D.C. The given political climate is drastically changing every day—when I read the news, I am left feeling baffled and alone. But, thanks to the Women's March I know that I am not alone. There are millions of fellow Americans fighting the good fight to bring peace, order, and justice back to our nation. I am so grateful for the Women's March and for PGS Alumna Dany Warman, who helped me get more involved." – Sarah Deicke, MBA
It takes more than one day of action to confront the tidal wave of anti-government and white supremacy fervor facing us today. This resistance is building upon the powerful social justice movements like Black Lives Matter. This was only the beginning of our organizing. We are learning from each other, and in our studies at PGS, how to be the leaders who change the world.  
Thanks to each of the people who came together around the Women's March. The Women's March Delegation Team collectively gave a significant amount of their time and energy during a period when it would have been easier to focus on vacations and finals. All of you inspire me.