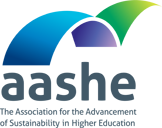 Presidio Professor Dwight Collins, PhD, and MBA Candidate Meghna Tare will be presenting together at the  2013 Association for the Advancement of Sustainability in Higher Education (AASHE) Conference & Expo in Nashville, Tennessee today.
The AASHE conference convenes more than 2000 people from over 200 colleges and universities, and is North America's largest higher education sustainability conference.
Dwight and Meghna will be presenting the real-world practicum training found in Presidio's MBA and MPA programs with a presentation titled Experiential Learning for MBAs in Sustainable Management, Through Presidio's Experiential Learning program, Presidio students have worked more than 50,000 consulting hours for more than 250 partners since 2006.  Past partners include companies such as Google, REI, IDEO, and General Electric, and each project focuses on adding business value and innovation through sustainability.
"I think this is a great place to showcase [Presidio's] efforts in sustainability and the types of projects we do," said Meghna.
Meghna, who is also the Director of University of Texas at Arlington's Office of Sustainability, is currently working on two Experiential Learning projects at Presidio, one with McDonalds and another with JCPenny.
"It's been a great opportunity to apply the analytical tools that I've learned in the classroom to solve some of the challenges they face in the corporate market," said Meghna.
"So much of the conference is about how to green a campus," said Dwight, "the idea being that the student will absorb the values of sustainability through osmosis. But what about what you teach your students? We are one of the small but growing number of organizations doing this at the conference. Sharing our EL Program experience is a great way to make attendees aware of our challenger program to the conventional MBA."
Although Experiential learning in MBA settings is not new, Dwight says, adding the sustainability component to experiential learning makes for a richer partner-student relationship.
"The joint team is often addressing problems that our students are much better equipped to solve than the partner because so much of the knowledge of sustainable management best practices is new. The partner setting essentially becomes a laboratory," Dwight said. "One important benefit of this for our students is that they are coming to the table more as equals with the partner. It's definitely a win-win."
If you would like to know more about the Presidio Experiential Learning program, you can learn more by visiting our website, or contacting Dawn Mokuau, Experiential Learning Program Director.