Presidio's growing alumni community is comprised of a tight-knit network of forward-thinking and dedicated sustainability and social justice professionals. These leaders and inspired solvers work tirelessly to bridge differences and build sustainable and equitable policies, processes, businesses, and communities. In our ongoing Alumni Spotlight Series, we take a moment to shine a light on some of the fantastic leaders and organizers from the Presidio circle, to learn about their experience as a graduate student and to discover where their path has taken them since achieving their degree.
In this Spotlight, we are excited to feature Eric Fleishman (he/him/his), a Senior with Deloitte & Touche LLP in Sustainability and ESG Services within the Audit & Assurance Business. Read on to learn about Eric's current work and his Presidio experience. 
If you could, please introduce yourself! Tell us a little about where you currently work and what a typical day might look like in your current role.
Although each day in my role at Deloitte is client-specific, a consistent theme is challenging and engaging work at the intersection of strategy, design, sustainability, and ESG. It requires zooming out to understand macro context, zooming in on relevant details and emerging trends, connecting the two, and then communicating findings in a way that resonates. Addressing discontinuity at the speed and scale required for the climate crisis at hand, so humanity can flourish, is not only the task at hand and what the world needs, but what energizes me every day.
How did you land in this particular role? Tell us a bit about the educational journey through undergraduate and graduate school that brought you there.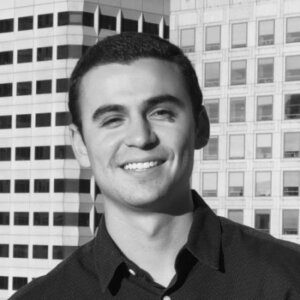 I grew up immersed in the outdoors and developed a deep curiosity for business and our natural world. During undergrad at the Kelly School of Business at Indiana University, I studied Information Systems and Corporate Innovation & Entrepreneurship and was exposed to ways to create value by identifying and addressing existing and latent needs. My internships and Ethics professor further exposed me to the role of business in serving as a force for good, and mentors along the way have both encouraged and challenged me.
What's unique about the climate crisis to me is that it's both a hyperlocal and supra-international opportunity, which requires a unique interplay across businesses, governments, and NGOs. I came to Presidio because I knew it would springboard my ability to solve societal challenges at scale. The Experimental Learning (EL) and PGS Consults programs provided the opportunity to jump in right away while integrating perspectives gained in the classroom. Presidio encourages students to discover or enhance the career path that resonates most with them. My Presidio experience exposed me to, and directly enhanced my ability to, competently and confidently provide executive-level ESG and sustainability advisory services, which was significantly aided by the real-world application of the EL and PGS Consults programs.
How did you discover Presidio? What did you find to be most unique about the school, and tell us about the "a-ha" moment when you decided to enroll?
I discovered Presidio when I was a volunteer at the Social Capital Markets (SOCAP) conference in 2018. I heard Professor Marsha Willard discussing the Sustainable Business Model Canvas and reached out directly to discuss with her. Marsha's passion and wisdom were palpable, and she was the one who introduced me to Presidio. The rest for me is history. I started as a certificate student in 2019 — my first class was Systems, Sustainability, and Social Justice — and transitioned to the MBA program in 2020. I love the unique, caring, and driven people that make Presidio what it is, as well as the perspectives I've gained. My experience has been top-notch, and I recommend Presidio to anyone who is willing to stretch their way of thinking and approach the world through a systems lens. The most unique attribute of Presidio is the combination of the community of change-makers, thought-provoking classroom discussion, and real-world application — all of which drive my ability to lead and serve.
Tell us a bit about your experience as a student at Presidio (in your specific program). What were your greatest learnings at Presidio and how have you applied them in your career/community post-Presidio?
Some of my biggest learnings include understanding the importance of shifting focus to long-term results: placing equity at the center of climate planning, using levers beyond the direct operations of corporations to drive climate action — e.g., shaping public policy, value chain emissions reductions, and community enhancement programs — and the critical roles of various landscape actors from local governments, community development financial institutions (CDFIs) and startups, to investors and international aid and standard-setting organizations. These learnings came through Presidio classroom instruction and real-world applications advising clients.
Tell us about a specific Presidio faculty member or course that impacted you.
The EL program at Presidio was co-founded by Professor Dwight Collins to give students a glimpse of what it means to push forward sustainability initiatives in companies across business functions: customer engagement, supply chain, financial strategy, and more. Through the Supply Chain and Operations course, which has an EL component, our project team worked with a multinational technology company to launch a reuse and refurbishment program.
We began by asking what would be most useful to deliver and add value, how we could encourage the client to listen to our insights, and how we could position the client to implement our suggestions after the engagement ended. Several key actions taken prior to and during the project led to the team's success, including inviting senior leadership to our final presentation and calling out areas for further inquiry.
The project was a highly worthwhile experience for students and the company according to the client, and our team had the opportunity to present takeaways to the subsequent Supply Chain and Operations graduate class. Looking back, it's clear the EL program builds the skills required for sustainability consulting professionals and continues to serve as a critical cornerstone of the Presidio Graduate School MBA/MPA curriculum.
How did Presidio prepare you for the work you're doing now?
I had the privilege of working with Pam Gordon, alumni, professors, and many others to contribute to the buildout of PGS Consults. I gained an enhanced understanding of the importance of forming strong relationships based on trust and created long-term value opportunities through business and pipeline development. From my experience serving clients, I furthered my ability to communicate at an executive level, scan and analyze ecosystems, and develop and deliver strategies grounded in the discipline of sustainability.
I'm thrilled by the launch of Presidio's new Consultancy Shadowing Program, combined with the Management Consulting Skills for Sustainability Professionals course to supplement knowledge obtained in the field. These are opportunities that exemplify Presidio's commitment to building the next generation of leaders driving change right now.
Are there opportunities that you felt uniquely equipped to tackle because of the education you received at Presidio? Tell us about one!
As a result of my Presidio education, I seek out and have the confidence to address challenges at scale. Presidio inspires me to show up as my best and biggest self every day, and it has been foundational in growing my understanding of planetary boundaries as well as required changes across current and new systems to ensure social foundations.
I've gained an interdisciplinary perspective across business functions about the role of sustainability and an understanding of how an organization can generate value for people and profit. Presidio connects the role of an organization to other societal landscape actors, which has aided in my ability to develop and deliver solutions that meet the needs of all.
What comes next? Do you have specific career goals or a vision of where you'd like to direct your impact next?
This decade is make-or-break in committing action to solve the climate crisis. Widespread and ambitious dedication to set targets in line with scientific consensus, the use of existing pathways to at least halve emissions, and investment in our long-term future will be critical. I intend to be a catalyst for inspiring and encouraging a willingness to act with accountability in response to our rapidly changing climate.
Our responsibility to acknowledge the climate crisis, commit to addressing it head-on, and demonstrate will through action is an enormous opportunity. To build a sustainable and robust future, we must bring attention, courage, faith, and maximum resources to rise to the occasion.
The views expressed in this article are those of the author only and do not reflect the views of Deloitte or any of its clients.
As used in this document, "Deloitte" means Deloitte & Touche LLP, a subsidiary of Deloitte LLP. Please see www.deloitte.com/us/about for a detailed description of our legal structure.