One of the powerful benefits of a Presidio education is the opportunity to tap into a community of change. At Presidio, we welcome our students to join and benefit from the insight of our talented and highly driven alumni, who are working to make a positive impact across both borders and sectors. Some Presidio alumni choose to work as elected officials, others as social change leaders in the nonprofit sector, and others in large companies with a massive footprint. In this Spotlight, we are excited to feature Priyanka Srinivasan, a Program Manager in Amazon Transportation Services (ATS). Read on to learn about Priyanka's current work to manage Amazon's carbon footprint and her Presidio experience. 
If you could, please introduce yourself! Tell us a little about where you currently work and what a typical day might look like in your current role.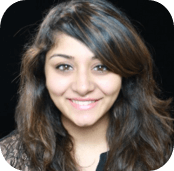 I'm a Program Manager in Amazon Transportation Services (ATS). I currently oversee an ATS business incubation called STAMP, Sustainable Transportation Accelerator for Middle Mile Program. STAMP's goal is to accelerate the development of technologies and strategic relationships that have the potential to help decarbonize Amazon's middle mile transportation and meet Amazon's sustainability goals. I've been with Amazon for five years and began my professional journey in operations.
My goal is to scale our incubator program to new regions with a diverse pipeline of early-stage technologies and partners who can help Amazon decarbonize its transportation operations. My role typically entails working with a broad group of global stakeholders. Within emerging technologies, I am constantly looking to identify new concepts from companies that have developed prototypes that are ready to transition to a real operating environment and scale if successful. Think creating economies of scale, influencing policy, and promoting standards and inoperability! I'm also looking to collaborate with national labs and Academic institutions to develop new decarbonization pathways.
How did you land in this particular role? Tell us a bit about the educational journey through undergraduate and graduate school that brought you there.
As a part of my Environmental Science Bachelor's Degree, I worked on environmental service programs within the public sector. From working on environmental impact assessments to earning my LEED Green Associate credential, I realized I wanted to impact and create change in the corporate space. The transportation sector is a huge contributor to the CO2 emissions and climate impacts we are beginning to see today, and I wanted to be a part of the solution and challenge to combat that.
I began my career at Amazon in operations and primarily drove EHS and environmental compliance initiatives in Prime Air, fulfillment, and sort center facilities. I realized I wanted to contribute to Amazon's efforts to make our transportation methods more sustainable, which brought me to my current Project Manager role within ATS.
For those who aren't as familiar with this industry or specialty, talk to us a bit more about your role and why this is important.
The middle mile of Amazon's network begins when goods come into our network, mainly at ports, and ends when goods are delivered to our last-mile delivery partners. Middle-mile logistics include transportation by air, water, rail, road, and specific building types in the Amazon network. One of my primary responsibilities is to identify project funding and collaboration opportunities with original equipment manufacturers (OEMs), early-stage startups, industry partners and coalitions, government entities, and universities to effectively produce innovations that will scale into Amazon's operations and apply to all markets and geographies.
How did you discover Presidio? What did you find unique about the school, and can you tell us about an "a-ha" moment when you decided to enroll?
When I was in high school, I came across an article about Presidio and had never heard of an MBA/MPA program focused on sustainability. I was not interested in pursuing a master's degree until I learned more about Presidio Graduate School. I knew that I wanted to pursue something meaningful to fulfill my personal and professional aspirations. So I did some more research and discovered that many sustainability industry leaders had graduated from Presidio. I was inspired to follow in their footsteps!
Can you describe how your experience as a student at Presidio helped prepare you for your current work?
Presidio equipped me with soft and hard skills that I apply daily. Leadership courses and the curriculum's experiential learning component instilled the importance of inclusivity, empathy, and respect for people and this planet. Whether it was an operations course where we learned about LCA's, or an innovation course that focused on taking a prototype from conception to a go-to-market business plan, I've learned and applied many practical skills and values in my current role.
Was there a moment in your time at Presidio that has stuck with you and directed your work since?
In one of my last leadership course residencies, each student had an opportunity to receive positive recognition from their peers. Recognizing and valuing people is one of the most impactful things you can do, and I've brought that to the workplace since. We learned to be vulnerable and share our strengths and weaknesses to understand how to become better leaders. This experience ultimately helped me feel empowered to voice my opinion, whether at work or on a personal front.
Are there opportunities that you felt uniquely equipped to tackle, both within your career and in your community, because of your education at Presidio? Can you tell us about one?
Presidio gave me the confidence to tackle strategic thinking for programs and processes. My operations course taught me how to identify inefficiencies and improve supply chain processes. I've since leveraged these models when thinking about applying LEAN concepts to programs at work.
The flexibility of Presidio's interdisciplinary curriculum has since allowed me to leverage my degree in operations and project management within Environmental Health & Safety, Compliance, and Transportation. Presidio Graduate School provided me with a unique, systems-thinking approach to problem-solving and the tools necessary to develop strategies with diverse stakeholders and implement programs in sustainable operations.
Most importantly, being a part of Presidio connected me to a diverse community of sustainability changemakers. The collaborative nature of Presidio's courses and the support and connections I established with peers has been of utmost value and inspiration to me.
What advice would you give to an aspiring change-maker eager to make an impact in your field?
Believe it or not, not everyone is sold on investing in sustainable solutions! To become a changemaker in the sustainability field, you need to be bold, propose moonshot ideas, and think big to make an impact that can scale across the supply chain. There is a place for every skill set in sustainable transportation. Whether you're passionate about business intelligence and data or communications and marketing, the sustainable transportation field offers endless opportunities for changemakers to contribute to a more sustainable future.
What's next? Do you have specific career goals or a vision of where you'd like to channel your impact next?
Long-term, it would be great to use my experience in funding programs in sustainable transportation and broaden it to impact investing within the ESG space. Transportation is one major component of sustainability, but many other areas positively impact sustainable transportation efforts, from environmental justice to product design.