One of the benefits we're most proud of at Presidio Graduate School is our growing network of alumni and the positive impacts they're making out in the world. As part of an ongoing series, we spotlight some of these fantastic changemakers and talk to them about their experiences at Presidio and beyond. Today we're talking to Shivani Ganguly (she/her), the Chief Financial Officer at New Sun Road.
Thanks so much for joining us today, Shivani! Tell us a little about where you currently work and what you're doing in your current role(s).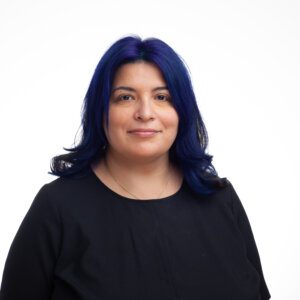 I'm the CFO at New Sun Road, a public benefit corporation in the solar technology sector. I manage accounting and finance and work on human resources, business operations, and manufacturing operations. I've been with New Sun Road for about two and a half years, and I also have a consulting firm where I work with women and BIPOC led companies in the technology industry. I've been working as an employee and consultant in this line of work for the past twenty years.
One of New Sun Road's projects in 2021 was installing ten solar-powered community centers in remote villages in northern Guatemala, bringing electrification and connectivity to those communities. We're running business planning and digital literacy programs for women and youth in those communities. We're expanding this project to an additional ten communities this summer and plan to do about 3,000 installations over the next five years.
Pallet Shelter, another purpose-driven organization based in San Jose, is also using New Sun Road's solar monitoring system in tiny houses that are being used as homeless shelters. In addition to these social impact projects, our product also has a variety of telecom, utility, and commercial and industrial applications.
How did you land in this particular role? Tell us a bit about the educational journey through undergraduate and graduate school that brought you there.
I went to Stanford undergrad; my major was Science, Technology, and Society. It was an interdisciplinary major in the late nineties, and the internet was just becoming a thing. I thought this would be an interesting choice as we collectively figured out how this would impact and shape society. I focused on math and computer science, economics, sociology, and how interacting with technology could and inevitably would impact our day-to-day lives and our world.
I've always had a deep interest and concern about the environment and social justice, dating back to high school and being involved with Greenpeace and Amnesty International. But after undergrad, I worked in tech for about ten years, mostly at a hardware company that made a tiny computer. When I started there, I was about the 20th employee, and it was pre-revenue. I was at the company as it grew to about $40 million in revenue with a little over 100 employees, and when it was acquired, I decided to go to business school. I wanted to focus more on sustainability and climate change solutions and get involved with mission-driven companies. I started working with impact companies about twelve years ago and have worked in food and technology ever since.
In 2019 I left a role in the beauty industry and decided that I wanted to focus on energy and move back into tech. I was introduced to the CEO at New Sun Road through a Presidio contact and have worked with them ever since.
How did you discover Presidio? What did you find unique about the school, and tell us about the "a-ha" moment when you decided to enroll.
I found out about it through a friend from college; her sister-in-law had gone to Presidio and was in the first cohort. Part of my decision was around geography. I had lived in the Bay Area for about 15 years at that point, and I knew I wanted to continue to live and work there after graduate school.
The other compelling factor was the sustainability aspect, of course. I looked at other schools in the area, and while some of them had classes about green business or a club, perhaps, sustainability was not ingrained in their curriculum. As a prospective student, having access to a holistic and sustainability-driven curriculum was particularly interesting and important. I was also attracted to Presidio's residency and hybrid learning model. I continued to work while I was in school, so that flexibility was helpful for me.
Tell us a bit about your experience as a student at Presidio (in your specific program). What were your greatest learnings at Presidio, and how have you applied them in your career/community post-Presidio?
As I mentioned, sustainability is embedded in every Presidio course. In the classroom, when you're learning about operations, finance, or marketing, sustainability is not an afterthought or a module; it's truly intertwined throughout the entire curriculum. I think that's benefited me in my career as I've worked with companies across the spectrum of sustainability. Many of them are like New Sun Road, a mission-driven company concerned about and paying attention to all aspects of sustainability.
I've also worked with companies that have looked at sustainability through a narrower lens. By helping them identify how to broaden their definition of sustainability – even if they're not necessarily making a product or service that is shifting the needle, they're at least considering other operational factors, like how they treat their employees and stakeholders.
Tell us about your experience with Presidio faculty and how they impacted you.
The faculty is, by and large wonderful. I've maintained positive connections with the faculty since graduating. I also TA'd an accounting course about five years ago, and I was a student representative, so I did have quite a bit of interaction with various faculty members in that role. Their passion and leadership in the field have been an inspiration.
How did Presidio prepare you for your current work?
At Presidio, ten years ago, we were already talking a lot about things that are only just now coming to the forefront in industry and government, so I feel incredibly satisfied with my decision to go to Presidio. The regulatory environment is changing, and I think the business environment is also changing. Ten years ago, Corporate Social Responsibility (CSR) and sustainability were often an afterthought, but it's becoming a much more central part of even large corporations.
My connections among the alumni community are powerful, too, both in personal and professional friendships. There are so many people that I can reach out to with questions about things I encounter in my current role. Whether it's asking for input on how to put together an impact report or who to have conversations with about how to build sustainable businesses that are helping move the needle on climate change, the support and engagement of Presidio's alumni community have been critical to me.
I think all of my Presidio experience has prepared me for the work I do now. Presidio's foundational integration of sustainability in the curriculum and supportive alumni community are paving the way for future leadership roles in mainstream organizations trying to streamline sustainability and startups and other mission-driven organizations working to build sustainable companies and communities from the ground up.
Are there opportunities that you felt uniquely equipped to tackle because of the education you received at Presidio? Tell us about one!
It definitely gives me some credibility in the sustainability space. I'm often talking with investors and lenders, and just being able to say I have an MBA in Sustainable Management when talking to sustainability or climate-focused investors is incredibly helpful. Presidio is also a recognizable brand in those circles, so it's a differentiator when looking for senior jobs in sustainability-oriented organizations.
What comes next? Do you have specific career goals or a vision of where you'd like to direct your impact next?
For now, I plan to keep doing what I'm doing! Focus on building New Sun Road and supporting tech entrepreneurs, particularly women and people of color. There's a lot of work to do already, and as New Sun Road grows, there will be even more.
I'm very much a generalist, and in considering my career, I'd like to dig deeper into the operations side of business, i.e., supply chain, logistics, and manufacturing. It's so critical from a sustainability perspective. I'd also like to get more into impact metrics. I'd like to focus on identifying how to integrate reporting with financial, business, and impact metrics successfully.
Thank you again, Shivani, for all your time and for telling us about your journey!
If you're interested in learning more about Presidio Graduate School and how our MBA and MPA degrees in sustainability can benefit your career goals, you can contact us today to find out more.