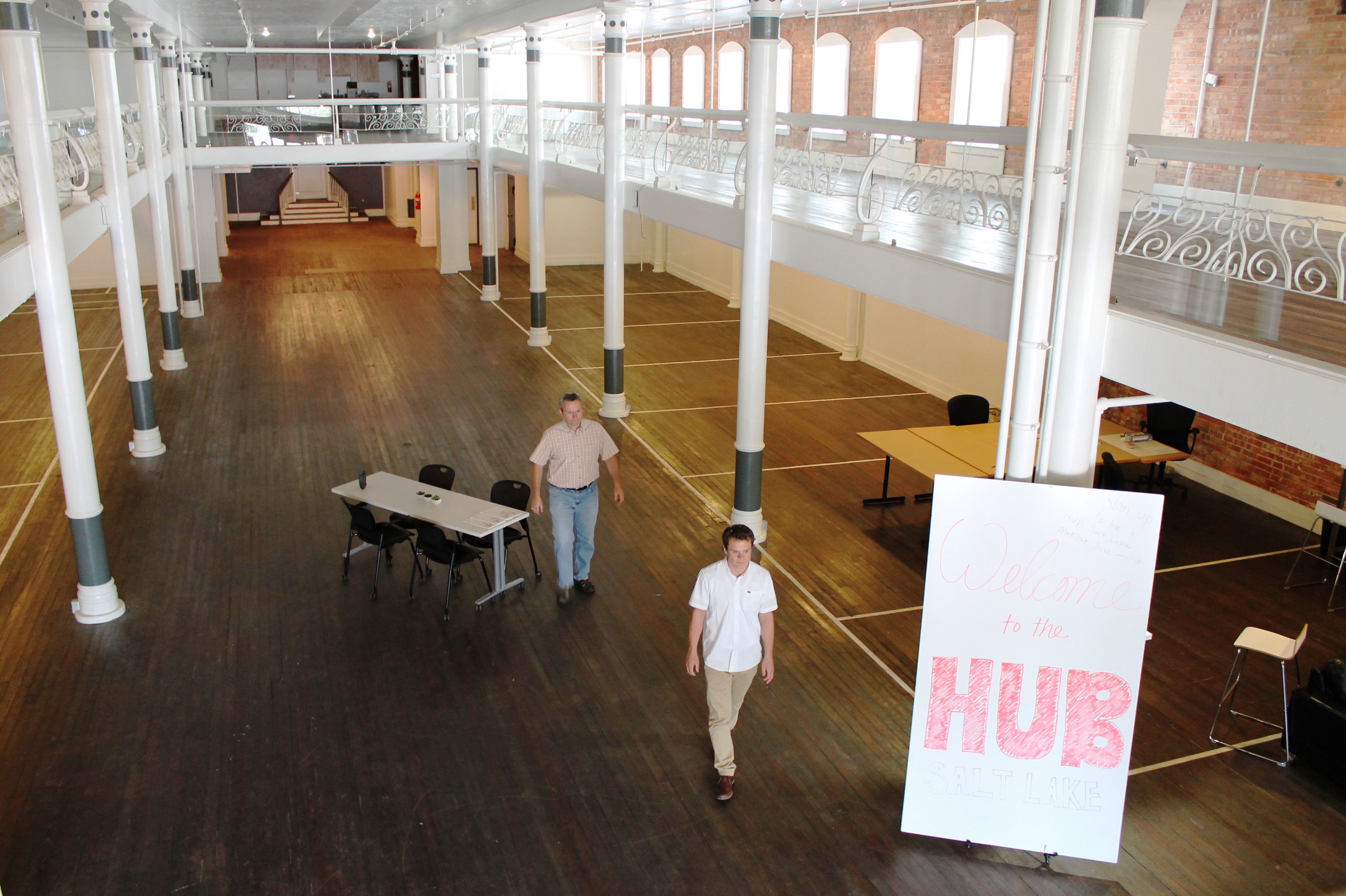 MBA Alumnus Dustin Haggett (C13) witnessed the abundance that collaborative workspaces can generate for social entrepreneurs at HUB Bay Area during his time at Presidio Graduate School. The spring 2012 graduate is now dedicated to bringing this successful global model to his home in Salt Lake City, Utah, where over 90 members have already signed up to join the new HUB location he co-founded with Søren Simonsen set to launch this November.
The 13,000 square foot co-working facility in downtown Salt Lake City will provide drop-in workspaces for 80 to 100 people and 15 permanent offices for purpose-driven organizations. HUB Salt Lake will also offer resources for members in the form of educational information sessions and community-building events. Other support facilities under consideration include a fitness center, drop-in daycare, and a creative/artist work area. HUB Salt Lake will join a global network of more than 30 HUB locations spanning five continents.
"We have a lot of great things happening in Utah around social innovation, but everyone is really working in silos on those initiatives, and a lot of work overlaps," says Dustin. "To bring all that activity under one roof will accelerate all of the good things happening in the community."
Of the founding members already slated to join the community launch in the fall, Dustin was surprised to see several applications from local and state-level government staff members.
"I think a lot of the solutions we're going to come up with require a public-private partnership, so it's exciting to see that people working in local and state governments and policymakers will be working and learning alongside entrepreneurs. It creates a lot of opportunities," he says.
Other slated members include professors from local universities, college students, and many entrepreneurs across various fields. The HUB Salt Lake team began recruiting members by reaching out to about 20 entrepreneurs they got to know during project development over the last year and a half, but news of the shared workspace spread organically thereafter.
"There are a number of social entrepreneurs with ideas coming out of the woodwork that we weren't even aware of before we started marketing the HUB, so that's a lot of fun to see and meet these entrepreneurs working on projects and to give them exposure," Dustin says.
He hopes to see a twofold impact from this initiative. One goal is to promote social entrepreneurship in Utah, and the other is to pull together a supportive community and accelerate projects that members of the community are already working on.
"Everything we do fills in space around providing resources that these entrepreneurs need – whether it's the network that we're trying to build, of talented freelancers who can support entrepreneurs or education and workshops that we're curating," he says. The team is already in conversation with at least six major universities or colleges about potential collaborations.
"Right now our biggest challenge is in building the community and finding everyone who resonates with the HUB," Dustin says. "I think Utah, as a state, is very entrepreneurial. We're also the most philanthropic state in the U.S. in terms of how much we donate to non-profits and so I think there's a culture in Utah of serving others.
"I think people, especially younger folks, are looking for meaningful work, but they're not quite sure what to do in their career," he says. "The biggest opportunity is to educate and guide those people looking for work by pulling the communities together."
The HUB Salt Lake team is still looking for members, community sponsorship, and equity. Dustin hopes that within five or six years, HUB nodes will launch in Aughton, Park City, and Utah Valley. He would also like to see all the universities in Utah teaching social entrepreneurship and sustainable management to its students.