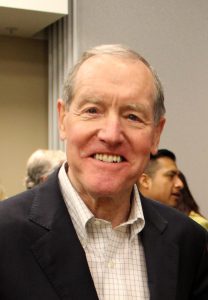 Just after we had both attended the second San Francisco residency, Dr. Ron Nahser sat down with me, a current full-time MBA student, to talk about the origin of Presidio Graduate School (PGS). Over the four days of residency, Dr. Ron audited every single course! Besides learning about the origin of PGS, the Marketing Team stumbled upon the Newsweek article, described and linked below, and we wanted to hear about his experience then and what he thought about how PGS has evolved.
Dr. Ron, Provost Emeritus, lead the school from 2004 to 2008 and was recently asked to come back to provide invaluable institutional knowledge to help drive our evolution although he would say, "well, of course, I came back to learn!"
Dr. Ron has a fire lit inside him for Presidio Graduate School's purpose and its value to the world, that is unparalleled. He tells the story more insightfully in the video above, but he came to PGS in 2004, when it was still called Presidio World College, after interviewing with one of our founders Dick Gray, for the Marketing Professor position. Dr. Ron was not looking for a new position at the time and was living in Chicago, but after meeting with Dick Gray and the other founder and President, Steven Swig, he was hooked. Dick and Ron had many career path parallels (advertising, religious studies, PhDs in education, and moral philosophy).  And Ron found Dick and Steven's vision for the future of the school and management – especially helping students find their "calling"-  inspirational. Dick Gray asked him to not only be the Marketing and Capstone Professor but to "run the school" as Provost and Co-CEO with Steven Swig, which he accepted.  He remained in those positions for four years.
With the support of the board and Dariush Rafinejad, current Provost, Dr. Ron is back with a vengeance to help PGS understand the founding vision and how it guided us as he, Dick, and Steven took the school from 22 students in 2004 to 240 students in 2008 and share industry knowledge as he has been in the management higher education space these past 10 years.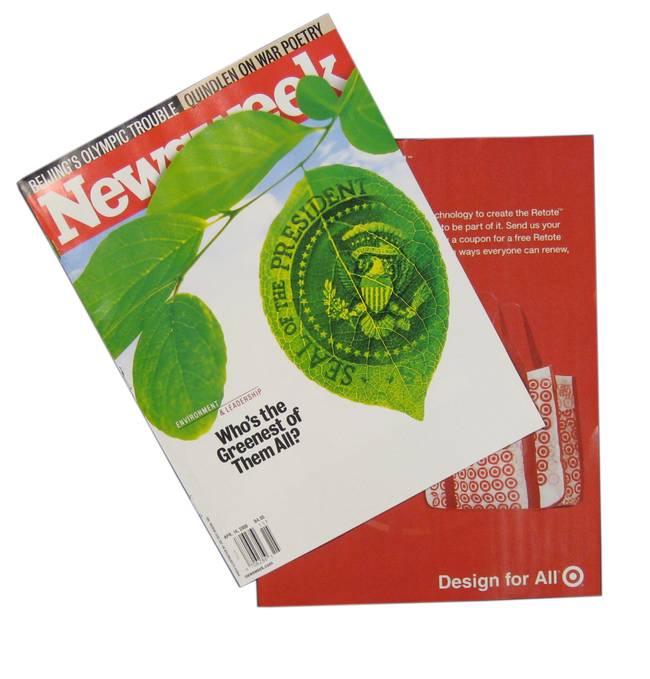 Newsweek, How to Get Rich Being Green
By Martha Bryant and Miyoko Ohtake; 
A Growth Industry: "Business schools are teaching entrepreneurs how to get rich helping save the environment."
This Newsweek article was the first national exposure for Presidio Graduate School. The author, Martha Brant, was looking to research the new trend of "green MBAs" at ivy league schools. In her research, she found that many students were getting a green MBA because "it makes good business sense to be sustainable," not because it aligned with their values.
She chose to feature Dr. Ron and PGS predominantly in the article because for PGS students, "it was never for the money." Students come to PGS to learn business skills to make a real sustainable impact. As the article states: "It is the atmosphere at Presidio Graduate School that makes it so different from Harvard."
Byron (Ron) Nahser, Ph.D. Biography
Managing Director for CORPORANTES, Inc., an outgrowth of The Nahser Agency/Advertising, Dr. Nahser is currently Provost Emeritus of Presidio School of Management, San Francisco (offering the first accredited MBA in Sustainable Management),  a Senior Fellow at the Institute for Nature and Culture, and Director of Urban Sustainable Management Programs at DePaul University. He is also a Professor of Pragmatic Philosophy and Ecological Economics, Center for Confucian Entrepreneurship and East Asia Civilizations, Zhejiang University, Hangzhou, China.
In his four-year term (2004-2008) as Founding Provost and Co-CEO at Presidio Graduate School (then Presidio School of Management), he repositioned and rebranded the college, guided the faculty, refined and integrated the educational philosophy based on pragmatic inquiry,  and the School's curriculum and executive education program engaged in experiential learning; and placed paramount emphasis on helping individual students discover their true callings through their careers, and organizations to connect their strategies with their values and vision.
Having successfully completed the first five iterations of the MBA program and played a major role in growing the School by ten-fold, from 22 students in 2004 to 220 students in 2008, Ron has conferred the title "Provost Emeritus" by the College's Board of Directors.  He is now participating in the Renewal Project of the Presidio Graduate School sustainable management educational programs, learning from the combined Presidio Graduate School and Bainbridge Graduate Institute's pioneering work in the field over the past 30 years.
In addition to lectures, workshops, and consulting with business and academic audiences in the US and internationally on business values, vision, marketing strategy, branding, social responsibility, and integrative sustainable management, he is a Strategic Advisor to the UN Principles of Sustainable Management Secretariat (PRME).
The author of Learning to Read the Signs: Reclaiming Pragmatism in Business and Journeys to Oxford:  Nine Pragmatic Inquiries Into the Practice of Values in Business and Education, he has developed a strategic business problem-solving model known as PathFinder Pragmatic Inquiry® which has been used by more than 100 organizations and thousands of participants including 3M, Levi-Strauss & CO., The Quaker Oats Company, Time Inc., Harris Bank, Kellogg School of Management, Stanford GSB, Notre Dame Mendoza College of Business,  DePaul University Kellstadt GSB, Beta Gamma Sigma Honor Society, Presidio School of Management, UC Berkeley Haas School of Business and many others.
The former chairman, president, and CEO of The Nahser Agency of Chicago, serving such advertisers as The Quaker Oats Co., CNA Insurance, Harris Bank, Bang & Olufsen, Schwinn Bicycle Co., Merlin's 200,000 Mile Shops, Solo Cup Co., and Florsheim Shoe Co., Dr. Nahser earned a BA degree from the University of Notre Dame, an MBA degree from Northwestern University's Kellogg School of Management, an MA degree in Religious Studies from Loyola/Mundelein College and the Ph.D. in American Philosophy from DePaul University.
KQED Interview
December 1, 2009: The Business of American Pragmatism. Interview with Michael Krasny.
Letter of appointment at Zhejiang University
Dr. Ron and I discussed how Presidio Graduate School fosters a world-centric viewpoint, similar to Asian cultures, and this reminded him of his relationship with Zhejiang University. Below is the Letter of Appointment they granted him as a mentor. He explains, "It has been fascinating to see how the Chinese are rejecting the traditional MBA and working toward "Confucian Entrepreneurship" and culture."