A strong advocate of extracurricular activity, Seth Rosenberg is attending Presidio Graduate School part-time next semester so he can devote more of his time to his role as a student representative and club leader.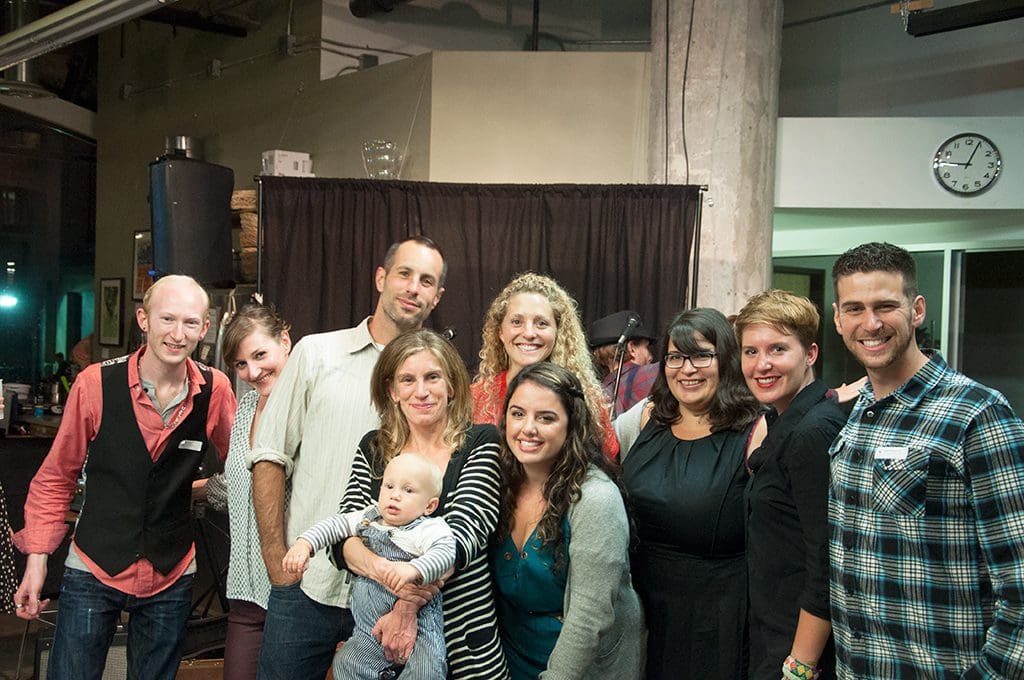 "I think the more connected the Presidio community is to the work that students and faculty are doing outside of the classroom the more success the program will find," Seth says.
We caught up with Seth for a brief conversation on what he's seeing in the Presidio community that energizes him most and why he's keen to leverage the school's student clubs.
What's the commitment you hold that brings you to become involved in the Presidio community in the way that you are? How are you involved?
Seth: The commitment that I hold is twofold, both to myself and to the Presidio community. To myself, I am committed to building the deepest connection I can to my community and to stretching myself to take on new roles. To the community, I am committed to doing my best to contribute to making it even stronger. I am both a student representative and co-chair of the Presidio Sustainable Food Club.
Seth Rosenberg (far right) with the Tomato Sherpa team/What energizes you the most about what you are seeing unfolding in the Presidio community?
Seth: What energizes me most are my colleagues, the faculty, staff, and guest speakers. I am so inspired by the work being done, the questions being raised, and the spirit that is embodied in the community. Once I found Presidio I immediately felt that it was the right network of professionals for me to join — almost every project coming out of Presidio as well as the work outside of school that people do makes me very energized.
Can you give an example or two?
Seth:  Presidio alum Brahm Ahmadi co-founded People's Grocery and more recently People's Community Market. Both of those are examples of projects supporting urban agriculture and also promoting food justice in West Oakland. As someone whose main interest is in sustainable agriculture and food, I find them inspiring.
I'm also working with alumni Stacey Waldspurger, Zach Worthington and Shivani Ganguly on Tomato Sherpa, which is a new recipe kit business, which we launched Aug. 8.
Through that project I can see how I'm helping support local, sustainable agriculture and that also energizes me.
What conversation, if begun today, could ripple out in a way that creates new possibilities for the future of this community?
Seth: There already is a conversation that has begun about how to leverage the Presidio student clubs to become an even stronger part of the institution, and for increased collaboration between clubs. I think that the student clubs are a key element of learning how to implement some of the things that we learn in the program.
Can you unpack that?
Seth: Similar to extra-curricular activities at other educational institutions, the clubs are an opportunity to go beyond the classroom and for students to pursue their passions. It's a chance for them to really customize the educational experience for themselves. So whether you're interested in clean technology or green building or impact investing, (the clubs) are a really good way for students to connect with other students who share the same interests and want to do real-life projects.
In terms of leveraging all that even more, and helping the clubs become even stronger, I just know that's something the faculty and club leaders are interested in seeing happen and are having conversations about it.
What challenges might come up and how could these be met?
Seth: There is a financial challenge, and there is a challenge of people already being busy and on different schedules. It can be difficult both to finance and to coordinate extracurricular activities. There is already an ongoing discussion about potentially modifying the current budget structure of clubs to improve efficiency.
How do you anticipate being involved?
Seth: As a student representative and co-chair of the food club, I anticipate collaborating with my fellow representatives and other club leaders to find a way to maximize the potential of student club activities. In particular, I hope to help be a part of putting together some awesome food- and agriculture-related events.
When you imagine working with others who comes to mind. Can you tell me a little bit about them and what you appreciate about them and what they bring to the community?
Seth: Every person I have worked with at Presidio has brought something unique to the table. I appreciate them all. I'm not exaggerating when I say that.
I like that a lot of the people are practitioners and already have a variety of interesting careers and experiences that all tie together through sustainability.
My class had 40 some people, and every single one is doing something fascinating, whether that's working in the solar industry or doing environmental consulting or becoming involved in impact investing.