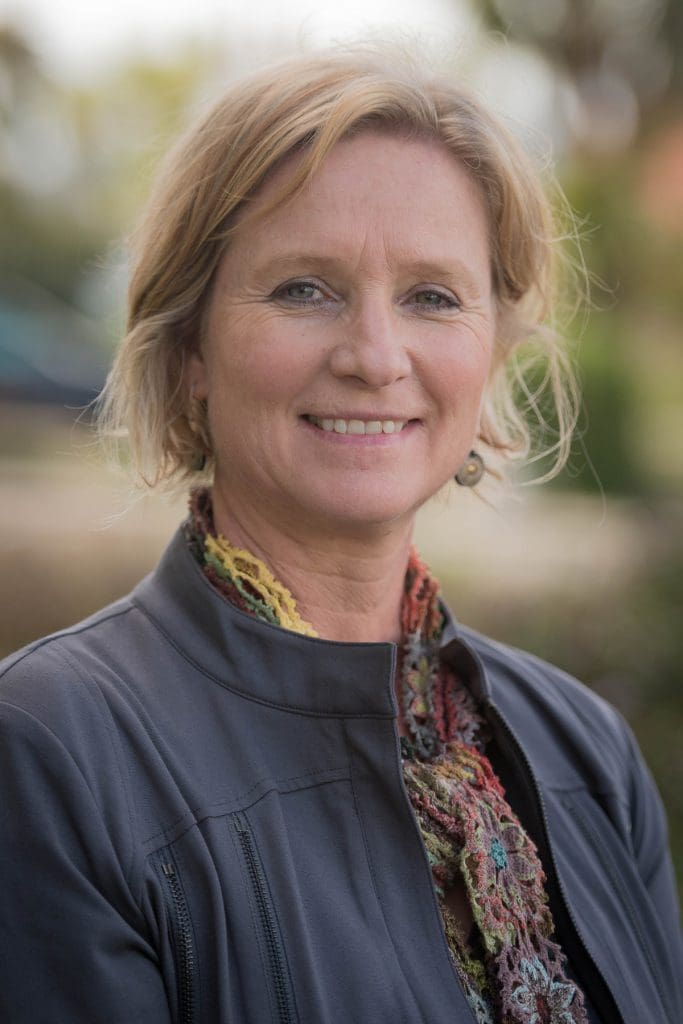 The driving forces of Summer Meyer's life can be summed up by two words:  love and adventure.
If you know Summer (you might have met her as Karin, her former name), you know that both shine through unmistakably in her life. She exudes an appreciation for challenges, nature, community, people, and self.
Together with her husband and two children, Summer has gone on multi-year sailing trips, taken weeks-long motorcycle trips, and regularly goes camping to experience the beauty of the West from the Pacific coast to the Rocky Mountains. She creates art in several different mediums and maintains a daily meditation and yoga practice. She is someone who has always sought to break from tradition—even changing her name to eschew familial heritage in favor of something more true to self.
It was fitting that, after a few decades of professional work, Summer should find her way to Presidio Graduate School, where Presidians have been challenging business as usual since the school's inception in 2003. While romantic love initially brought Summer to the US from the Netherlands (she and Scott met in college while she was earning her Masters' in Counseling Psychology in Belgium before they moved to Colorado), it was love of justice which brought her to PGS.
Summer wanted to find a way to incorporate her social justice values more deeply into her work and to gain the necessary tools for doing so. At the time, she had already been exercising her love of community and nature, as the producer of an outdoor arts festival called the Pacific Coast Fog Fest. She initiated composting in the festival operations and converted it into a green event.
Since her graduation in 2013, Summer has worked on several projects, including one focused on clean energy and water management at Bioneers, and the Sustainability Summit she organized for the Netherlands Consulate General.
Despite her fascination with adventure and her wanderlust, Summer remains deeply rooted in her home community and takes radical responsibility in caring for her community. Radical responsibility is what she calls the responsibility each person must take for their thoughts, emotions, actions, for their relationships with others, and for their relationship to the earth. We are all responsible to the ties that connect us to places or communities of common interest.
Summer extends this radical responsibility to caring for her PGS community by regularly and generously giving to the school in ways that sustain the quality of its teaching and its impact. Achieving radical responsibility requires inner work. Her consulting business, Vertical Journeys, addresses the need for inner transformation in order to do effectively impact the three E's of sustainability—environment, economy, and equity. Underlying all sustainability work is an awareness of self and purpose in the world. This is the existential bottom-line, which Summer believes is crucial and under-prioritized in the sustainability field.
Summer says her education at PGS was so transformational, and that her peers—fellow alumni, students, and faculty—are doing such meaningful work that she wants to do everything she can to help amplify the message of PGS. This was precisely the motivation behind the Inspiration Strikes Fund, which provides small grants to support endeavors that promote the work of Presidians—e.g., via presentations at industry, trade, or academic conferences. The fund, which she established while she was president of the student representatives, supported several students and alumni (who are eligible within two years of graduating), including a delegation which participated in the climate change summit in Brazil. Even if it's only a few projects per year at small amounts of financial support, Inspiration Strikes helps to show the world the great work that Presidians are doing.
Additionally, Summer and her partner of 29 years, Scott have supported PGS by helping to found the Eric C. Sharp Memorial Scholarship Fund, which honors Eric Sharp (PA2), who died in 2014. Beginning this year, they established the Summer and Scott Meyer Adjunct Faculty Position in the MPA program and named Professor Tammy Esteves, PhD as the first recipient.
Summer hopes that her fellow alumni give and continue to give as a way of supporting the ongoing success of the school and ultimately, each other. Regardless of the amounts each individual can give, it's about showing up and giving even small gifts to support an institution that is actively and measurably changing the world.