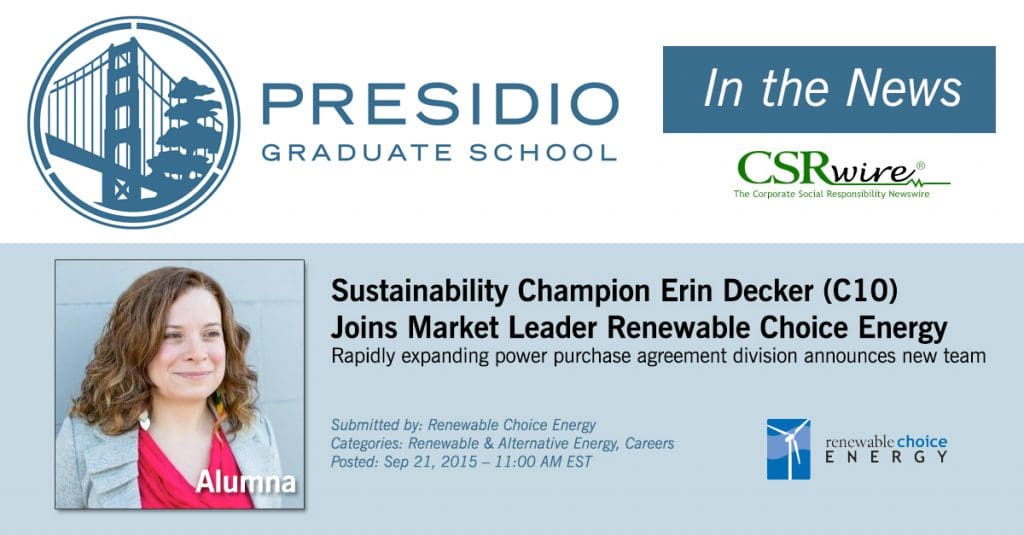 Renewable Choice Energy announced today that Erin Decker (C10) has joined their team as a Senior Director of Business Development to oversee their growing Power Purchase Agreement (PPA) division. Previously, Erin was at Salesforce who lead their global sustainability team by setting a 100% renewable energy commitment and strategy.
Decker earned her MBA in Sustainability Management at Presidio Graduate School, which helped her obtain the the skills necessary to effectively impact the corporate sustainability space.
We are very proud of her and her recent accomplishments! She is a true change agent working towards a more sustainable world.
About Renewable Choice
Renewable Choice Energy is a pioneering global supplier of products and services that advance clean energy development and the adoption of carbon reduction technologies, providing customized solutions to corporate, industrial, and institutional buyers. Recognized as a leading partner to more than 140 Fortune 500 companies, the firm's portfolio also includes scores of educational institutions, municipalities, green buildings, and small-to-medium enterprises.  Renewable Choice was the recipient of the prestigious Green Power Supplier of the Year Award from the U.S. Environmental Protection Agency in 2011 and 2014 and is a certified B Corporation.  To learn more, visit renewablechoice.com.