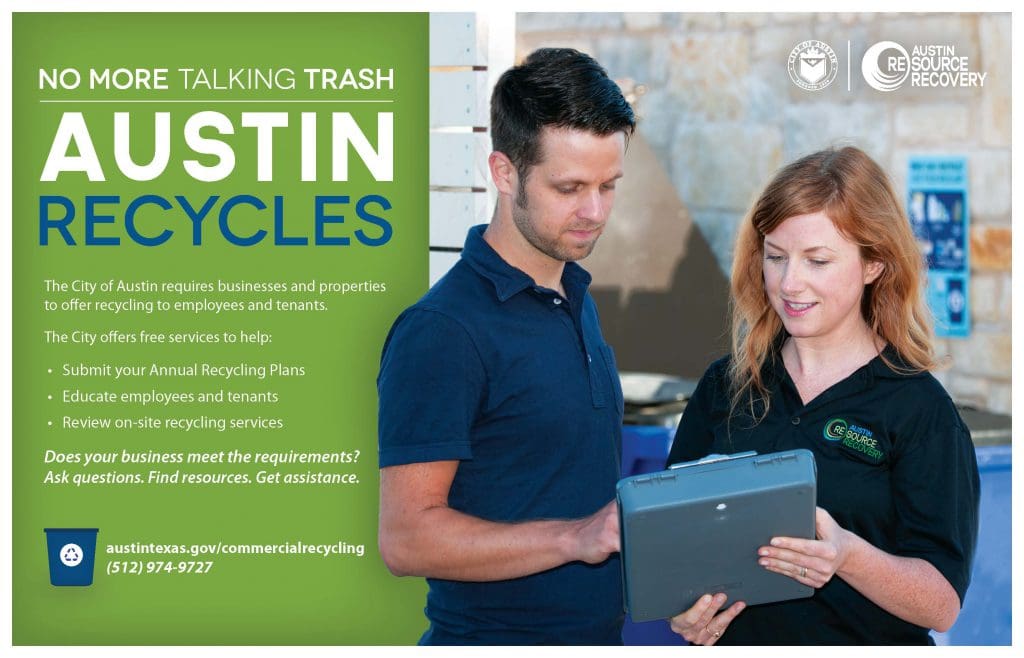 "Only a few people who are involved in this field—resource management, materials management, waste, and recycling—actually chose to do it," explains Amanda, noting that many facilities are run as family businesses. "It kind of chooses you."
For Amanda, the choice was made after she moved back home to Austin after graduating from Presidio Graduate School in 2012. She was at a career expo pursuing other opportunities when she approached the Austin Resource Recovery department's booth to inquire about expanding the city's curbside compost collection.
"I had it in Oakland, and it was so convenient!" Amanda says. "You take for granted all the ways that the Bay Area is so progressive."
Impressed with her MPA background and passion, the staff told Amanda about the waste diversion planning position—and she has served in that capacity ever since.
On the business outreach team in the strategic initiatives division, Amanda supports Austin's overall zero-waste goal (diverting 90% of waste from landfills by 2040) by engaging the city's business community. In addition to pioneering new programs such as commercial composting, Amanda works with companies on compliance with the city's universal recycling ordinance.
"Implementation of ordinances can be a sticky subject for businesses; it's not always what gets them going and gets them excited" Amanda concedes.
But she has been able to rally allies in the commercial space through recycling rebate programs, recognition programs for early adopters and trailblazers, and her own personal understanding of the demands of the private sector.
This planning job, in fact, is Amanda's first in the public sector—all her previous jobs had been in small business development. With a background in metalsmithing, Amanda worked for jewelry-making companies before a volunteer service trip to organic farms in South America in 2008 inspired her to make a change.
"All of my jobs up to that date had been really focused on providing luxury goods and services to wealthy women," Amanda reflects. "And I was just looking for a little more diversity in my workplace and a move in a direction where my impact could reach a little bit further. And that's where I identified that I might enjoy working in the public sector."
In 2010, she enrolled in the MPA program at PGS, where she was immediately impressed by the "mojo" of her classmates. She found them to be as supportive as they were brilliant.
"It felt nice that I could turn bright red and do a terrible presentation and still get a lot of love and care and encouragement to get up and do it again" Amanda recalls.
She says PGS cultivated a safe space to explore ideas, foster teamwork, and develop innovative partnerships. And that same collaborative ethic permeates the city of Austin's workplace culture–in which cross-departmental meetings and learning are actively encouraged (she regularly checks in with PGS alumnus Zach Baumer (C4), who serves as Austin's climate program manager).
"My job has this really narrow 'waste diversion planner' title, but my duties are by no means narrow," Amanda says. "I have to give kudos to Austin because they're really looking to be the best-managed city in the country, and they're really great at bringing people together and finding ways to work out of those silos."
Imbued with the values of her PGS education and the spirit of her fellow Presidians, it is no surprise that Amanda was nominated this fall for Austin's PRIDE Award as an example of the city's commitment to public service and engagement, responsibility and accountability, innovation and sustainability, diversity and inclusion, and ethics and integrity.
This article originally appeared in the Fall 2014 edition of Presidian: