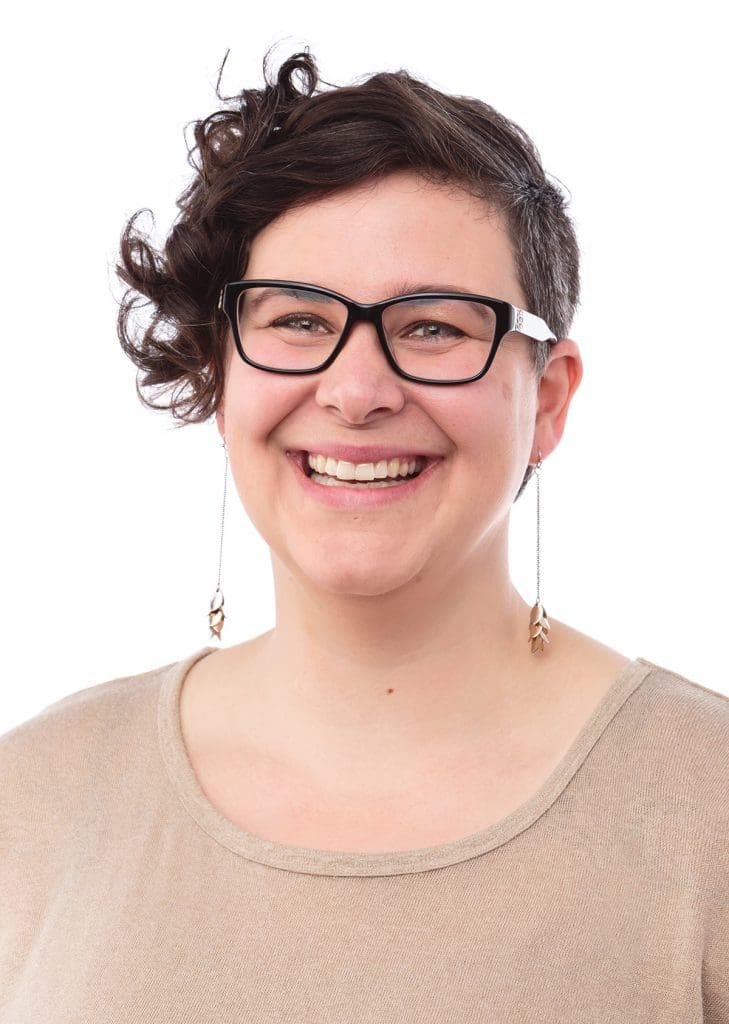 Raley's Meg Burritt seeks to change the world, one grocery run at a time.
Meg Burritt (C9) wanted to open a bakery. A bakery that was "local, sustainable, and quality." A bakery that sourced every ingredient—down to the sugar and the flour—as locally as possible. A bakery that was meaningfully integrated into the fabric of the community—as opposed to just being "a place where you go to get a cupcake."
But then Meg went to Presidio Graduate School to pursue an MBA in sustainable management. "I went to Presidio to learn how to run a small business, and I left Presidio learning that I should never run a small business," she laughs.
For Meg, finding out that minding the minute details of running a small business didn't suit her skill set was only one revelation. At PGS, she also discovered her passion for making a broader impact on the food industry as a whole—from farm to fork.
In May 2014, she was named the Director of Wellness and Sustainability for Raley's Family of Fine Stores—a Northern California-based company that operates 118 grocery stores (under the brand names Raley's, Nob Hill Foods, and Bel Air Markets), as well as Food Source outlets and Aisle 1 gas stations.
"We've never had a director of sustainability at Raley's before, so my job up until now has basically been trying to figure out what my job is," Meg jokes.
In her current role, Meg has three main responsibilities. She manages the natural/organic food items, health and beauty care products, and over-the-counter medication merchandising in "center store." She sets the corporate strategy for sustainability, which includes marketing Raley's efforts and building partnerships to realize those initiatives. And she's also devising a long-term plan to position Raley's as a "wellness destination" under the leadership of health-minded CEO Michael Teel, the grandson of the Raley's founder, Thomas P. Raley.
That's a lot on Meg's plate. But she says the first and most fundamental step is educating and training Raley's 13,000 employees—from the truck drivers in the company fleet to the people stocking shelves at night. Communicating the "what/so what/now what" of Raley's sustainability program to its diverse internal stakeholders is "the most important [task] to get perfectly right," says Meg.
"Even though I head a 'sustainability department' of two people, sustainability is actually a department of 100% of the company," Meg explains. "I can't execute anything without the operations team. I can't distribute a more sustainable product without the distribution team. I can't train anyone without the learning and development team. I can't communicate what we're doing internally or externally without our comms and marketing and Public Relations team. So everybody has to work together, and that's really 90% of my job—creating relationships and getting people to collaborate and work together on things they've never worked on before."
She credits her PGS experience with giving her the tools to build coalitions and bring people from disparate backgrounds together (Meg was student representatives president at PGS). She says PGS also showed her the importance of inculcating an ethic of sustainability within corporate structures that have wide-ranging reach.
"Everything I'd been learning at Presidio had been teaching me how to create change at institutions like Raley's," Meg reflects. "We have 118 stores and each store has thousands of people who shop in them and each time they walk down our aisles or interact with our team members—that's an opportunity for us to influence [their] behavior and create sustainable change. And so that's really the biggest impact that we can make as Presidians."
Meg's work in sharing sustainability expertise and values at Raley's got a boost when she was named as a 2014 First Mover Fellow of the Aspen Institute. Through this leadership development program aimed at "intrapreneurs" (people pushing change within large organizations), the fellows are afforded access and connections to senior executives at their respective companies. The First Mover Fellows work on projects that create value for their company while creating positive social impact.
Knowing that approximately 30% of food grown in America is wasted, Meg is currently forming a plan for Raley's to put that food waste (e.g., "imperfect" fruits and vegetables) to good use—especially at stores adjacent to "food deserts."
"I thought: 'Wouldn't it be amazing if we can find a way to reduce some of the waste that we have in our supply chain and connect it with people who don't have access to fresh food?'" Meg says. "That way we use our retail vehicle for good on both sides of the equation."
In some ways, that "retail vehicle for good" isn't too far from Meg's original dream of a neighborhood bakery that dispenses wholesome treats and positivity. Through a grocery chain like Raley's, Meg hopes that quality food can be made more accessible for even the most price-sensitive consumers—like the budget-conscious Mom with a couple of young kids.
"She wants to feed them the best products, and she knows that the best products might be the organic apple as opposed to the conventional apple, but she might not be able to afford that every time," Meg explains. "My personal vision—and I think it's really aligned with where we're trying to go as a company—is to get to the point where we can offer more of that to more people, and therefore create a bigger swath of change."