Wangari Maathai. Katniss Everdeen. Buffy the Vampire Slayer. There are many different types of heroes, but it is generally agreed upon that they are people who accept the hard challenges others would defer.
Although Lillian "Lily" Laurence (C17) hasn't won a Nobel Peace Prize or vanquished any vampires (yet), she fits a heroic pattern. Her simple, quiet acts of courage are inspiring, even if not always planned.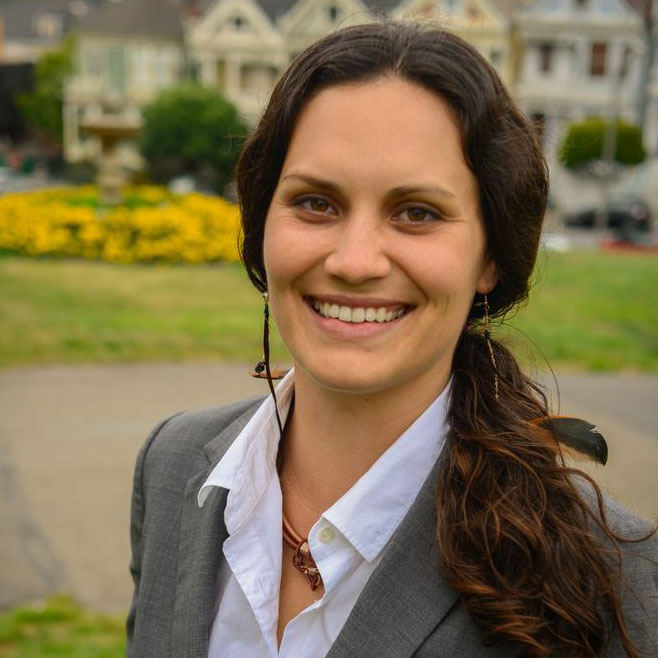 Lily began her undergraduate career in Middletown, Connecticut at Wesleyan University, one of the prestigious "Little Ivies." She enjoyed the experience of being at a close-knit liberal arts school and immersed herself in academics and social life, exploring subjects like neuroscience and design.
"This was 2006, and green building was getting popular," said Lily. "Ecology plus psychology leads to the question: 'how do we design for people and the environment?'"
It was this question that was the impetus for her foray into the world of sustainable architectural design.
Out of a desire to "step out of academia and into something more tangible," Lily decided to take a leave of absence just before her junior year and returned to California where she learned about natural building and permaculture through a formal apprenticeship.
Next, she spent six months studying sustainable architecture abroad in Copenhagen, Denmark. At Gehl Architects she learned how to plan cities with people and their senses in mind.
"Green architecture incorporates psychology and ecology whereas regular architecture only accounts for aesthetic and engineering," said Lily. "But it wasn't going far enough for me. I wanted to work at the systems level."
After returning to Wesleyan and graduating she worked at a series of different jobs at organizations including Global Exchange, the Obama campaign, and Women's Initiative. She also wrote a design column for Sustainable Brands from 2010 to 2011 and ran an art collective for two years with her best friends.
There are so many smart, fun, amazing, valuable things that are not connected to commerce. In nonprofits, arts, and ecological-services there is great value that is not valued," said Lily. "I want to create a bridge between the crunchy ideas and the larger more professional systems."
Lily said she had PGS on her radar and followed it for a couple of years before she got serious about enrolling and earning her MBA.
Now entering her fifth semester, Lily has worked with a company called Ecovative on a mycelium-based sustainability education kit that helps teachers explain material sustainability in the classroom, brought Architecture for Humanity in as an Experiential Learning partner, and wrapped up her term as Student Representative President.
"As a small, leading edge school, current students shape the experience during the program more than at other institutions. We are what we do, and where things could be better, we can participate in making it so, said Lily. "I think this is the same perspective that makes someone great in sustainability work, by the way, so I might as well exercise it in school as well as work, home, and everywhere!"
Lily says one of the things she is most proud of during her tenure is developing and executing the first two Presidio Converses events.
"Presidio Converses is a great example of [theory to action]. The design of that event was rooted in leadership theory about how people respond to change, and how to facilitate a group," said Lily. "I hope the Reps continue to evolve that forum, creating real, relevant dialogue every semester among the different stakeholder groups of PGS."
Despite all she has accomplished as a student, one of the things Lily is most known for at PGS is her expertise as a graphic facilitator.
"Essentially, graphic facilitation is the most literal connection between art and business," said Lily, "but it's also about psychology: how we think and communicate ideas."
Organizations Lily has done graphic facilitation for include SOCAP, Net Impact, Impact HUB, Sonoma State University, and Huddle Agency, and she has "irons in the fire" to do more soon.
"People retain more, up to 60% more, when they see ideas," she says. "And they can see the connections between ideas more easily too."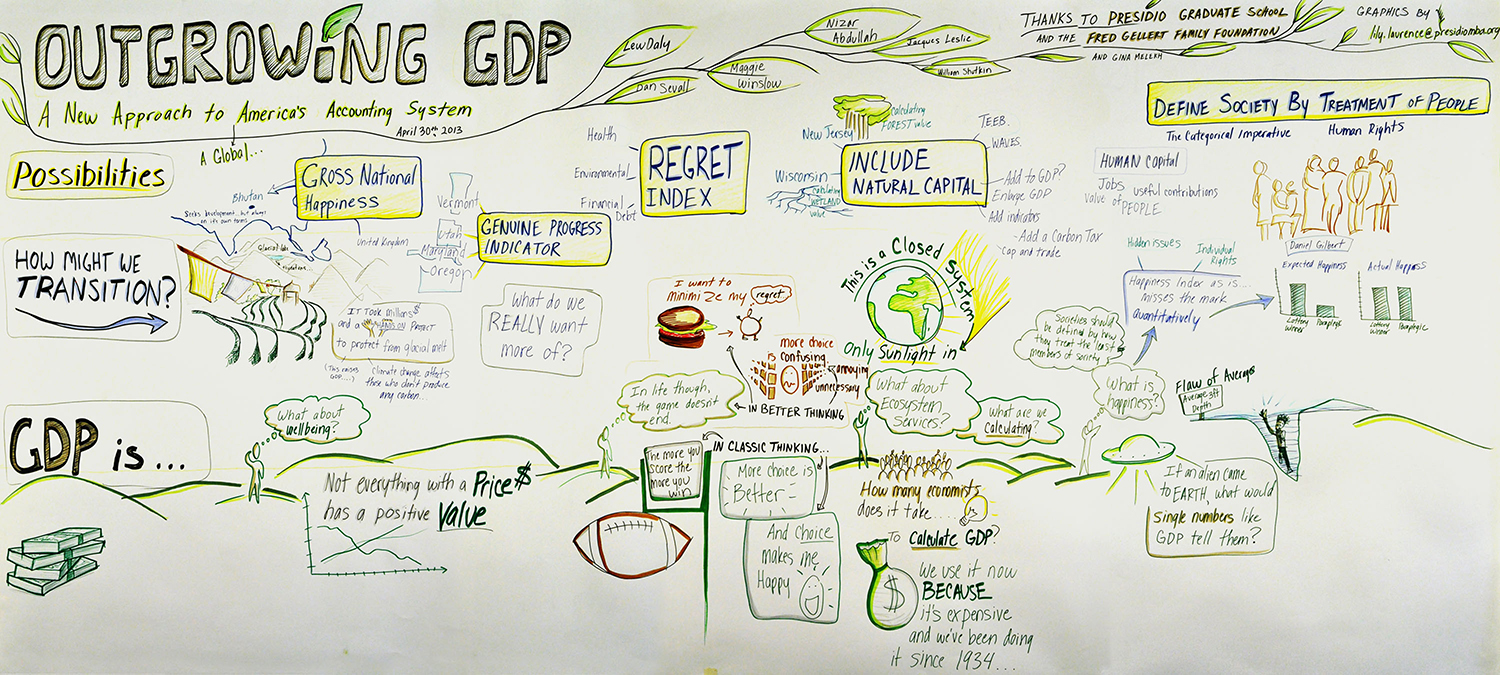 Although Lily is incredibly talented at and has a passion for graphic facilitation she says "it's not the impact she intended to have."
"Sometimes, graphic facilitation feels like it's 'just supportive' instead of leading, but what that feeling really means is that it isn't anywhere close to 'hero leadership' where you have charismatic ideas and boldly lead forward to impact, obviously in charge and holding a new vision," said Lily. "Hero leadership is very enticing, romantic in a sense. However, when I follow my interests, and look for real needs in the world, I do see a real need for people to talk together more effectively about great ideas, to see ideas and conversations holistically, be able to take tangible action after having meetings and to be able to understand and agree on complex issues."
"And I do think that graphic facilitation is part of a suite of tools that h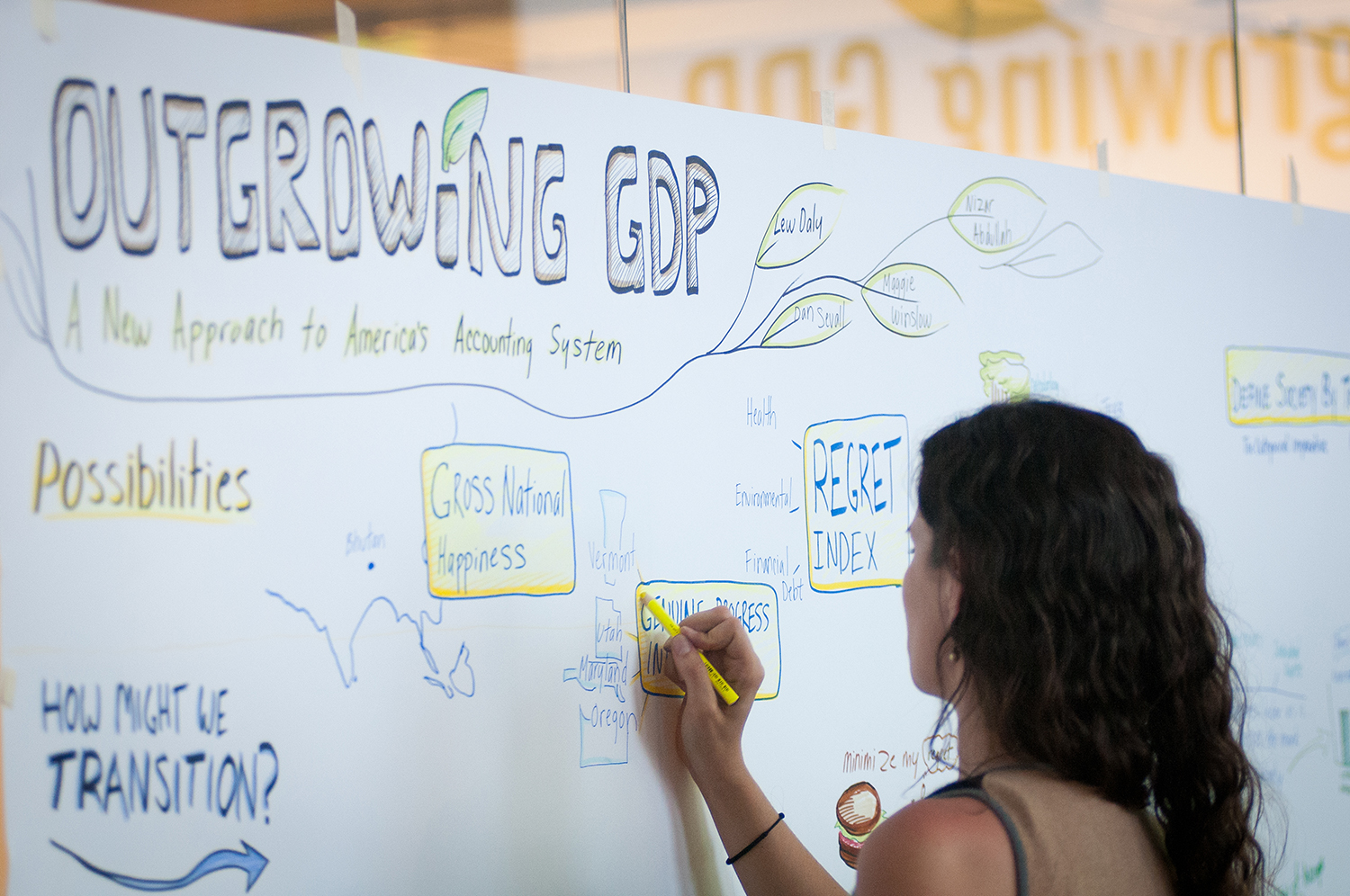 elp people and groups to do that," said Lily. "So, yes, it can be a surprising choice when I wish I were a more direct social justice or climate change hero, but when it moves a group, catalyzes a conversation, or deepens the level of systems thinking it is possible to discuss and act on, I remember it actually has huge impact, and I don't necessarily need to be that kind of hero anyway."
Going forward Lily says she has no definite plan, "But I am applying for some exciting opportunities this summer."
Lily also says she is looking forward to her MBA Integrative Capstone course in Spring 2015.
"I'd like for my Capstone project to be a real thing and not just an exercise," she said.
This article was originally published in Presidian Spring 2014: Theory to Action. Read more from the interactive online magazine here!