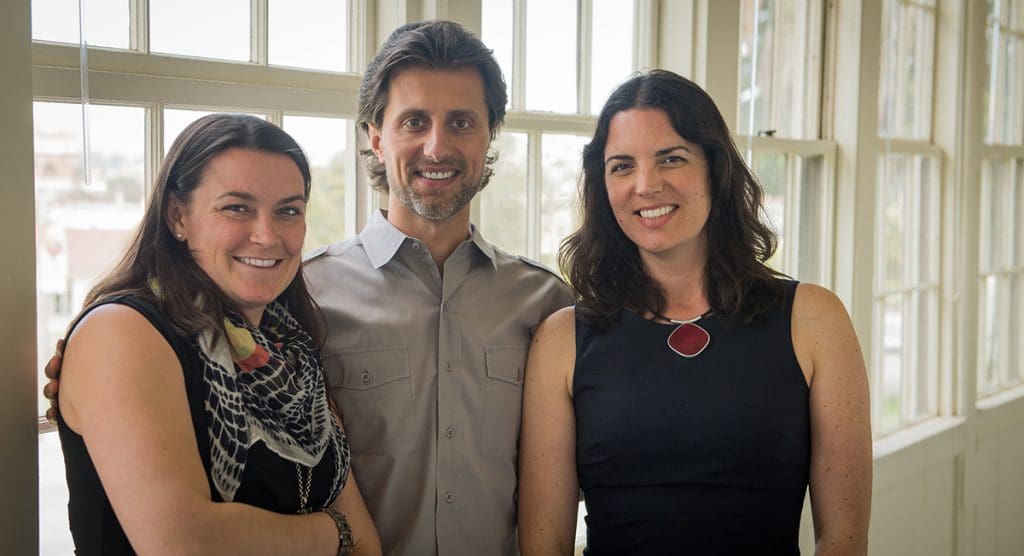 While we fantasize about a dream matchup in next year's Super Bowl 50 at Santa Clara (Oakland Raiders vs. San Francisco 49ers, anyone?), there will at least be a dream team of Presidio Graduate School alums working to support the Super Bowl 50 Host Committee in their goal to make the Big Game as sustainable as possible.
PGS has become a Contributing Partner of the Host Committee, and has provided the services of three of its best and brightest: PGS Research Affiliates Laura Waters (C10), Erik Distler (C13), and Izabel Loinaz (C12).
Neill Duffy, co-chair of the Host Committee's sustainability subcommittee, approached PGS Professor Allen Hershkowitz about getting some extra people-power to realize their ambitious goals. But, given a tight timeline (Super Bowl 50 is on February 7, 2016), they were seeking experienced advisors who could hit the ground running.
It just so happened that Allen had three talented and energetic TAs for his Business of Sports and Sustainability class—who had helped develop the course from the beginning. They devised an approach that would give lift to the Host Committee's sustainability efforts, provide the trio with invaluable experience, and elevate the standing of PGS.
"When you think of all the sustainability impacts that come with hosting such a big event, to me it's a no-brainer that a school like Presidio Graduate School would be involved," says Erik, who also works as a consultant in the Sustainable Business Solutions practice at PwC.
"Presidio was the first graduate program to offer a certificate around sports and sustainability, so it's about trying to secure our position as a leader in higher education on this topic," adds Izabel, who is the CEO of her own sustainable business consultancy, Spring Partners Inc. "By aligning ourselves with a brand like Super Bowl 50, we're keeping company with the leaders in the field."
When the trio began their work in January, one of their first tasks was understanding the role of the Host Committee. The Host Committee is responsible for all the festivities that surround the football game—the Super Bowl City in San Francisco, the activities and parties for fans, the transportation corridor leading to Levi's Stadium and around the region, and more.
"It's more than just a one-day game; there are events leading up to the game–and after the fact–that go on for weeks and months," says Laura, who also works at Blackbaud on corporate social responsibility tracking software.
In fact, one of the primary objectives of the Host Committee is to ensure that the social good of Super Bowl 50 lingers long after the stadium lights dim. In pursuing this "net-positive" legacy, the Host Committee is disbursing grants to nonprofits and changemakers through its record-setting philanthropic 50 Fund, working to reduce climate change impacts, and striving to use resources and materials in the most responsible manner.
That's where the PGS team comes in. Erik, for his part, is developing environmentally conscious sourcing guidelines in five key areas: transportation, temporary power, food, water, and waste. Laura is setting up software to track sustainability metrics that will help the department heads better understand their influence in their areas of execution, while Izabel is establishing metrics and methodologies for measuring and reporting the sustainability impacts of their work.
"This Host Committee has been very clear about wanting to be the most socially aware host committee to date," Laura says. "The goals are for this Super Bowl to be the most shared, the most participatory, and the most giving Super Bowl. They want to pass on a stronger sense of responsibility to future host committees."
Another goal, of course, is to pave the way for the Bay Area to host future Super Bowls. And the trio of PGS Sports and Sustainability TAs are pioneers in ensuring PGS will remain heavily involved.
"When we are done with this initial period of time with Super Bowl 50, the intention is to hopefully create this pipeline for opportunities for interns to come through and expand the potential of this project," Laura says.
As a result, the mission and passion of PGS can be seen by—and hopefully inspire—the greatest possible audience. After all, sports, as the subject of so many great stories, can also be leveraged to tell the sustainability story.
"Sports as a model for social change has been proven over and over, with baseball being a frontrunner on racial integration," Izabel notes. "Now, it's only natural the environment start to come into the picture."
"It's about 'How can we leverage something as powerful as sports—and the powerful following of sports—to talk about what are, quite frankly, more important global and regional environmental and social issues?'" Erik adds. "Sports, to me, is a platform from which we can do this. There's no other place where people gather to the 10,000s, to the 20,000s, to the 100,000s at a time, in one place, for one purpose."