I could have never imagined myself pursuing an MBA let alone an MPA. I had been in academic research and healthcare for 10 years. However, my thought processes about healthcare had become very siloed. I wanted to have a more meaningful impact but I did not know how I could help solve the complex issues that are our healthcare system. That is when I learned about Presidio Graduate School. When I read The New York Times article about which [top] business schools to attend for X, Y, or Z it was Presidio that really caught my attention when I read, "Presidio Graduate School is where to go if you want to change the world." I applied that summer.
Attending Presidio really opened my mind about systems and systems thinking within the framework of the Triple Bottom Line (TBL). As a woman of color with a heritable condition, I was aware healthcare and healthcare inequities were a part of this larger and more complex system—education, economics, housing, food, the environment, and our overall democracy—but I didn't know exactly how until Presidio. That this complexity was intricately tied to systemic racism and white supremacy. It was in our Master of Public Administration (MPA) courses that we delved more into the latter, growing our collective awareness by reading books like The New Jim Crow and studying cases about egregious racists actions within city governments e.g., the City of Berkeley overlooking qualified Black employees for positions while unqualified white employees were promoted and/or hired because they were socially connected to someone. I wasn't surprised about Berkeley but to learn that the "controversial' affirmative action policies truthfully have only positively impacted white women was astonishing.
In these [MPA] courses, I also learned the different theories, practices, and processes of government and social sector, and we utilized several frameworks, namely Theory of Change and IMPACTS, to help to spell out the details of how we were going to strategize and implement a course of action for change. How was I going to make a change after Presidio?
While completing my MPA I knew that I had wanted to focus my Capstone on either inequitable food systems and/or inclusive economic development in my hometown of Selma, which is about 200 miles south of San Francisco. For about two years I spent time developing relationships with stakeholders and researching issues impacting the Selma community. I was able to get support from Net Impact as a Food Justice Fellow that allowed me to explore food systems a little more. As I was meeting with folks I reconnected with a former Selma High School educator, Vicki Filgas Treviño, who for 10 years lifted up Selma's downtown after the 2008 recession through mural art. This resonated with me. Thus, Selma Mural Pathway 2.0 became my MPA Capstone. In my thesis proposal I wanted to build upon this mural idea and take mural art to the neglected and/or marginalized neighborhoods in Selma in order to spark economic development and revitalization. In addition to this mural art there would be a community dialogue around racial injustice and socio-economic inequities so folks could gain awareness about historical and current racist policies that keep communities from thriving and empower them to be more civically engaged in order to move the needle forward on change.
Capstone projects can represent lofty ideas graduate students want to explore—but some are extremely innovative (Regrained or Fish in the Fields) and maybe worth pursuing to the next level. And some perhaps just get you through the course. My Capstone to be honest was not super innovative, as there are amazing mural revitalization projects out there, as I learned through my research like in Philadelphia, Los Angeles, and Brooklyn. However, I believed this project could make an impact in my hometown community. Although I wanted to pursue my project, I felt there were several barriers to success: (1) the distance between my life in the Bay and Fresno County, (2) financial resources, (3) the arrival of a new baby, and lastly the most challenging barrier of all, (4) how I was I supposed to bring up systemic racism when folks especially in conservative regions like Fresno are in complete denial of its existence. So I tucked away my project until there was a sign to move forward or let go. Little did I know this sign would come in the form of a global pandemic waking up the world to grow their collective consciousness about the legacy of slavery, white supremacy, and systemic racism.
After the brutal deaths of Breonna Taylor, Ahmaud Arbery, and George Floyd I was sick to my stomach. I could not be complicit and stay silent. I reached out to a group of friends in my hometown community and we organized two Black Lives Matter events to be in solidarity and bring awareness to racial injustice and systemic racism. We were not sure if our intentions were going to be well received by the local government and/or community but we met them where they were. They worked with our grassroots group, Central Valley Allies for Change or CVAC, to organize an event in the middle of a pandemic. It was a moment we all felt proud and united; even the new Chief of Police [of Selma] took a knee. To continue the momentum, the time was now to implement my MPA thesis. There was no excuse—all those barriers that I felt were there—instantly dissolved. I pushed ahead with the support of my wife.
I, along with one of my fellow activists Sirina Renee Resendez, co-founded The 559 Mural Project. Our mission is to address racial injustice and socioeconomic inequity through mural art and community dialogue in Fresno County. I assumed the role of Executive Director and Sirina is our Chief Operations Officer (COO). I recruited another childhood friend and fellow activist, Keanna Louise Salazar, as our Marketing and PR Director. As the director, I was in charge of strategic planning, overall vision, and communicating with our team of artists and community partners. I made clear that our mission was to create art that was both culturally representative of the community and spoke to the larger issue of racial injustice. I was intentional about inviting artists of color who lived in the community. Together we developed imagery that evoked the ongoing struggle linking the farmworker's rights movement of the 1960s to today's immigration policies and protests against injustice. We engaged with other community stakeholders to obtain further buy-in. In four months, we were able to accomplish a great deal in little time because of an incredibly collaborative process. I am extremely proud of our work which was recognized by former Congressman TJ Cox of California, D-21.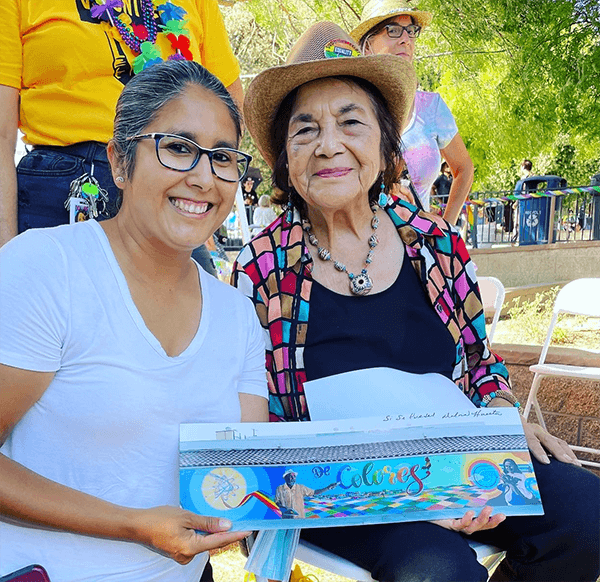 As I reflect on the last year, I want folks to see our organization's art as a reflection of the time that has revealed the continued fight for justice and equity. That our generation was not complicit and did nothing when George Floyd was brutally murdered by the police. Art memorializes the time people and/or the community are experiencing. We want to capture the injustice of today's time and how it's inextricably tied to the past. We want art not only to liven the public space but to create community conversation about how we make inclusive and systemic change.  And if folks can say this art we created is what jump started this organization or this business, or this politician to pay attention to our neglected neighborhood, then we made the impact we strived for. We are still capturing our impact, but see this as incremental change, but change nonetheless.
Of course, I could go on and on about the positive impact Presidio Graduate School made on my life. But I'll end with this: Presidio not only furthered my confidence to be a [sustainable] leader but it really prepared me to navigate both complex societal and global problems by leading with this Presidian leadership mantra: we always meet people where they are. Because centering and having people come first is how you change the world. 
Ready to follow in the footsteps of talented changemakers like Selena and embark on your own journey to transformation? There's no better time to make a change—for yourself and for the world. Learn more about our MBA, MPA, Dual Degree, and Certificate programs, and then start a conversation with us!