A group of employees picket outside their workplace. Dozens of activists make their home at the tops of trees for weeks. Hundreds of protesters stand in silent protest in front of the White House waiting to be arrested. Thousands of people throng the streets with picket signs and banners. Countless world citizens stood in solidarity with a cause. What is the appeal of a collective gathering to those wanting to make change? Why are we so drawn to others that share our passions and worldviews?
As a self-proclaimed (and friends- and family-proclaimed) "hardcore" environmentalist, it feels like the weight of world is on my shoulders, and it gets heavier every day. Explaining why people should forgo single-use plastic, eat less meat, bike more, buy local, support organic, etc. is exhausting and, at times, it feels like I'm the only one doing it. It's not to hard to be absorbed into the "doom and gloom" but my light at the end of the tunnel are other people with my passion.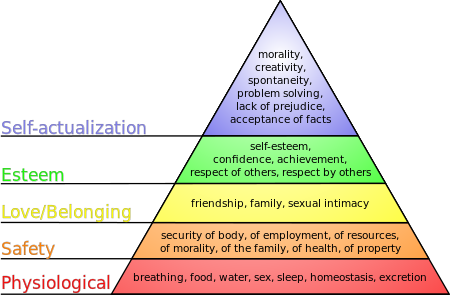 We are a social species. According to Maslow's Hierarchy of Needs, humans, of course, need air, water, and sustenance, but we also need friendship and security. We get together with our friends on weekends after a week in solitude at work, we join classes and groups to meet others like us, we need to feel like we're not alone- no matter what we believe.
But I'm sure most have been in the position where they're in a group where they feel like they're "preaching to the choir," "beating a dead horse," and a lot of other idioms that mean you say the same things over and over again. Especially with climate change issues, it's easy to get comfortable with like-minded people, it's easy to go into a room full of people with varying beliefs and shut down at confrontation, and it's easy to just live your life the way the majority of the world population does but this movement isn't about us. It's uncomfortable, it's heavy, and it's not an issue that affects one or two groups of people- it affects us all. We need to include everyone in the conversation by taking it to the streets.
Bill McKibben, founder of 350.org, is a firm believer in the fact that "climate change affects everyone, but its impacts are not equally felt: those who have contributed the least to causing the crisis are hit hardest, here and around the world." In 2012, over 40,000 people marched "Forward on Climate" on the DC mall in the dead cold of the winter asking President Obama to reject the proposal for the Keystone XL Pipeline. Among the inspirational speakers that attended the march were US Senator Sheldon Whitehouse, Van Jones, "green jobs czar";  Michael Brune, executive director the Sierra Club; Yinka Dene Alliance of British Columbia; Reverend Lennox Yearwood, leader of the Hip Hop Caucus; Crystal Lameman; Beaver Lake Cree First Nations; Chief Jacqueline Thomas; Saik'uz First Nation; and Maria T. Cardona; Latinovations Founder, Dewey Square Group Principal. Jamie Henn of 350.org blogged about the rally saying, "I ran into young people from all across the country, many of whom are hard at work running fossil fuel divestment campaigns on their campuses. This is the next generation of the climate movement, just as comfortable negotiating in a board room as they are marching in the streets."
This Sunday, thousands are traversing the country to meet in downtown Manhattan to hold the largest climate change rally in human history. And it's not just young, hippie teenagers that many assume this movement is being pushed by—it's religious groups, schools, parents, indigenous people, low-income workers, wealthy brokers, kids, activists, the elderly, and countless more. We march together for the future, for our future because we're all going to be there.
To stand in solidarity with the thousands in NYC, the students, faculty, alumni, and friends of Presidio Graduate School will be meeting at Pier 39 at 8:15am on Sunday, 9/21.