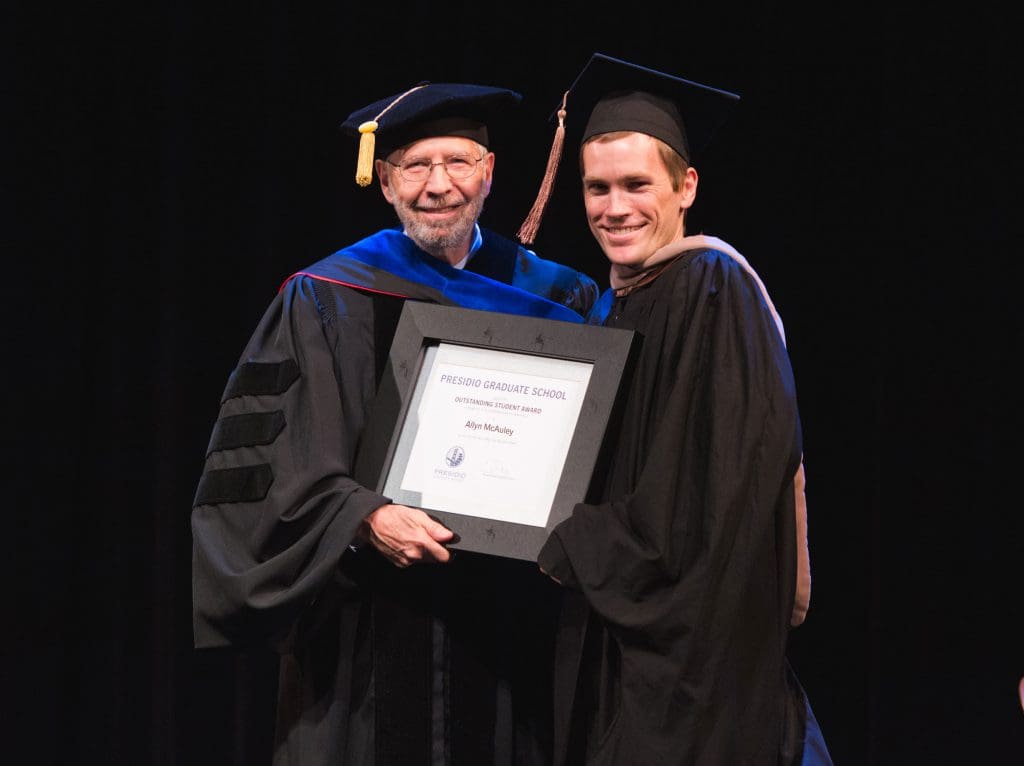 Smart. Successful. Professional. Ambitious. Confident.
I associate these words with management professionals and my classmates at Presidio Graduate School (PGS).
Genuine. Selfless. Positive. Passionate. Dedicated.
These characteristics may not always be the first ones used to describe business people, but these words clearly described my fellow classmates at PGS.
Presidio offers a truly unique management program. Where else can you learn about Generally Accepted Accounting Principles one day, then identify the strengths that make you your best self the next? During the intense residencies each month we created business model canvases to address strategic imperatives for Bay Area clients one day, then had walk and talks with fellow classmates to discuss our personal leadership styles the next day. Followed by tackling the arduous task of valuing Tesla, then escape to Point Reyes for a hike to get reenergized for our semester-long sustainability projects with partner companies.
I came to PGS to build my business competencies and professional network as I transition into a career in sustainable business. I left PGS having developed lifelong friendships with the most supportive and talented group of sustainability professionals that I could ever imagine. I was provided with the essential business management skills that I would expect from a strong MBA program, but I also received a one-of-a-kind curriculum and commitment to sustainability that sets the program apart.
PGS is a small school with staff and faculty that want each student to succeed, which gave me the opportunity to get fully involved and direct my education. I held leadership positions which allowed me to travel to Kenya to work with a microfinance nonprofit, develop a Google intranet serving the 600 employees of a charter school operator in New Orleans, volunteer and provide consulting services to Bay Area nonprofits, and lead a team of representatives charged with serving students' interests as Student Body President.
Thankfully the opportunities have continued post-graduation because after all, I came to Presidio to brighten my career prospects. PGS Career Services, a faculty member, and a classmate all played a role in helping me secure a position immediately after graduation serving as a sustainability coach for Bay Area organizations spanning all sectors. I have the privilege to help them create action plans identifying improvements in water, waste, and energy systems resulting in substantial financial savings and environmental benefits.
Earning my MBA from Presidio Graduate School was a transformative experience, and I am excited for the next steps in my sustainable business career.
It was all made possible by the staff, faculty, students, and alumni at Presidio who diligently work each day to increase opportunities for all people and take better care of our planet.