Where to begin!?!  A four-day weekend that ended my enjoyable hiatus of 'waiting to start grad school' and quickly propelled me into full flight school mode. By the end of the four-day long block my inbox resembled that of an overworked employee (I received no sympathy from my working, responsible friends) and I was scrambling to get my calendar in order, given the many group projects, individual assignments, and posted due dates.
Not that I felt flustered.  More like energized.  Presidio's orientation the week prior had reinforced the cohesive and supportive environment that Presidio creates (a truly symbiotic relationship between faculty and students) and our first residency was no different.  Let's talk highlights:
Highlight 1:  Paul Hawken's storytelling
Much to my anticipation (and the jealousy of POSM alums) I have the pleasure of attending the first class at Presidio taught by new faculty member Paul Hawken.  For those of you unfamiliar with Paul, he has been a voice in the environmental community for many decades, and I urge you to give a read to his book "Blessed Unrest" to get a sense of the depth of knowledge he has to share.  Our first day was highlighted by his narrative of how the sustainability movement came to be.  It included his own personal journey and the events that had the most profound and lasting effect on shaping his personal efforts.  Inspiring is a gross understatement.
Along with Paul we have Presidio alum Amanda Ravenhill teaching the class.  Have you ever seen a teacher with tears coming from their eyes because they care that much about what they are presenting?
Powerful.
Highlight 2: Getting silly in the name of communication
Most people don't think of "Improv" when they think MBA program.  But that's just what we did to kick off what was generally regarded as the most fun part of the weekend.  Our teaching duo of Nils Moe and Carl Schneebeck, both Presidio alums, might have well been a stand comedy duo with the synchronicity and comic jest they delivered.  They had us breaking out of our stiff, first day shells with air guitar, dance steps and pelvic gyrations made up on the spot and performed for the whole class.  Nobody was spared, and everyone pushed their comfort zones a little further, all in the name of public speaking.  Just give this a try next time: place your hand on someone's shoulder you barely know and tell them what you really care about.  For 5 minutes.  Without stopping.
Brilliant!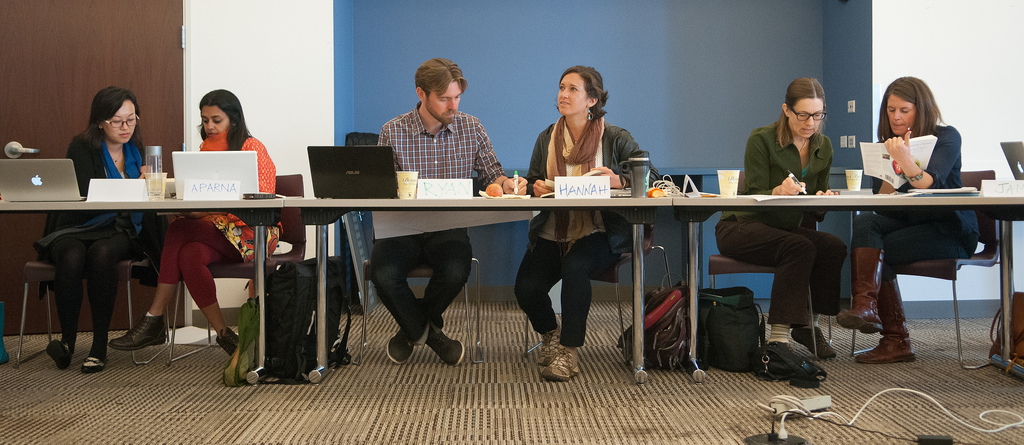 Highlight 3:  Computer Programming? Really!
By the end of the weekend I had written my first basic computer program.  How cool is that!?!  I must give thanks to our Quant professor Nizar Abdallah, PhD, for taking something that seemed so intimidating to much of our class, and making it understandable and accessible.  I'm crossing my fingers that my limited mathematical brain can continue to keep up!
Highlight 4: Accounting in the real world!
Back when I was a budding undergrad I took an accounting class solely designed to make its participants dislike accounting.  It was a weed-out class held in the largest hall on campus and the teacher made it explicitly clear that her goal was to crack those pesky, hung-over freshmen that stared back at her blearily.  I left that class feeling like it was one big trick question of debits and credits, intent on mathematical confusion.  Worse still I gained little knowledge of what all those debits and credits were attempting to express.
Boy, was I happy when our professor Thomas Li, CPA, introduced the class with humor and a healthy cynicism about the state of accounting, its limits, and application.  I think the whole class breathed a sigh of relief in unison.  We spent the day making sense of foundational principles using real world, oftentimes comedic examples that had the class laughing and engaged.  Not your average accounting class.
Upon Reflection
First residency proved challenging and rewarding, a forecast of the upcoming Presidio journey.  We hit the ground running and I've got a strong feeling my cohort and newfound friends, dubbed C19 for the nineteenth Presidio cohort, will be my life support system through this adventure.  I'm already supremely grateful for them.
Okay okay, enough about the first residency.  I have to get back to those emails…