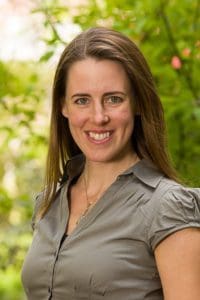 In 2004, Darcie Renn was a volunteer with the Peace Corps and teaching Chinese University students about a new policy tool called cap and trade.  At the time, it was only an idea.
Now, Darcie will be at the forefront of helping California implement the second-largest cap and trade program in the world. The Presidio Graduate School MBA student has been named a Packard Environment Fellow and will be joining the American Carbon Registry, a leading voluntary carbon offset program, for 10 weeks this summer.
"It's really exciting to see this idea gaining momentum since my first exposure to it nearly 10 years ago," says Darcie.
The fellowship also fits with Darcie's desire to use her MBA to help companies find solutions to environmental problems. Darcie previously worked as a scientist and found she was often working with companies after they've polluted.
"I'd like to help companies be more proactive in finding holistic solutions to these types of issues," she says.
California's cap and trade system, which came into full effect this year, aims to be a proactive tool in reducing carbon emissions.
Cap and trade sets a maximum level of pollution, a cap, and distributes emissions permits among firms that produce emissions. Companies must have a permit to cover each unit of pollution they produce.
They can obtain these permits through an initial allocation or auction, or through trading with other firms. Companies can also compensate for their emissions by paying for offsets, reductions of greenhouse emissions in other sectors and regions.
Providing carbon offsets and determining the need for offsets is the role of the American Carbon Registry. Darcie will be assessing capped industries, such as oil and gas, electric utilities and certain food processing companies, and their potential demand for offsets, among other roles.
Belinda Morris, the California director of the American Carbon Registry, says they're thrilled to have Darcie on-board.
"What really did it for me, was she was genuinely interested in where cap and trade was going in California and I could see she was interested in getting this experience to position her better in her career," says Belinda.
Darcie credits her Presidio education for preparing her for the fellowship opportunity.
"We work a lot on thinking about how things like cap and trade will affect business and markets," she says, adding sustainability and business are linked in all of her classes.
While Darcie still has one more year of school, she says she'd love to continue down the path of helping companies understand how to improve their environmental and social impact.
"I'm grateful to the Packard Foundation and the American Carbon Registry for this opportunity to further explore how I can help businesses and the environment," says Darcie.