These renewable energy stories are as frustrating as they are typical:
At last, the company's executives are on board for installing solar panels on location, but the company leases its facilities from a landlord who has little interest in the project.

The commercial real estate company's sustainability champion offers tenants clean energy choices, yet few tenants sign-on. 
Both situations can drag renewable energy progress. 
At last month's VERGE conference, panelists representing both commercial tenants and landlords coached the audience in bridging the gaps between tenants and landlords to move swiftly to renewables. The October 23, 2019, session was titled, "How to Ensure Your Landlord Doesn't Blow Your Clean Energy Goals."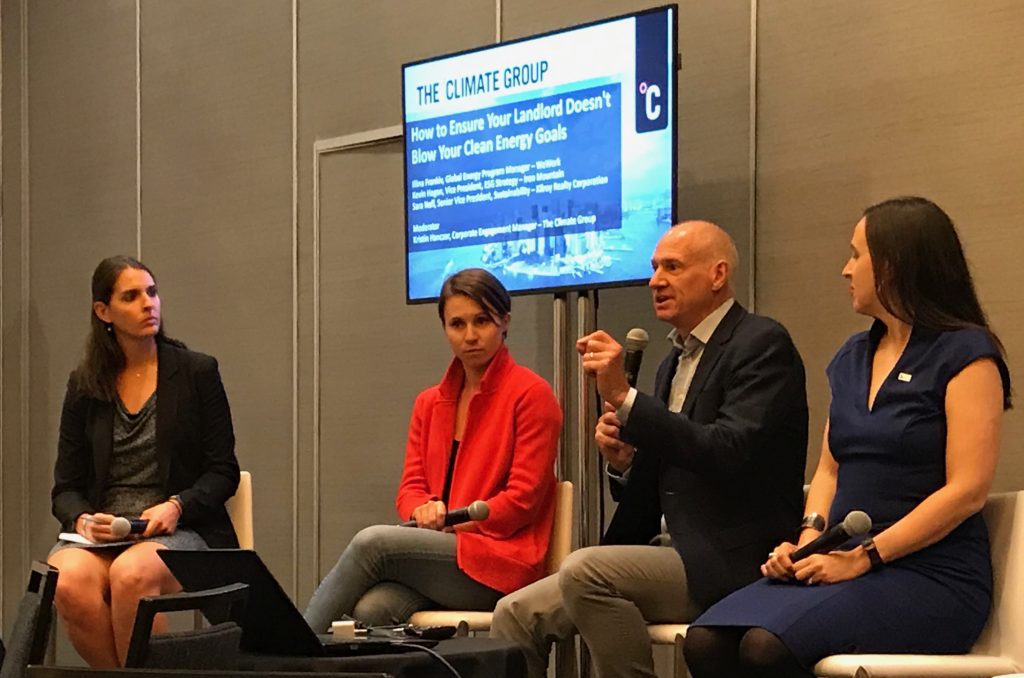 Iron Mountain Vice President, Environment, Social, & Governance Kevin Hagen, who earned an MBA at Presidio Graduate School, used his time on the panel to address the question "How do you get all data center customers to have the same asks so that the landlord can go to market with an aggregated demand and get a good deal on renewables?" He is hopeful about the new attestation rules for reporting carbon reductions (for CDP, RE100, and other renewable energy goals): "It's a game-changer to allow tenants to take full credit for what the landlord did; now we want more tenants to ask their landlords for this so that the landlord buys green energy."
WeWork's Global Energy Program Manager Illina Frankiv made the case for collaboration, "Landlords and tenants have available to them numerous win-win solutions, including green leasing, green power procurement pass-through methods, enabling sub-metering, and collaborating on energy efficiency initiatives." During the panel, Frankiv discussed successful examples from WeWork's joint work with Iron Mountain and Kilroy.
"If you don't know how much energy you're consuming, then you don't know how much clean energy to procure." She says that it's essential to get energy-consumption data from landlords and also to track energy-efficiency efforts. Sometimes submetering is the only way to get the data. Frankiv went on a crusade to get submeters installed globally, which is difficult given that many landlords across the globe don't want their tenants to know how much they're spending on utilities sometimes to mask their added surcharge. "They prefer the data to be murky." 
Helping to remove impasses between tenants and landlords on renewable energy is essential according Sarah Neff, Senior Vice President, Sustainability, Kilroy Realty Corporation. At the session, Neff urged tenants to "Get the data-reporting requirement into the lease template from the beginning; have your lawyers insist on it. Frame it under "risk management" instead of under "sustainability," she recommends. Investor stakeholders are encouraging publicly traded commercial real estate companies to move to renewable energy, Neff says, "Our investors started caring 18 months ago; investors now proactively ask about it."
Illina Frankiv recommends the following message for landlords, "You're leaving money on the table if you don't take responsibility for procuring carbon-free energy if you control the utility account for the tenant."
Kevin Hagen called everyone present to participate in "co-spiracy, which is the opposite of conspiracy. Assume that everyone wants to do good. We have incredible power to make a change — especially when we know each other."
With so many Presidians running corporate and governmental sustainability, it's getting easier to align through "knowing each other."