Challenging us to be our best self is how Libba Pinchot inspires change. Her approach to education, transformational leadership, and life embodies Virginia Satir's viewpoint that all of us live within nested systems, human and natural, and we all want to take responsibility for positive change.  Libba has acted on this responsibility throughout her distinguished career. 
It's How You Do It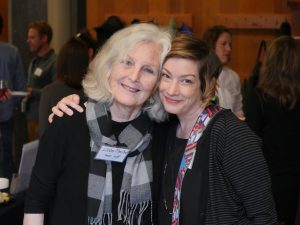 In 2002, Libba co-founded Pinchot University (previously Bainbridge Graduate Institute), now the Seattle Campus of Presidio Graduate School (PGS). Campus culture deeply reflects her influence. The practice of Circle, a powerful leadership tool adapted from Satir's work, is one example. It fosters a culture of co-creation and ownership of solutions. Circle is still practiced daily during Residency at the Seattle campus. She also helped create the ground-breaking Leadership and Personal Development (LPD) course.  LPD is an indelible part of the PGS Seattle experience, preparing students to create lasting change by combining traditional business disciplines with systems thinking. This approach inspires transformational leadership and personal growth. It reflects Libba's belief that solving the world's most challenging problems requires attention not just to what you do, but how you do it. 
Building Transformational Leadership Capacity
Libba models transformative leadership in practice, helping organizations do good while meeting traditional performance metrics. Throughout her career, Libba has mentored hundreds of successful innovation projects. Her coaching of executives and consultants helps them be more effective at designing processes that engage employees. Working together on change initiatives, people at all levels are then better able to foster innovation and navigate change.
Through her work:
Purpose-driven intrapreneurs learn to overcome organizational resistance,  

Executives learn how to guide and protect change makers, and

Students learn to create resilient organizations through relationships and systems evolution.
Intelligent organizations that result increase job satisfaction and improve economic, social, and environmental bottom-lines. PGS alum, Sylvia Raskin, shared that, "When I am around Libba, I feel like I belong to something bigger than myself. I am uplifted by Libba's coaching and friendship that invites us to joyously collaborate on a future that works for everyone. "
Lifetime Accomplishment
Libba is a life-long learner. She earned a BA, Philosophy at Wellesley College; a BS, Psychology at Stanford University; an MS, Child Development & Education at the University of Oregon; and an MS, Systems Psychology at Goddard College. She is currently a Ph.D. candidate, Organizational Systems at Saybrook University.  Entrepreneurial by nature, she helped launch numerous service, technology, and education start-ups. This includes being a founding staff member of the first computer-assisted education project at Stanford University. With Gifford, her husband of over 40 years, Libba has co-authored several books including, "The Intelligent Organization: Engaging the Talent and Initiative of Everyone in the Workplace".  Gifford, their three children, and five grandchildren inspire her work.
The LIBBA
To honor Libba's leadership and enduring influence on our community, the Board of Directors created an annual alumni award in her name, the Leadership Impact Beyond Boundaries Award (LIBBA). It recognizes alumni achievement in creating lasting systemic change. "Libba has mentored countless sustainability leaders and worked passionately to help students become true world citizens, " said Board Chair and Interim President Suzanne Farver, "This award honors her many contributions and will inspire the achievements of many future alums."
The first award will be given Alumni Weekend at IslandWood, May 10-13.