Have you ever watched a Quickfire Challenge on Top Chef and wanted to participate, but your business acumen far outweighs your cooking ability? If so, then a Quickfire Challenge event is perfect for you.
These four-hour design-thinking inspired sessions examine and tighten an organization's strategy, identify 'quick-wins,' create a process for execution and allow space to think big and create value by solving social and ecological issues. The structure of the Quickfire allows Presidians to meet one-on-one with a range of existing clients and co-create solutions and strategies. They allow us to extend the brainpower and positive impact of PGS to our broader community.
Last October, Presidio Graduate School (PGS) was thrilled to partner with RE-volv, a nonprofit organization with a mission to empower people and communities to invest collectively in renewable energy. The focus of the session was to support development of a marketing strategy to communicate and promote RE-volv's new crowdfunding platform to new constituents. The new platform will revolutionize the way community solar projects are financed by allowing community members to play a leading role. Citizens will be able to easily submit an idea for a solar project in their community to RE-volv, spearhead the project in their community, and crowdfund the upfront costs. With the Quickfire session we tried to promote and foster collaborative, out-of-the-box thinking and apply the tools we have learned at PGS.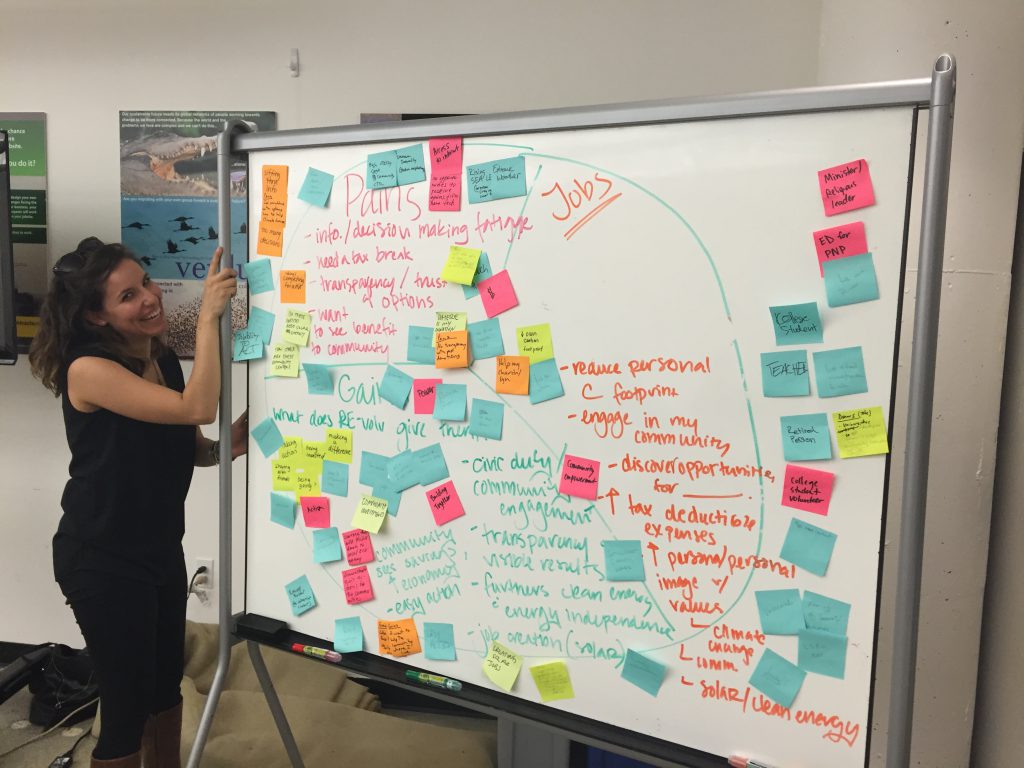 Typical Schedule
PREP: Establish client, problem statement, team and do background research.
We send information out about the client and what problem we are addressing before the challenge. Sometimes we host a quick check in call before the actual event.
HOUR 1: Appreciate and discover
We review the client's accomplishments and discover what unique capabilities helped them achieve their breakthroughs. We discover how the organization evaluates success, and how the value of the organization drive their decisions. We also try to uncover what the pain points of the business are relevant to the problem statement we are addressing.
HOUR 2: Brainstorm
We engage in several structured brainstorming activities that involve a fury of post-it note activity. We believe that you have to get out the bad ideas before the good ideas come, so at first the goal is to produce as much as possible. At the end, we cluster similar ideas.
HOUR 3: Synthesize
This is where we map the clusters, and if we are working in break out groups we report back to each other.
HOUR 4: Map the future
The final step is to complete any frameworks we want to present to the client, such as any timelines or stakeholder maps, and finish writing and editing the content for the client.
---
On October 20th, 2015, a team of 10 Presidians gathered at the Impact Hub at 6pm. After everyone arrived and was heavily snacked, Andreas Karelas, the Executive Director, and Sarah Brinker, the Associate Director of Partnerships & Philanthropy joined the group. They gave a more detailed background of the company's pain points. RE-volv was at an inflection point. They had recently been asked by the White House to join the National Community Solar Partnership, as well as features in Forbes and Treehugger. They also were awarded support by the U.S. Department of Energy SunShot Initiative. However, they have a small team size and don't have the bandwidth to focus on marketing yet. After the clients left and the PGS team debriefed, we began working on ideas for ways to showcase the platform and engaging new constituents to sign up on the platform. RE-volv's goal for the crowdfunding platform is to have 5,000 people sign up to use the platform over the next 12 months.
We completed several structured brainstorming activities and the post-it notes were plentiful. We started by using the Value Proposition Canvas, which focuses on sections of the Business Canvas Model. We were first introduced to the Business Canvas Model in Implementation of Sustainable Practices (SUS6130), but have used it in Managerial Marketing (SUS6060) and Strategy (SUS6050), and It allows our participants to understand the best way that RE-volv's value proposition is positioned to solve the problems, difficulties, and needs of consumers. In the customer jobs are we gathered all the tasks they are trying to complete and problems that we think they are trying to solve. For the customer's pains, we tried to imagine all the negative thoughts or feeling the donors would have throughout this process. Finally, in the customer gains section, we listed all of the benefits the donors would have. This included not just economic, but personal benefits.
After considering potential value propositions, we did a marketing brain dump. We tried to get out out many ideas as possible. You have to get out the bad ideas before the good ones come. After the whiteboard was filled again, we began to look for thematic clusters. We decided that potential users can be broken up into three primary categories: the already converted who value renewable energy and socially responsible investing, the early adopters who are motivated by smart technology solutions and innovative financing models, and the other 90% of Americans who have a palate for solar energy but haven't yet been introduced to an opportunity to invest in it. Initially, we wanted to organize our recommends in a green light/yellow light/red light fashion. Green light representing what can be done today, yellow light representing what can be set up now with minimal effort to continue, and red light for longer term ideas that the company might not have the bandwidth for now, but that have good potential to be implemented in the future. We decided it would be more effective to split them into marketing objectives with specific strategy and tactics to follow.
What some participants had to say:
"It's so cool that the Quickfire team members are so engaged with RE-volv."
– Sarah Brinker, , RE-volv, Associate Director of Partnerships & Philanthropy

"Thank you so much for putting together such an engaging and productive event the other night. I had a blast. Please include me in any follow-up meeting with planning or meeting with Re-volv."
-Andrea Prebys-Williams (C23)
Are you a Presidian? Be sure to sign up for the next Quickfire Challenge on March 26th with Global Student Embassy while there are still spots!
---
More About RE-volv:
RE-volv is the only organization using a revolving fund to finance community-based solar projects in the U.S. Here's how the revolving fund, called the Solar Seed Fund, works:
1. RE-volv partners with a community-serving nonprofit or cooperative that wants to be solar powered. The community-serving organization signs a 20 year solar lease with RE-volv, paying zero upfront costs.
2. RE-volv crowdfunds tax-deductible donations to finance the cost of the solar energy system.
3. Over the 20 year solar lease agreement, the organization makes monthly lease payments to RE-volv. During this time, the organization typically saves 15% on electricity costs while RE-volv earns 8-12% internal rate of return on its investment. A small fraction of the interest supports RE-volv's overhead as an earned revenue stream.
4. RE-volv continually reinvests the solar lease payments into more solar projects, compounding the interest earned, creating a snowball effect for solar energy projects across the country.
5. To foster local solar development and educate community members about solar energy, RE-volv engages the community through outreach and solar education events and connects community members with local solar installers.>
When RE-volv has financed 200 solar projects, the revolving fund will be able to finance a new project every month and cover more than 50% of RE-volv's overhead without needing to raise another dollar. The new crowdfunding platform will help RE-volv scale nationally. Please sign up to see the projects that are available in your area! They just launched the new platform on March 1st, and would love feedback (www.re-volv.org) as well as more sign ups to get them to their goal! They are also looking for a Marketing and Communications Intern to help with social media and media relations. If you are interested apply and let me know. Position description: Marketing & Communications Intern.