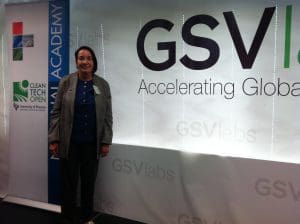 The idea of constructing a "mini" water treatment system for the consumer sprang from three growing problems globally: water scarcity, water source unpredictability, and water quality degradation. In part, the problem with water from an environmental, economic, and social perspective is that we have misallocated its value. Environmentally, we waste it instead of conserving it, frequently utilizing it in a way that does not protect local ecosystems, and transport it long distances from its source either in a plastic bottle or in a pipe or aqueduct. Economically, we price it very low, not considering the cost of maintaining and operating water treatment and distribution infrastructure. Socially, communities frequently allow outside third party interests access to their water, in order to provide jobs to local workers, while boosting the bottom line of corporations distant from the community. In addition, many communities around the world and at home here in the western US are finding their groundwater and surface water supplies are diminishing rapidly due to the effects of climate change, historic drought, and long-term mismanagement. Traditional contaminants and new emerging contaminants of concern including disinfection byproducts, endocrine disruptors, pharmaceutical products, and personal care products are becoming more ubiquitous in drinking water.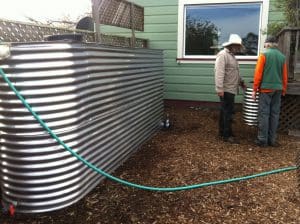 As Co-Founder of a water technology start-up company based in Mill Valley, California the project I intend to explore while enrolled in the MBA program at Presidio Graduate School offers a consumer-engaging solution to the problems of water quantity and quality. The consumer will have a new source of water – rainwater, and can choose when and for what purpose to utilize it. The system is point-of-entry, whole-house storage and treatment, and is in effect, a mini-water treatment facility that further protects the public's health, welfare, and safety from water-related emergencies. We are building a new class of water business – one that is smart, efficient, and scalable utilizing pioneering technology, and more importantly, one that is bold and focused on shifting to a new paradigm for water infrastructure.
We rethink water from the perspective of abundance to one of scarcity, locally at the municipality's and/or consumer's watershed, and from the standpoint that consumers become more fully involved in controlling their own health by having a choice for their water source (rain or municipal/well) and customized treatment based on the consumer's needs. In effect we intend to act in partnership and as a bridge between a utility's infrastructure and the local use of water by consumers. Water captured, stored, and treated locally on-site helps mitigate ongoing infrastructure problems and challenges that are costly and politically difficult to correct.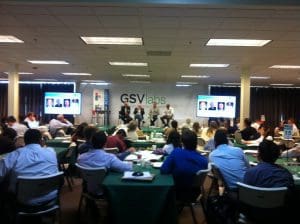 In May 2015 we were accepted into the 2015 Clean Tech Open West Accelerator, the world's largest startup accelerator for cleantech startups. After an online application process and a face-to-face interview with a panel of judges in San Francisco, California, our project was chosen to participate in the five-month accelerator beginning in June and culminating with regional judging and awards in October and a global forum in November 2015. My co-founder and I recently attended National Academy West at GSV Labs in Redwood City for a 3-day startup boot camp. It was an amazing experience and we are still reeling from the event!
I have already learned that we are a "disruptive technology," that we will be creating not only technical innovation but probably a "business model innovation," and one of the aims is "to fail fast and fail often." Our first task is customer discovery and the development of the business model "canvas," not the business plan. Of interest to the PGS community is the fact that SUSTAINABILITY is integrated into every facet of the development of the startup including product/market fit, finances/funding, product/technology valuation, and investor pitches. In fact there is also a separate Sustainability Prize in the accelerator competition.
I am so honored and humbled to be the recipient of the Big Idea Prize. I am excited about joining fellow students, faculty, and staff this fall to learn just how one takes an idea and shapes it into a product or service that "helps change the world" – what Presidio Graduate School is all about!
I could leave you with so many quotes and words of wisdom from last weekend's experience at National Academy. This one is my favorite, so I will leave you with this:
"If it's a good idea, go ahead and do it. It's much easier to apologize than it is to get permission." Grace Hopper (1906-1992) an American computer scientist and US Navy rear admiral.