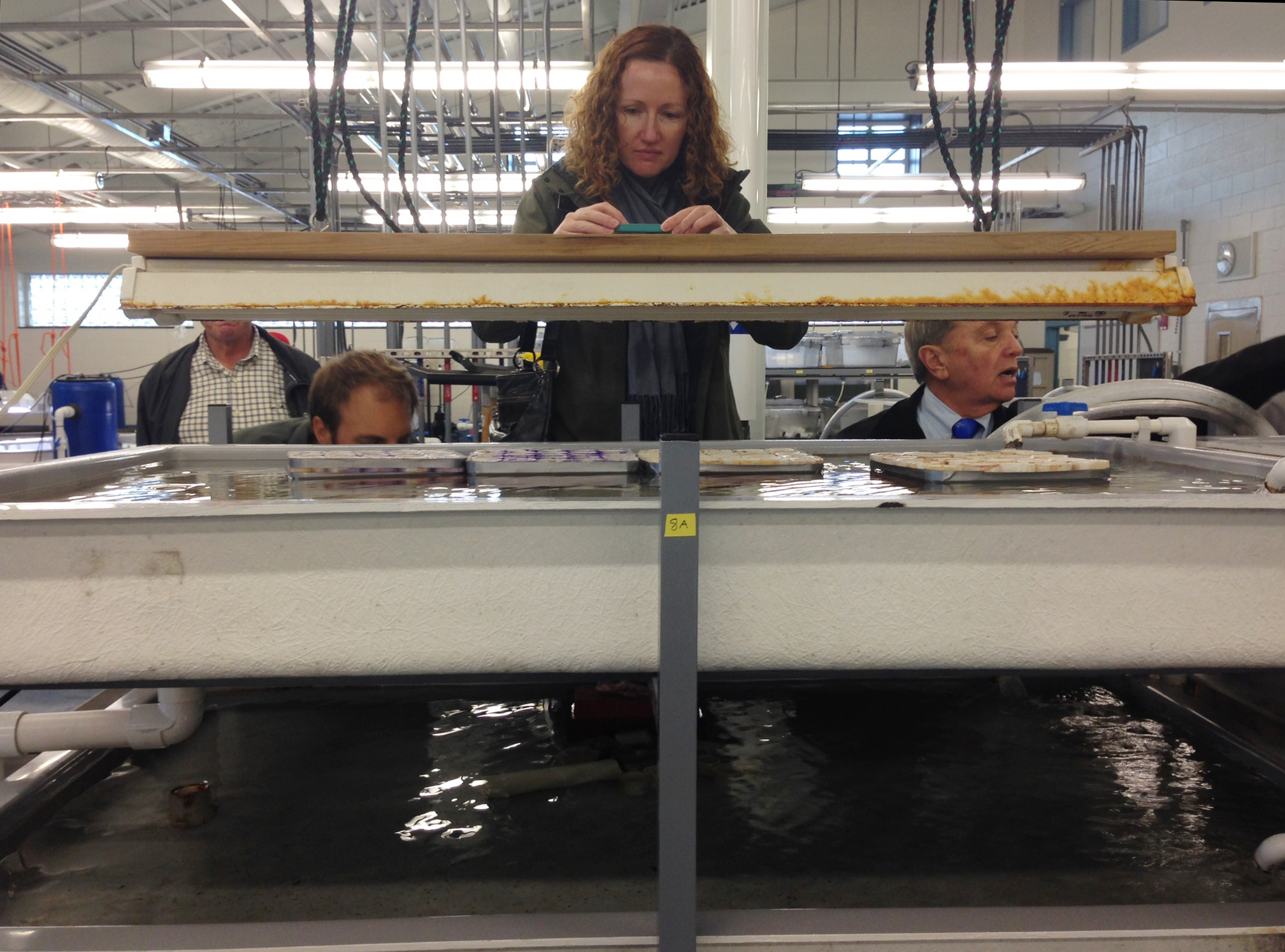 This fall, Team Blue Wave — Nick Lee (C13), Ema Phelps (C16), Sam Ruben (C17), and myself — collaborated on an Experiential Learning (EL) project with Beau Perry (C5), founder of Olazul, a non-profit developer of sustainable, market-based solutions for satisfying demand for ocean goods. Our team's task was to design an operations plan for Olazul's pilot seaweed farm in La Paz, Mexico. The seaweed farm will provide an alternative source of income for fishermen, whose livelihood is in rapid decline due to overfishing.
As part of our research, we took a 257-mile weekend road trip in Connecticut to meet with
Beau and other aquaculture experts.
The trip was exhausting—from La Guardia Airport to Rye, NY, to Stamford, CT, to Guilford, CT, to Bridgeport, CT, back to Stamford, to New Haven, CT, to Stamford again, and finally back to La Guardia. By the end of the trip, I felt like my brain was filled to capacity, and every minute I didn't spend writing down my experiences would increase the chances that knowledge would leak out of my ears. It was an incredibly powerful and meaningful experience for all of us, from the scientific and business data we gathered, to seeing sustainable business pros at work outside of the Presidio bubble. Meeting industry experts who are so passionate and successful at making a difference in the world made our own EL project more tangible for us. Our project had become about more than completing a school deliverable.
During our first dinner at the Rye Grill and Bar, discussions of seaweed farm operations were set aside as we got to know our EL partner better. Beau talked about his school experience at PGS, and how it contributes to his current projects. To promote the local community, I was reminded why I myself was at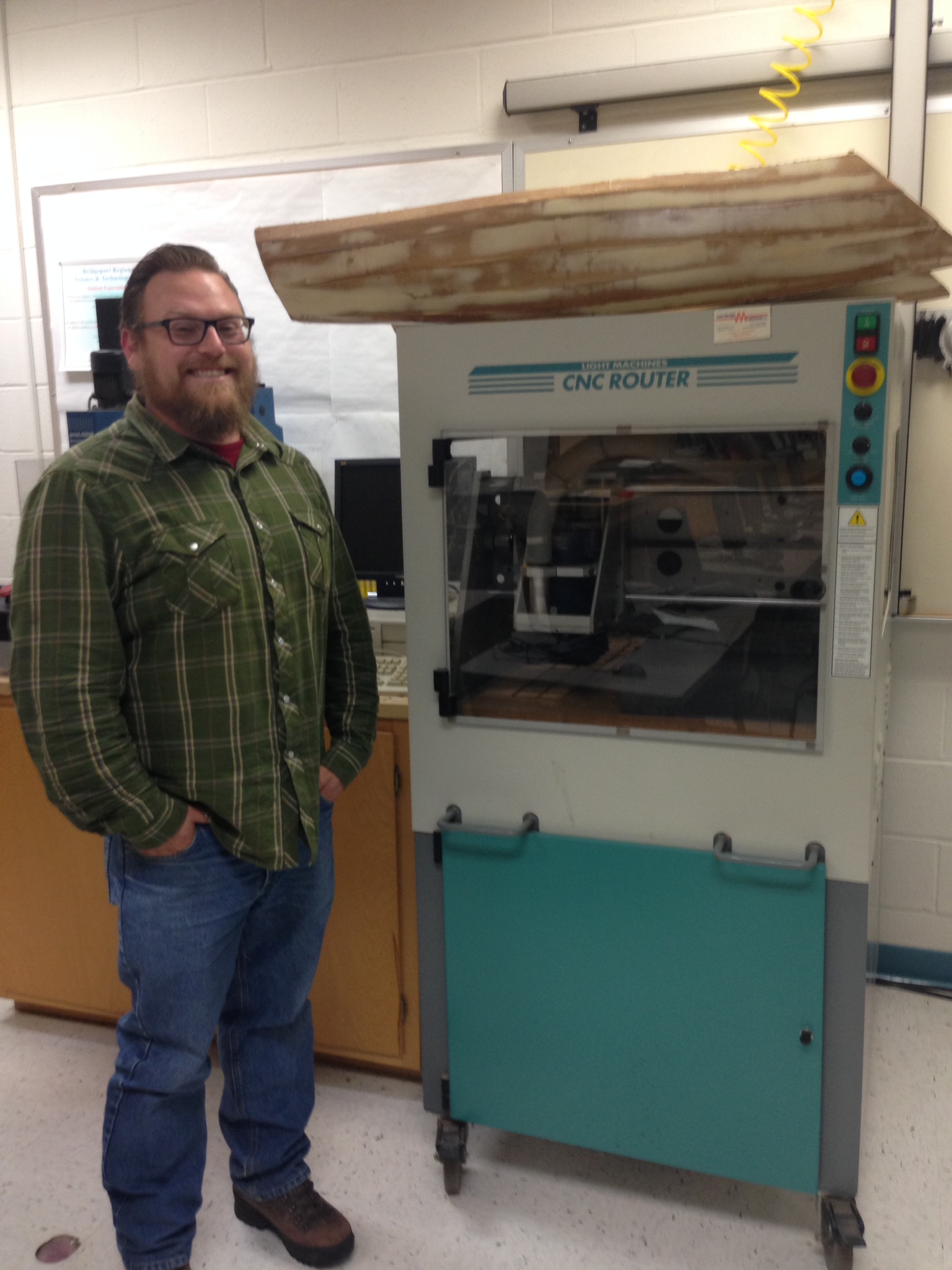 PGS — to make a difference by working alongside brilliant people who get up everyday and change the world by doing what they love, and by having a good business head on their shoulders to capitalize on that passion and brilliance.
The next morning, after much debate over the square-shaped fake eggs served at breakfast, it was time to meet Dr. Charlie Yarish, an expert on seaweed farming, and Bren Smith, owner of Thimble Island Oyster Co. in Guilford. We met at a café that served pastries and coffee as though we were in San Francisco – pastries were homemade, with the labels and price hand-written, and a large coffee mill at the front of the store — an attempt to reinforce a sense of place and history. The setting was so telling of the kind of people we were meeting: down to earth and absolutely connected to a bigger story than their own.
Bren explained that he had been a fisherman since he was a 14 year old in Alaska. In the course of his career, he realized that he needed to adapt and become a different kind of fisherman. He talked about climate change and its effects on his livelihood (I wondered if he ever took Principles of Sustainable Management), talked about his farm operating under integrated multi-trophic aquaculture (eerily similar to permaculture), and most of all, how this was all "common sense." Haven't we all said this of the business models we are learning at PGS, when integrating sustainable techniques to improve profit, people's lives, and the planet?
After a scrumptious lunch (seafood potpie anyone?) by the waterfront, it was time for the part of the trip that I was looking forward to the most: a visit to Bridgeport Regional Aquaculture Science and Technology Education Center (BRASTEC) to meet John Curtis, the center's first and former director. BRASTEC is aquaculture-based public high school, where, not unlike PGS, students can develop and execute aquaculture projects to satisfy their coursework. The projects are extremely wide-ranging, from building Cocktail Class boats to re-populating the near-extinct blue lobsters in Long Island Sound.
The facilities at BRASTEC are amazing. The students have a computer lab equipped with a chromatograph, a spectrometer, CAD machine, and a 3D projector that allows for real time manipulation. Their science lab is an aquaculture lab complete with tanks for breeding tilapia, lobster, and other seafood. Students study, process, and sell the animals in the student-run Angie's at Aqua Seafood Market.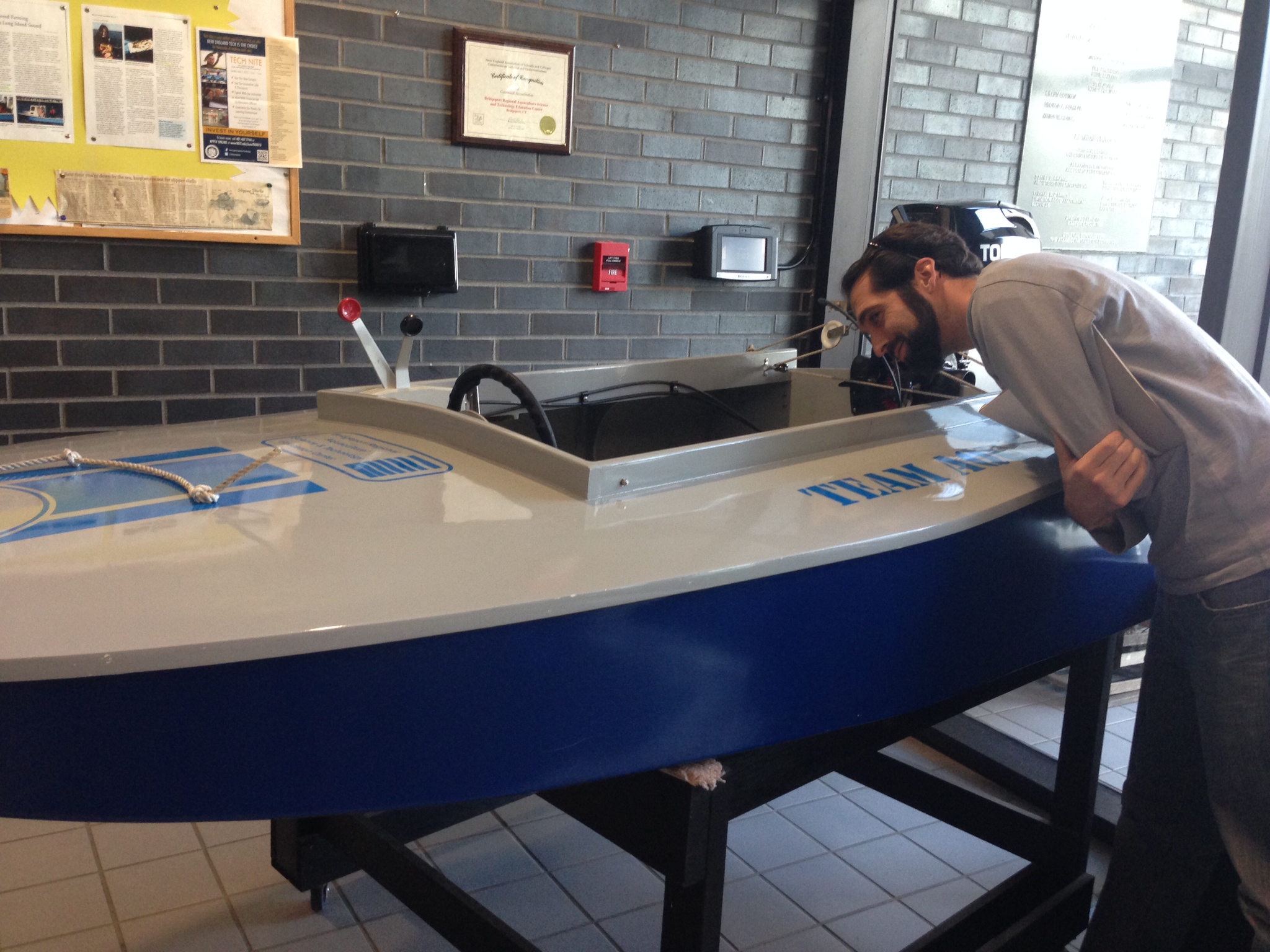 BRASTEC also has a bridge simulator where students are able to navigate ships docking at Long Island Sound, London, Hong Kong, and other ports, earning up to 50% of the required hours for a Coast Guard Pilot's license. The best part for me was meeting John himself, a charismatic man who talked about the principles of the school based on common sense. He spoke with pride about his students, especially the student who built a biodegradable rechargeable battery made of seaweed that can be shaped to any form.
On the last day, we visited Charlie's lab at The University of Connecticut. He gave us a two-hour presentation on seaweed farm processes. Charlie emanated pride as he walked us through his lab, showing us the beakers, glass containers, refrigerators filled with seaweed spores germinating at different stages. It was a gold mine of information that we would be using on our Operations Plan. Physically seeing the process and being able to ask questions proved to be one of the more important exchanges we had this whole project. Charlie was with us from the time we met Bren, to meeting John at BRASTEC, and the delicious lunch we had at Miya's (Ed.'s note:  see below). It was thanks to Charlie's expertise and connections that we were exposed to this world of seaweed of which most Connecticut residents weren't even aware. His insight on dos and don'ts for seaweed farming — including his offhand comments and opinions on microalgae — really added to the informative, productive, successful, and fun trip that this had become.
For our final lunch of the trip, we had a surprising, weird, delicious, and slightly insane experience at Miya's Sushi where we met chef and owner Bun Lai. Bun is a James Beard Foundation Award nominee, the only nominee to feature an invasive species-based menu. He served us Asian shore crab, pine needle infused sake, mugwort (mug-what??), and black fly larvae. Yes, larvae. I would say about 90% of our table agreed to eating it out of peer pressure, but it turned out to be great! Thank goodness for my Asian roots and history with weird food.
Hearing about the history of Miya's and the principles Bun upholds was inspiring. His successful restaurant doesn't serve salmon, tuna, or shrimp, which normally account for 90% of a sushi restaurant's menu. In the course of our EL project, we'd learned that shrimp is a declining industry in danger of collapse within in a few years, and tuna is severely overfished, so we had an even greater appreciation for the stand Bun has taken. Serving invasive species makes sense to Bun: it's plentiful, it's delicious if you know how to cook it, and you're protecting local natural capital.
Bun, along with Bren and John, are described as pioneers and radical thinkers in their respective industries. They both echoed similar confusion about these titles, as they believe they're not doing anything "radical," but rather something that makes common sense when running a business or school. With an eye on the future health of our planet, they conduct their operations without depleting available resources. They are willing to share their knowledge rather than simply compete with their competition (Sound familiar, Presidians?)
This EL project has gone above and beyond my expectations, and I feel I got real exposure to how I could contribute to a business — and what I still have to learn. Hearing the upperclassmen in the team contribute information based on the classes I have yet to take at Presidio affirmed that I'm on the right track for making a meaningful difference in how businesses are conducted.