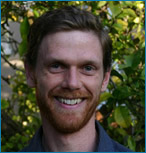 Having worked for more than a decade in the parks and conservation industry, Ryan Gerlach is passionate about protecting nature. Now, as he prepares to graduate from Presidio with his MBA, Ryan is excited to see how he can apply his business skills to sustainable land use.
Ryan will be able to explore what he calls "the nexus of conservation and finance" when he joins the Conservation Fund this summer; Ryan has been named a Packard Environment Fellow and will be working with the Conservation Fund, a leading nonprofit, for 10 weeks to help them identify forestry investment opportunities.
The fellowship will see Ryan help the Conservation Fund identify ways to grow, scale, and increase its impact using innovative financing tools and business models to make the most of land conservation.
"On a personal level, it really merges what I'm interested in. I've really gotten excited about this broader field of impact investing, and what keeps me going is working in ecological conservation and restoration work," says Ryan. "(This work) really brings those things together."
Ryan says he was attracted to Presidio's MBA program because of its sustainability angle. He wanted to attend a school where he wouldn't "have to fight" for the inclusion of ecological awareness in business thinking.
"I thought it would be a good merger of the skills and perspectives that I had and those that I wanted to develop," he adds.
He credits Presidio for its focus on systems thinking and challenging students to think about how the system can work differently.
"It is an unconventional school in terms of MBA programs and it does foster that approach of 'Ok, we're not trying to do business as usual. How can we use the system differently?'" says Ryan
He adds the MBA program equipped him with the skills of engagement. He's learned how to engage people on their level, and find creative ways to make change palatable.
"Change is hard for everybody, so it's about making it accessible and not terrifying," says Ryan.
In terms of what's next, Ryan says he's looking forward to returning to San Francisco after his fellowship. He plans to network with local impact investing companies and non-profits who are pioneering new approaches to protect nature.
"I'd definitely like to be working in this nexus of conservation and finance. There are a lot of interesting and creative things coming up," says Ryan.