Two Cultures, One School: IslandWood Reflections
San Francisco Student Representatives Visit 

IslandWood on Bainbridge Island: 

November 3-6, 2016
Avi Kruley and Erin McNichol, had the chance to visit PGS Seattle during the November intensive. As we continue the process of joining our campuses and bringing together the best of what both have to offer, the Reps were able to experience first-hand what life is like on our sister campus and gain a better understanding of the differences (and similarities) in our programs and culture. Have ideas and suggestions for integration? Email the Culture Club with your suggestions.

Avi's Reflection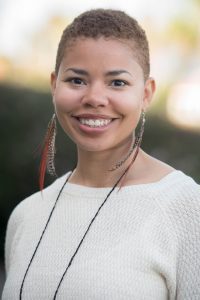 Let me begin with a confession: I went to PGS Seattle's intensive with an unconscious assumption that PGS SF was better. It's not something I'm proud of and, as stated, I didn't know it was there. But considering the fact that we acquired them, I suppose I figured there was something we had that ultimately made us better. Please forgive me for this ignorance.
What I have learned: upon arrival, I was met with several versions of, "What is your intention for being here?" Except it wasn't a challenge; it was a way of welcoming me into the community by understanding why I was there and what I was bringing to the table. And it was indicative of the fact that all of the students I met (with no exaggeration) were extremely intentional, engaged, and genuinely curious.
Drawing from our EMCA skills in presentations, now that you know the audience, let's consider the setting: IslandWood is simply magical. I spent a few years living and working in an intentional community and I learned that there's simply no way to replicate the rich experience that comes from living, working, and eating together. The same is true for intensives at IslandWood. There are very few distractions (cell phone reception is minimal at best) and consistency in the learning environment (no shift from school to home and back again). Add to that the lush, wet, and very green nature that envelopes you, subtly nurturing your growth, and you can begin to understand why IslandWood is the perfect setting for students.
Which brings me to the goal: a conscious learning community. At PGS SF, we often talk about embracing our vulnerability, especially in our leadership classes. But I can learn a lot from our PGS Seattle family in this department. The bravery, openness, and softness they embody is admirable, inspiring, and contagious. I felt immediately at home and loved, despite the limited time and information shared. "Though I don't know everyone well," one student said, "I already trust and love the beauty I know is in everyone."
I conclude, as PGS Seattle practices each day, with appreciations. I appreciate the PGS Seattle community for: one song dance parties, fun facts, stories around the campfire, collective poetry (and pictures), Presidi-o and other games, the DSJ (Diversity and Social Justice) lunch about forms of oppression, Kaizen focused on the integration of our communities, the Spirit and Purpose silent walk and conversation about living into hope, opening circle with Jill Bamburg (a BGI/Pinchot co-founder) and opening each day with circle, and sharing your time, your learning, and yourselves with us.
Though I still have mad love and pride for PGS SF, I now see that we are not better, but two sides of the same coin: they are the yin to our yang, if you will. There is opportunity to not just learn from one another, but to create true balance. I look forward to more connection with our PGS Seattle family. Until then, I'll hold them and this incredible experience in my heart, with deep appreciation and gratitude.
Erin's Reflection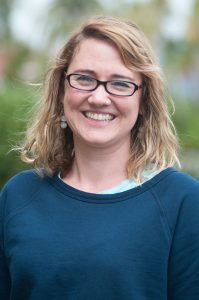 I got home on a Wednesday night at 10:00 pm from a team meeting in San Francisco and asked myself, "Why did you volunteer to go to PGS Seattle for their intensive in between our two residencies!?" I woke up at 3:00 am the next day to catch a flight, then a train, then a ferry and, finally, a short car ride to IslandWood with Avi and a helpful PGS Seattle student.
I had met a PGS Seattle Alum at a conference the week before, who gushed about his experience there, and had minimal contact with current students, but went in with near zero expectations. I was blown away. Although I was tired when I got there, I left completely recharged and the love I felt there carried me through the week ahead (which happened to be the election). As a Student Rep, I kept thinking about what I could share about our campus and what I could bring back with me. I left with three main takeaways:
They were excited and ready to connect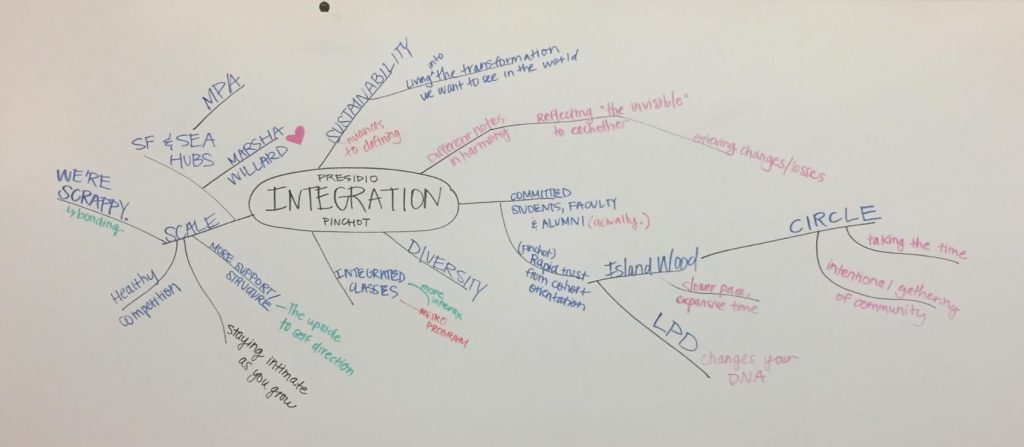 PGS Seattle students immediately made me feel welcome. They start with an open circle every morning where they share their appreciations, important news, aspirations and have an opportunity to ask their fellow students for help on problems. They were immediately engaged and excited we were there, I was surprised by how many of the "appreciations" included PGS San Francisco. They led a well attended Kaizen (their version of Presidio Converses for every intensive) on this particular subject and I found they were motivated to brainstorm how we could connect virtually in class more often or outside of class through clubs or other events.  
Community takes time and effort
One thing that really struck me was how tight-knit their community was. It was evident that IslandWood gave them the space to be together, but that they were also all actively contributing to co-creating their community. Simple things like sitting down to meals together, student lead activities, opening and closing circles and morning meditation or runs/walks. It seemed that all of this translated into a highly engaged student body. I was struck when a student, who was taking a leave, was embraced during a closing circle by the entire community.
(PGS Seattle closing circle)
I even started crying and I had spent only four days there. It felt like a safe space to be vulnerable and I found it made conversations we had with the students inside and outside the classroom that much deeper.   
Our paths have converged to create a Sustainability Powerhouse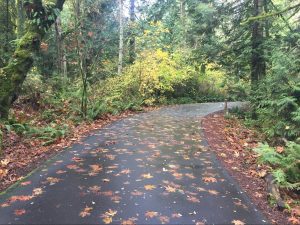 I am beyond excited to connect with this incredible group of people. Visiting IslandWood and meeting the students, seeing them engage in class, meeting their faculty and staff, I think this partnership is great for both campuses. While I was there, I got the sense that all of their students were wondering how our two campuses could come together and how they could personally contribute. I was happy to learn that Marsha Willard, faculty at both campuses, was already leading Zooms with students from both campuses. We both have incredible assets to help each other and I can't wait to see us fully coming together to create a "Sustainability Powerhouse."
The events this past week really shook me, I'm scared about how this election has changed the landscape of the work many of us do in environmental and social justice. I feel uplifted, though, knowing that we are moving forward together with an incredible group of people in Seattle and are that much stronger to make the change we want to see. Thank you for an incredible trip, PGS!