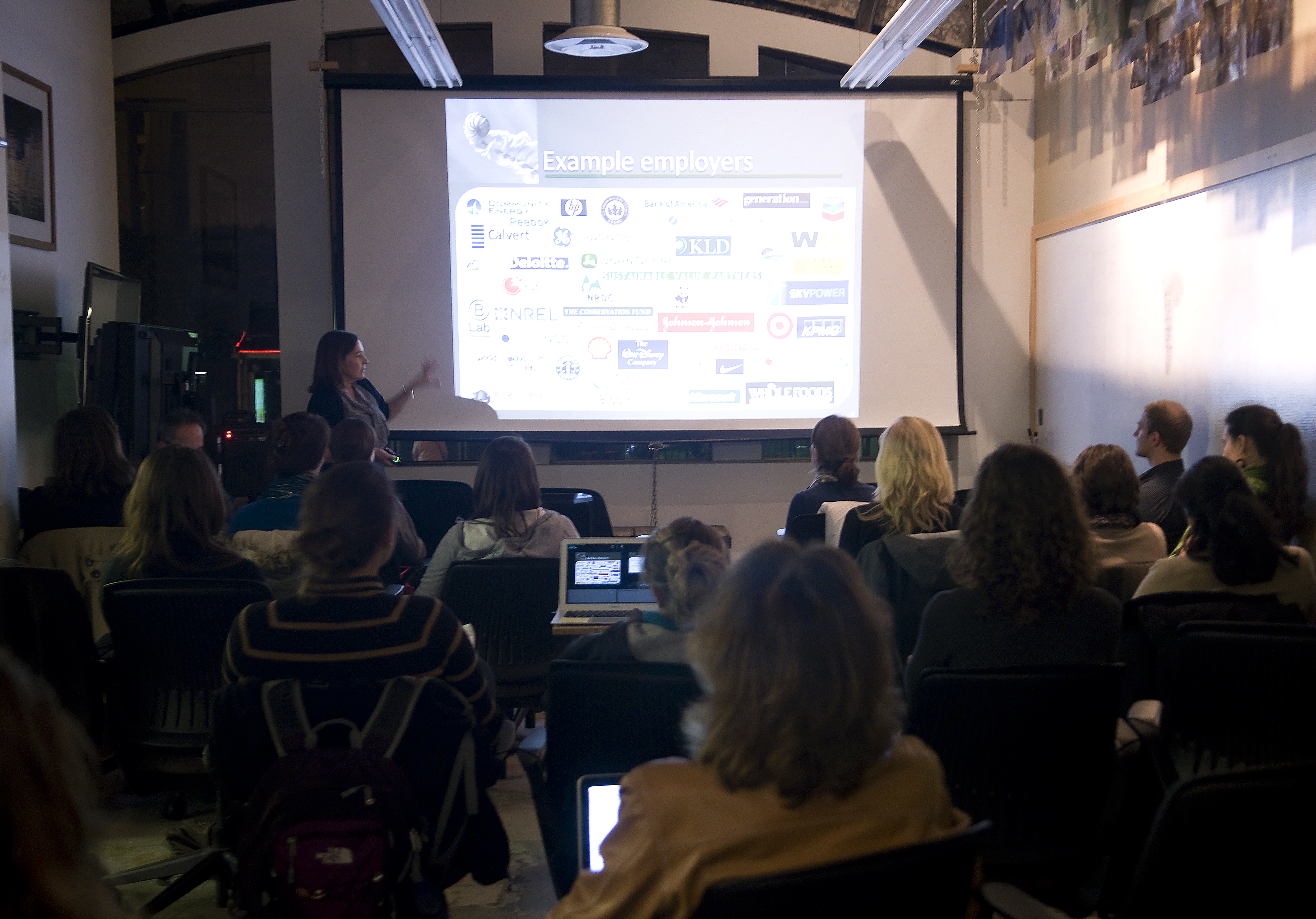 Sustainability careers consultant Katie Kross joined us at our HUB offices on March 7th and 8th for a series of sessions with Presidio students and alumni looking to further their understanding of how to find meaningful careers that employ their degrees.  An MBA graduate of UNC's Kenan-Flagler Business School and author of Profession and Purpose: A Resource Guide for MBA Careers in Sustainability, Katie has spent eight years managing business school sustainability programs, including developing career support and mentoring programs for students and counseling hundreds of individual students and alumni on their career paths.
Katie facilitated one-on-one meetings and small group sessions with students interested in green building/energy efficiency; impact investing/socially responsible finance; cleantech and renewable energy; and corporate social responsibility/corporate sustainability/consulting.  She also delivered a presentation addressing broader issues in recruitment and hiring of sustainability professionals and provided attendees a wealth of resources to help them with their efforts.  Katie's presentation and supplemental handout are available on eLearn (for current students) and PresidioConnects (for alumni).
Here are some of the highlights of Katie's remarks:
• Presidio graduates need to "sell" their MBA/MPA skills when competing against graduates of other programs, and not simply focus on sustainability.
• Creating your own blog, or contributing to those maintained by others, is a great way to demonstrate your knowledge of sustainability issues.  For information on how to contribute to Presidio's blog, contact Rachel Fus.
• Develop and administer a survey of professionals in a sector or industry as a way to identify issues and communicate with key players.
• Identify your dream job, where you are now professionally, and the gaps between the two.  Then, begin to work on filling those gaps during your Presidio education and afterward.
• Stay in touch with individuals with whom you've arranged informational interviews. Provide updates on your education and related experience.
• Describe your understanding of systems thinking as a perspective or way of approaching problems, as opposed to simply using the term by itself in resumés, cover letters, and interviews.
• Recognize that you are building your networks in sustainability for life and that most people will find jobs by networking.